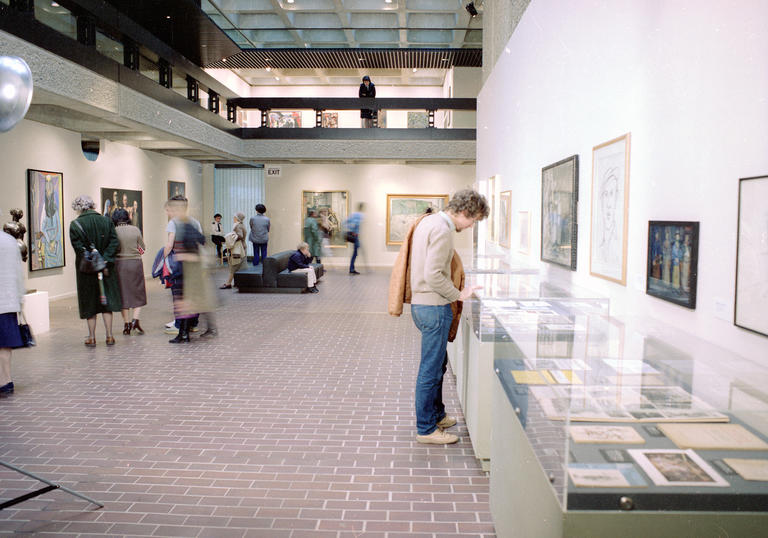 Browse our Exhibitions Archive
Since Barbican Art Gallery opened in March 1982, our visual arts programme has embraced art, architecture, design, fashion, photography and film.
The Archive allows you to look back through the decades to discover past exhibitions and events in the Art Gallery, in The Curve, in locations around the Barbican and off-site.
The Curve commission series has been running since 2006, and we also present smaller commissions and exhibitions in the Barbican Foyers.
Aftermath: France, 1945-54 / New Images of Man    
4 Mar–20 Jun 1982
Aditi    
7 Jul–22 Aug 1982
Cadbury's Childrens Art    
9 Sep–23 Oct 1982
The City's Pictures    
24 Nov 1982–23 Jan 1983
Asger Jorn/Rodin    
14 Feb–10 Apr 1983
Hundertwasser / Carpet Magic:  Jon Thompson    
25 Apr–19 Jun 1983
That's shell that is / Peter Phillips: Retrovision    
4 Jul–4 Sep 1983
Tolly Cobbold 4th Nat: Exhibition/Matthew Smith    
15 Sep–30 Oct 1983
Young Blood / Design Into Industry    
24 Nov 1983–15 Jan 1984
American Folk Art: Expression of a New Spirit    
9 Feb–1 Apr 1984
The City's Pictures    
1 Apr–28 Oct 1984
Capital Paintings    
19 Apr–10 Jun 1984
Portraits of a Country: Brazilian Modern Art from the Gilberto Chateaubriand Collection     
27 Jun–19 Aug 1984
Getting London in Perspective    
6 Sep–28 Oct 1984
James Tissot    
15 Nov 1984–20 Jan 1985
Munch and the Workers / Tradition and Renewal: Contemporary Art in the German Democratic Republic    
14 Feb–8 Apr 1985
American Images: Photography 1945-1980    
10 May–30 Jun 1985
Painting in Newlyn. 1880-1930 / Patrick Heron    
11 Jul–1 Sep 1985
Gwen John / Roderic O'Conor    
12 Sep–10 Nov 1985
Nihonga / Karakuri Ningyo    
28 Nov 1985–26 Jan 1986
Art and Time    
20 Feb–27 Apr 1986
Cecil Beaton    
15 May–20 Jul 1986
Eugene Smith / Rabindranath Tagore    
28 Aug–19 Oct 1986
David Roberts / Lion Rugs    
6 Nov 1986–4 Jan 1987
Russian Style 1700-1920: Court and Country Dress from the Hermitage    
29 Jan–26 Apr 1987
Ansel Adams: Classic Images / A Paradise Lost    
21 May–19 Jul 1987
The Image of London: Views by Travellers and Emigrés 1550-1920    
6 Aug–18 Oct 1987
The Edwardian Era    
12 Nov 1987–7 Feb 1988
Henry Peach Robinson : Master of Photographic Art 1830 - 1901 / Karsh    
25 Feb–24 Apr 1988
Art or Nature: 20th Century French Photography    
12 May–17 Jul 1988
Lowry / The Harold Samuel Collection / The International Art Show for the End of World Hunger    
4 Aug–2 Oct 1988
Panoramania!    
3 Nov 1988–15 Jan 1989
The Last Romantics    
9 Feb–9 Apr 1989
100 Years of Russian Art 1889 - 1989: From Private Collections in the USSR    
27 Apr–9 Jul 1989
Through the Looking Glass: Photographic Art in Britain 1945-1989    
27 Jul–1 Oct 1989
A Golden Age: Art and Society in Hungary 1896-1914    
26 Oct 1989–14 Jan 1990
 
Other Exhibitions in The Curve
Joseph Beuys: Multiples    
21 Oct–12 Dec 1999
French Collection: Photographs from the Maison Européenne de la Photographie, Paris, 80-00    
8 Jun–6 Aug 2000
Andy Goldsworthy  - Time    
31 Aug–29 Oct 2000
Brian Griffiths and Kenji Yanobe    
16 Nov–14 Jan 2000
Pyramids of Mars    
8 Feb–25 Mar 2001
Iranian Contemporary Art    
12 Apr–3 Jun 2001
Andres Serrano    
4 Oct–9 Dec 2001
Barbican: This Was Tomorrow    
14 Feb–14 Apr 2002
Xavier Veilhan    
2 May–23 Jun 2002
Electric Dreams    
11 Jul–28 Aug 2002
Grayson Perry: Guerilla Tactics    
21 Sep–3 Nov 2002
Bloomberg New Contemporaries 2003    
21 Nov 2002–12 Jan 2003
WITNESS: Contemporary Artists Document our Time    
13 Feb–27 Apr 2003
The Poetics Project 1977 – 1997    
15 May–20 Jul 2003
Black President: The Art and Legacy of Fela Anikulapo-Kuti     
9 Sep–24 Oct 2004
Bloomberg New Contempories 2004    
16 Nov 2003–15 Jan 2005
Toby Paterson: After the Rain    
9 Feb–17 Apr 2005    
Folk Archive: Contemporary Popular Art from the UK     
12 May–24 Jul 2005    
Lucy Orta    
15 Sep–30 Oct 2005    
Bloomberg New Contemporaries 2005    
16 Nov 2005–8 Jan 2006    
The Impossible Theatre    
2 Feb–17 Apr 2006