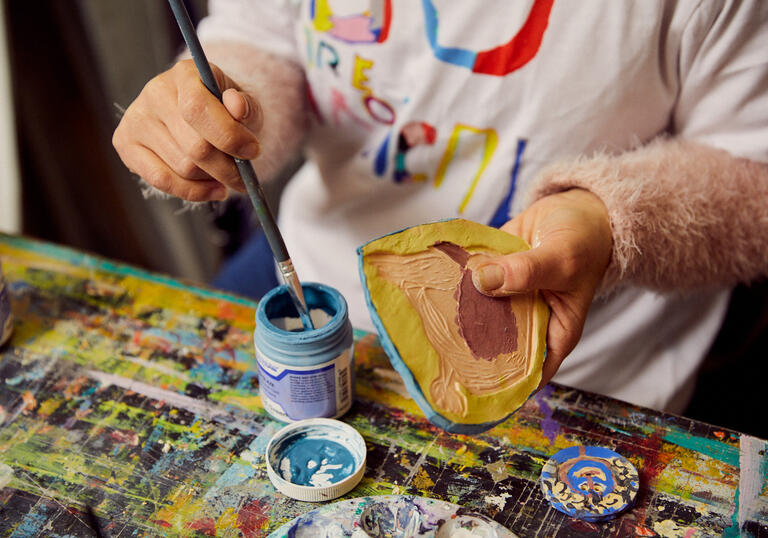 Read the exhibition guide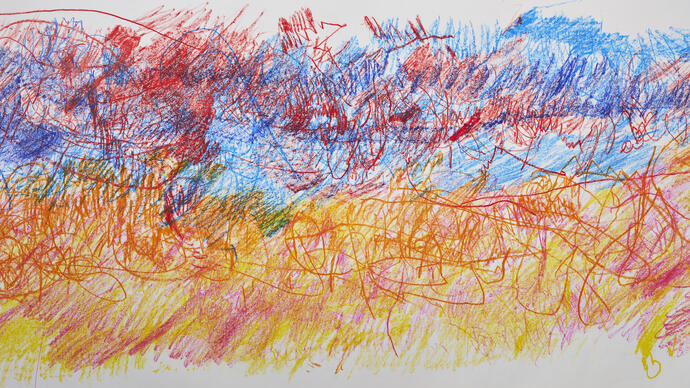 Read our exhibition guide to find out more about Headway East London: differently various.
See more art for less
Visit RE/SISTERS, Unravel: The Power and Politics of Textiles in Art and Francis Alÿs again & again, for free
Find out more about our public programme of events and scroll through to watch our film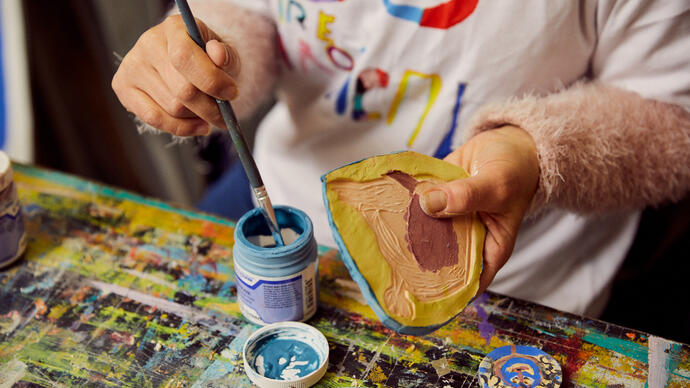 Take part in our public programme of events to learn more about Headway East London, their members, and the community and creativity of people living with brain injury.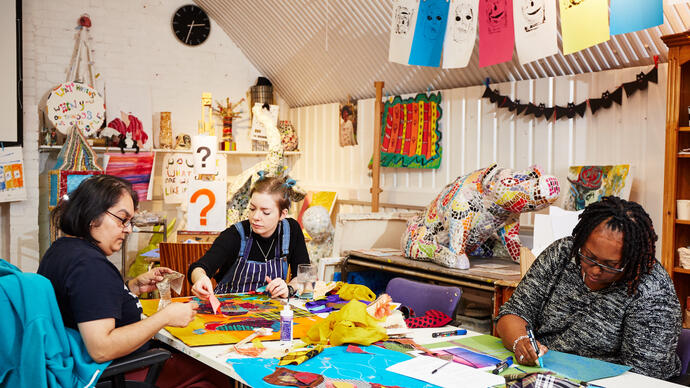 Watch: differently various
Watch our film from Headway East London, as part of their new exhibition in The Curve, differently various.
Access
During the run of differently various, we have a variety of access resources and information to help support your visit.
If you have any access requirements that you would like to discuss ahead of your visit, please email [email protected] or call 020 7101 1188 (Mon - Sun 10am-4pm).
Wheelchair Access
During differently various The Curve gallery is accessible by ramp and the exit is on ground level.
Relaxed Times
The Curve gallery is open from 11am and closes at 7pm, Monday to Sunday.
differently various is a relaxed exhibition and will be activated by Headway members and an interactive programme of events each day. However, for those who would prefer a quieter visit we will be holding 11am to 12pm as a quiet hour free of events.
Visual Story
A visual story of The Curve gallery can be requested here under the Visual Stories tab. There are two routes available: one from our Silk Street entrance and another route from Carpark 5 for those arriving via car.
Communication Cards
We have communication cards to help you find your way around the building. We have digital copies you can access and/or print at home as well as printed copies in the centre available at our info desk and each ground floor venue. Please ask a member of staff if you need support locating your nearest pack. They're available to download and print here.
Large Print Exhibition Text
We have large print guides of our exhibition text. These are available both digitally and printed. You can collect a printed version from our invigilator desk at the entrance of The Curve gallery. They're available to download and print here.
Chill Out Space
This is a dedicated space for visitors to rest during or after their visit to the differently various exhibition in the Curve. The space will have sensory furniture such as soft rugs and cushions along with sofas and armchairs.
You are welcome to drink water in the space, but food is not permitted.
Resources
We have the following resources available on request during your visit to the exhibition:
Ear defenders

Magnifying Sheets

Stools (there will be plenty of armchairs available throughout the gallery)

A Dog Bowl for thirsty guide dogs
Events
We have an exciting programme of events happening across the week which you can find here.
We have Comfort Contego transmitters and receivers available upon request for use during our talks, tours and workshops for dDeaf visitors.
Parking
Find information on accessible parking at the Barbican here.
Please note that the nearest carpark to The Curve gallery is Carpark 5. Check out our Visual Story to plan your route to the gallery from here.
Facilities
Find information on our accessible facilities at the Barbican here.
Click through to access our Visual Stories to help navigate your visit to The Curve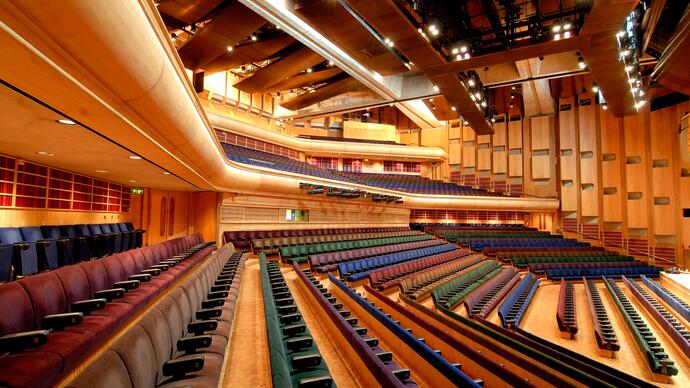 Find out more about our accessible events and view our Visual Stories.
Content Advice and Resources
Please be aware that this exhibition includes swear words and describes causes and symptoms of brain injuries which some may find distressing.
Under 14s should be accompanied by an adult at all times.
If you need to leave the gallery during your visit, a chill out space is available in our Level G Studio which is a short walk from the exit of the gallery. There will be members of staff stationed nearby who can help you find your way.
If you are affected by any of the issues in this exhibition, the following organisations can provide confidential advice and support. This is not an exhaustive list and is not intended to replace support from a GP or therapist. 
Brain Injury Group
A network of specialist brain injury solicitors and other professional services, providing support for brain injured people and their families.
Helpline: 0800 612 9660 or 0330 311 2541
Email: [email protected]
Brain Injury Matters
A charity delivering a range of innovative programmes and initiatives supporting those affected by ABI.
Email: [email protected]
Infoline: 028 90 705 125
Brain Injury Rehabilitation and Development
A charity offering treatment to people with brain injuries and learning difficulties.
Helpline: 0800 028 6256
Brain and Spine Foundation
A charity providing professional information and support for every one of the 600+ neurological conditions affecting one in six people living in the UK.
Helpline: 0808 808 1000
Child Brain Injury Trust
A charity for families and professionals affected by childhood acquired brain injury.
Headway UK
Headway is the UK-wide charity that works to improve life after brain injury by providing vital support and information services.
Headway Helpline
The Headway helpline is a free, confidential service available to anyone with a question about brain injury - from survivors and carers to students and professionals.
Helpline: 0808 800 2244
Email: [email protected]
www.headway.org.uk/supporting-you/helpline/
Mind
Mental Health Charity 
Infoline: 0300 123 3393
Email: [email protected]
Samaritans
Whatever you're going through, a Samaritan will face it with you. If you or someone you are supporting are in need of urgent Mental Health support - please call 116 123
The Samaritans are free to call 24/7, 365 days a year to support you with whatever you are going through
SameYou
A charity for young adults who have experienced brain injury and stroke.
SHOUT
The UK's first and only free, confidential 24/7 text messaging support service for anyone who is struggling to cope, Text 'SHOUT' to 85258.
The Brain Charity
A charity offering emotional support, practical help and social activities to anyone with a neurological condition.
Infoline: 0151 298 2999
The Disabilities Trust
A charity offering community based & residential support for people with acquired brain injury, complex physical or learning disabilities and autism.
Infoline: 0330 0581 881
Email: [email protected]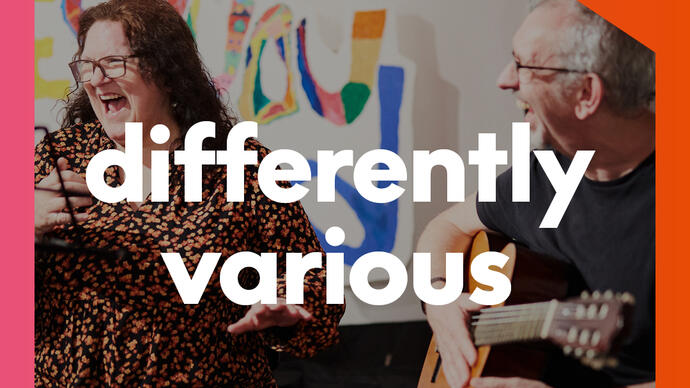 Listen to our playlist, curated by Headway East London members to celebrate the differently various exhibition.