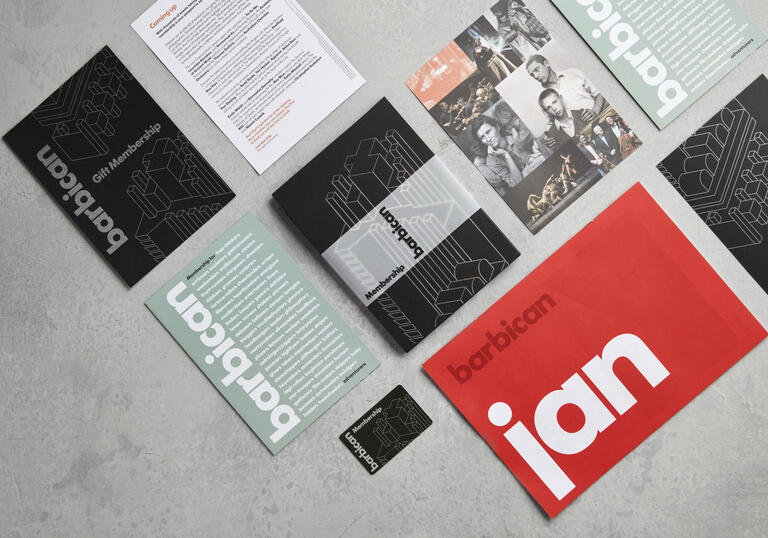 Get closer to the art
Members enjoy invites to exclusive private views and free access to all gallery exhibitions, so they can visit as many times as they like.
All arts. All year. One gift.
Give a Barbican Membership and they'll unlock a year of free gallery entry, priority booking, discounted tickets, exclusive events and more
Barbican Guide
Members stay in the know and get the Guide posted to them every month. Or if they prefer, they can join our Green Guide list and have an electronic copy emailed instead.
If you're a member and would like to join the Green Guide list, or if you're having trouble with Guide mailings, please email [email protected].
You can also access an electronic copy of the Guide below.
Members get 15% off in our shop
Barbican Conservatory Print by Daniel Clarke
Barbican Architecture Collection Tote Bag
Contact us
Below are a list of our frequently asked questions and terms and conditions. If there's something we've missed or forgotten drop us a line at [email protected] and we'll be happy to help.
If you've recently joined membership, please allow 14 days for your membership card and welcome pack to arrive in the post. In the meantime, you can make use of all your benefits right away, simply quote your membership number when booking.
If your membership card is lost or stolen, please email barbican.[email protected] to request a replacement. You can also pop into the Centre and get a temporary card from the Tickets and Information Desk. 
Please be assured that you do not need to wait for your card to arrive to book tickets. You can use your benefits anytime by quoting your Membership number online, over the phone or in person. If you visit the box office the next time you are at the Barbican they can also print you some temporary proof so that you can enjoy benefits such as the special offers in our bars and restaurants. Simply visit the Ticket Information desk on Level -1 any time between 10 am and 9 pm (from noon on Sundays and bank holidays).
When you join Barbican Membership, you'll automatically start receiving a weekly roundup of on-sale dates, priority booking details, special offers and discounted ticket news. Please make sure you are fully opted in to receive emails. You can opt out anytime by logging into your online account and updating your preferences.
Please log in using the email address attached to your membership and then click the 'I don't know my password' link. This will send a reset link to your inbox and then you should be able to log in. 
If you continue to have issues logging in, please get in touch with us. The most common reason for continued issues logging in is that you have duplicate accounts, which we will need to merge. 
If you purchased your membership via Direct Debit, your membership will renew automatically each year, and will continue to do so until you inform us to stop or instruct your bank to cancel your Direct Debit mandate.
If you purchased your membership with a one-off payment and it is due to renew within the next eight weeks, you can renew online, call the Box Office on 020 7638 8891 or visit the Tickets and Information Desk.
Up until eight weeks before the expiry of your current membership, you can upgrade your membership online and your new upgraded membership will be active for the remainder of your current membership period. You will be charged a one-off upgrade payment for the difference in price. If you upgrade within the last eight weeks of your current membership period, you will be charged the total new membership fee and your new membership will begin when your current one expires.
If you pay by Direct Debit we will send you a letter with your new payment details. 
We don't currently offer joint membership, however many of our benefits extend to your guest; entry to our members-only bar, discounts on cinema tickets and other selected events, and special offers in our restaurants and bars. Membership Plus offers a good option if you'd like to treat your guests to a little bit more, as they'll also receive free entry to our exhibitions and you can bring in up to three guests at our members lounge. Please note, any benefits available to guests can only be redeemed when the named Member is present. 
1. Discounted membership tickets are limited in number and subject to availability. 
2. Any tickets discounted as part of the scheme are limited to two tickets per event, and are solely for the use of the member plus one guest. Any further tickets must be purchased at the standard price, up to a total of six tickets per event during priority booking and up to a total of nine at any other time. Further restrictions may apply on selected events, see individual event pages for details. Membership does not guarantee access to tickets in the case that available tickets are sold out.
3. Free tickets to the Art Gallery are limited to one per member per day for Membership and two per member per day for Membership Plus. A valid membership card must be shown on entry.
4. For any benefits that extend to a guest, such as places at Member only events, discounted tickets, entrance to the Lounge or free gallery entry for Membership Plus, the named Member must be present. 
5. Not all performances at the Barbican are eligible for a membership discount or priority booking.
6. If collecting tickets that have a membership discount/free benefit applied, a valid membership card must be presented together with any credit/debit card that may have been used for the booking. The Box Office can print off temporary proof of membership if the card is lost or stolen, or if the membership card has not yet arrived. 
7. The Barbican reserves the right to amend or withdraw any benefits or discounted tickets at any time. 
8. The Barbican has the right to cancel a membership without refund if the terms and conditions of membership and/or conditions of sale of event tickets are broken
9. Membership is non-refundable and non-transferable. We do not offer pro-rota refunds.
10. The Barbican Centre processes personal data in accordance with the General Data Protection Regulation (GDPR) and the Data Protection Act 2018. For full details of how and why the Barbican Centre processes personal data, please refer to our full privacy notice
11. To take advantage of special offers in the restaurants you must present a valid membership card at time of payment. Retail discount applies to selected products and members' purchased items only.
12. Membership does not guarantee access to the Members' Lounge in the case of the room capacity being reached.
13. Every week we send a Members' email detailing priority booking, event onsales, competitions and member events. If you've ever opted out of receiving communications from the Barbican, we won't be able to contact you. It is the member's responsibility to check you're opted in - this can be done by logging in and clicking the preferences tab. If you're still not receiving emails, please email us on [email protected] immediately and we will rectify this.