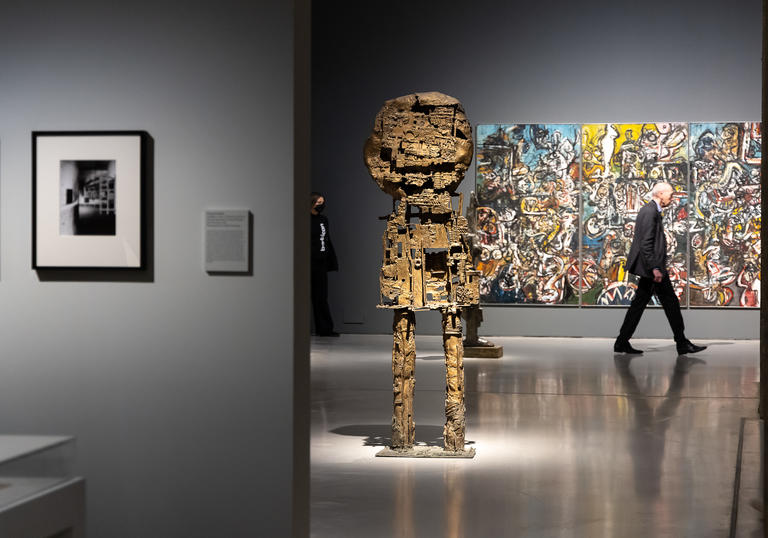 Joint ticket offer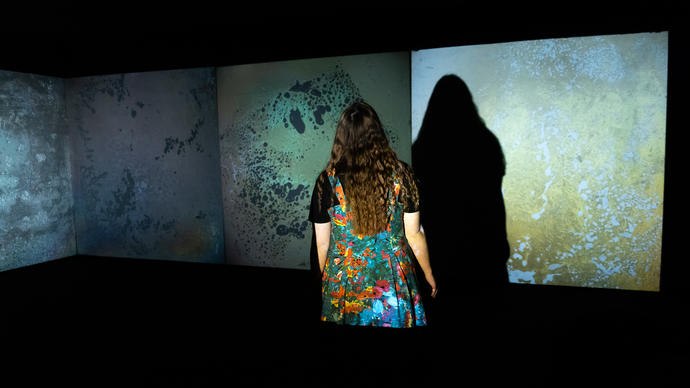 You can visit both Postwar Modern: New Art in Britain 1945-1965 and Our Time on Earth for the discounted price of just £25. Simply add tickets for each exhibition to your basket and the saving will be automatically generated when you check out. 
Reviews
'This is an enthralling exhibition'
'That rare thing in a contemporary art gallery – a genuinely polemical exhibition'
'Across all these works you find pop, minimalism, abstraction, expressionism and the seeds of countless other ideas, all because life in post-war Britain was wild, difficult, weird and oppressive.'
'A poignant reminder of hope and humanity among the ruins'
'This fascinating exhibition is crammed with surprises and delights'
'What makes this show special is the focus it puts on little-known and sometimes never-before-shown artists'
'But that's postwar Britain: upbeat as well as fearful.'
'Don't miss this bold exhibition featuring Lucian Freud and Francis Bacon'
'An exhibition of works by emerging British artists of the 1950s and '60s portrays an inventive — yet sombre — response to newfound freedoms'
'This show succeeds in revealing numerous half-forgotten movements – and contains some out-and-out masterpieces'
Artists
Adrian Heath
Alan Davie
Alison Smithson
Anthony Hill
Anwar Jalal Shemza
Aubrey Williams
Avinash Chandra
Bert Hardy
Bill Brandt
David Hockney
David Medalla
Denis Williams
Eduardo Paolozzi
Elisabeth Frink
Eva Frankfurther
Francis Newton Souza
Francis Bacon
Franciszka Themerson
Frank Auerbach
Frank Bowling
Gillian Ayres
Gustav Metzger
Hans Coper
Jean Cooke 
John Bratby
John Latham
John McHale
Kim Lim
Lee Miller
Leon Kossoff
Lucian Freud
Lucie Rie
Lynn Chadwick
Magda Cordell
Mary Martin
Nigel Henderson
Patrick Heron
Peter King
Peter Smithson
Prunella Clough
Richard Hamilton
Robert Adams
Robyn Denny
Roger Mayne
Shirley Baker 
Sylvia Sleigh
Victor Pasmore
William Scott
William Turnbull
Abbas Zahedi: Age of Many Posts
For Postwar Modern we have invited Abbas Zahedi to develop an expanded programme that explores resonances between the postwar period and now
Supported by



Schools
School Groups 
Entry to the Art Gallery is free for all students in Key Stages 1-3. A discounted group booking rate of £3 per student is available to students in formal education groups up to the age of 19. 
School Visiting Slots
We will be running a series of schools-only viewing slots for groups of up to 30 students to view the exhibition and receive a tour. The dates available are:
Thu 5 May 2-3pm 
Tue 10 May 10-11am
Thu 12 May 2-3pm
Tue 17 May 10-11am
Thu 19 May 2-3pm
Tue 24 May 10-11am
Thu 26 May 2-3pm
Tue 7 Jun 10-11am
Thu 9 Jun 2-3pm
Tue 14 Jun 10-11am
Thu 16 Jun 2-3pm
Please note that schools are still welcome to visit outside of these hours!
Tours and Workshops
We will also be offering guided tours of the exhibition for £35 per class of 30.
There is also the option of booking a workshop with multimedia artist Aphra Shemza either before or after your visit for £100 per class of 30.
Please contact us at [email protected] with all booking inquiries and questions.
Learning Resource
Download our Learning Resource, suitable for all key stage curriculum teachers. This resource is for and education leaders to help aid and inform their visit to the exhibition.