Our programme
Artistic vision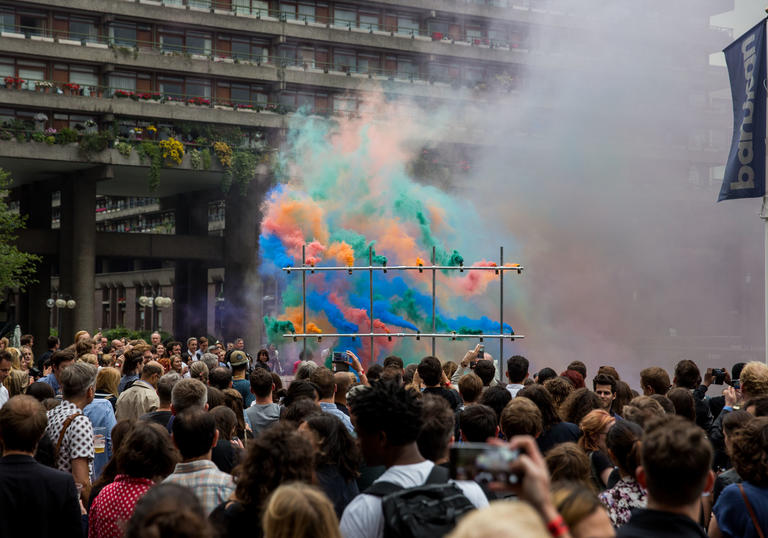 We inspire more people to discover and love the arts. 
We attract new arts audiences and participants, creating inspiring arts experiences for all. From first encounters to higher education programmes, we develop interests, skills, confidence and careers.
We work with outstanding artists to create an innovative international programme that crosses art forms, collaborating with organisations from around the globe to give audiences opportunities to experience outstanding work by acclaimed international companies and artists.
We celebrate the artists of today and invest in those of tomorrow. We work with artists at every stage of their career, supporting and fostering opportunities for exciting new talent as well as promoting the work of world-class artists. Our ambitious cultural partnerships will offer outstanding creative opportunities for every young person across eight east London boroughs.
We deliver this through:
Collaborating with partners to achieve our ambitions
Building a creative destination for our many audiences
Creating a programme that can exist within and beyond our walls
Supporting and developing our talented team
The City of London Corporation is the owner, founder and principal funder of the Barbican Centre.
Update from the Barbican Directors 
Since our last update and following the publication of staff experiences of racism at the Barbican, we've launched an EDI action plan in consultation with our colleagues. Back in May, we said we'd refresh our Equality and Inclusion (E&I) strategy and present this to our Board in July. However, in light of the very serious issues raised and published by colleagues, this piece of work has now evolved into the immediate action plan, approved by the Barbican Centre Board. 
It's clear we've been too slow to put in place the structures and systems required to ensure the Barbican is actively anti-racist. Our actions have not followed our intentions at the speed appropriate for the seriousness of this issue. Our new anti-racism approach, which is measurable and defined, intends to help change this. The ten-point plan, currently being worked on by teams across the organisation, includes: 
- Appointing our first Director of Equity, Diversity and Inclusion - Nina Bhagwat will join the Barbican's senior leadership team from August as Interim Director of EDI to drive the Barbican's anti-racism work, and to ensure the Barbican's inclusion agenda progresses quickly. Nina has a wealth of experience in diversity and inclusion roles throughout the creative sector.
- Setting and measuring inclusivity targets for ethnicity, gender and other protected characteristics at the Barbican for the first time. We also commit to annually publishing Barbican staff grading and pay by ethnicity, gender and other protected characteristics.
- A commitment to review our staff support structures, fully funding any and all improvements required to achieve industry best practice. Current support includes individual and group sessions specifically for Black and POC members of staff; free, confidential counselling sessions for all colleagues; and access to Dignity at Work Advisers, who operate outside of our formal complaint procedures. How to challenge non-inclusive behaviour training courses have been rolled out and we want to establish more robust policies and practices for reporting microaggressions and racism. We're also working to better integrate our colleagues on casual contracts into the Barbican community.
- Launching a new Arts, Learning and Communities strategy that will change our existing structures and ways of working so that we can build a fairer, more agile, community-based Barbican.
In addition to our own EDI action plan, we fully welcome the City of London Corporation's External Review into staff experiences of racism at the Barbican. The review has begun, is being led by leading equalities law specialist Lewis Silkin LLP, and will report to the City Corporation's Barbican Centre Board in September. If you are a current or former Barbican colleague who would like to contribute to the review, please email: [email protected]
We're committed to becoming actively anti-racist across everything we do and will share progress updates here at least every six months to ensure transparency and accountability.
Update from Nick Kenyon 
As we approach the anniversary of the murder of George Floyd on 25 May 2020, we are ever more determined to advance our equality, diversity and inclusion work and to move forward with our anti-racism commitments.
Over this past year, activity, discussion and learning has taken place across the organisation. We are now working to update our Equality and Inclusion Strategy; we will entirely rewrite it in consultation with members of our staff and partners, with a draft submitted to our Board in July and a further E&I Action Plan for implementation in the autumn. This page will be updated in July to share our progress.  
 
As part of this strategy, we will create and recruit for our first EDI specialist role to work across the organisation in partnership with senior management and colleagues across the Barbican. We look forward to appointing this role.
 
We're so grateful to our staff and all those who have participated in discussions, which we know have been extremely challenging at times, and who continue to help find a common way forward for the Barbican.
Key actions taken to date
The Barbican Board has set up a formal sub-committee - the Nominations, Effectiveness and Inclusion Committee, part of whose role is to help push forward our anti-racism action and hold us to account for this work. 
 
The Barbican's Equality and Inclusion Strategy is being updated and will fully integrate our anti-racism commitments as well as key performance indicators and timelines by which our progress will be monitored. The process will engage staff across the organisation and will be discussed at the Barbican Centre Board meeting in July 2021. 
 
Staff took part in 'listen and learn sessions' led by an external consultancy. The recommendations and organisational learnings from these will feed into the new Equality and Inclusion Strategy and Action Plan.  
 
Seven colleagues from across the Barbican have been appointed to explore and consider next steps to remove processes and barriers in the organisation that sustain systemic racism.  Their findings and recommendations will also feed into Barbican's new Equality and Inclusion Strategy and Action Plan. 
 
All employees have completed Equality and Inclusion training and our Senior Management Team have also undertaken Inclusive Management training.
 
Teams across the organisation continue their own discussions and development of actions relevant to their areas, and there are regular updates about the Barbican's anti-racism work at our monthly all staff meetings.
 
The Barbican is part of the City of London Corporation, and we're implementing the recommendations from their Tackling Racism Taskforce. These include anonymised recruitment across all grades; new mentoring & reverse mentoring schemes; a newly created Dignity at Work scheme with trained advisers to provide a first point of contact for any employee who has concerns and a new Bullying & Harassment procedure. 
 
The Barbican has signed up to be part of Inc Art's Unlock with a focus on the Barbican Theatre. 
 
We've aimed to make the arts and learning programme that we've been able to run in recent months more representative. We're developing a new approach to collecting data from the artists we work with, to help monitor and improve diversity within our artistic programme.  
Since publishing our commitment to anti-racism in June 2020, we have been working as an organisation to move forward with this work. We have worked with an external agency and are taking forward the recommendations and learnings from that process, and formed a special taskforce made up of eight members of staff from across the Barbican who are empowered to consult and collaborate with all staff to lead us in making change within the organisation. 
Our Equality and Inclusion Strategy will be updated in 2021, in response to what we've learned in 2020 and to what emerges from the process that the group is undertaking. 
We recognise that this is long term work; it's an extensive project, and there will be short, medium, and long-term objectives and outcomes. We have much further to go, but there is a new urgency to this work in the organisation and we remain dedicated to achieving the goals we have set ourselves to deliver meaningful and sustainable change. We will update with more detail on our progress throughout next year.
A statement from Sir Nicholas Kenyon, Managing Director of the Barbican
The Black Lives Matter movement has demonstrated the urgent need for us to take action in showing an active commitment to eradicating racism in all its forms.
As part of this, we need to acknowledge that we have not made as much progress as we should have on issues relating to race and to privilege. We're part of a systemic problem and we haven't done enough over time to address these issues in our organisation and in our sector. We're determined to change this now.
These are our initial commitments in taking the first steps to achieving this:
We commit to being transparent as to how we're delivering change. We will communicate openly how we're doing this
 
We commit to removing institutional barriers and increasing ethnic minority, and particularly black, representation across our workforce and further across our programme 
 
We will equip ourselves with more knowledge; learning and growing together so that we can remove processes and barriers that sustain systemic racism
 
We stand for social justice, recognising the fight against inequality and racial injustice is an ongoing and everyday commitment
 
We will publish details of how we're making changes and holding ourselves accountable
 
We will create the space for us to have open conversations with our staff
These initial commitments are just the start, and we know we need to go further and to publish specific actions and deadlines for change. But real change needs to come from across our organisation and, importantly, needs to be informed by the experiences and views of all our staff, artists and those with whom we work.
We're therefore setting up a special taskforce to agree the steps we need to take to remove processes and barriers in the organisation that sustain systemic racism. This taskforce will involve people across the organisation and will be independently chaired by an external expert in this field who will help develop the brief and methodology.
This will lead to an action plan, which will form part of our next Equality and Inclusion strategy and will be shared with all our staff and published on this website.
We'll add to this page with updates on this work, meeting our commitment both internally and externally to be transparent as to how we're removing institutional barriers and holding ourselves accountable.
 
We are changing.
Sir Nicholas Kenyon 
Managing Director, Barbican
Equality and Inclusion strategy: 2018–2022
It is implicit in the Barbican's vision of Arts Without Boundaries that we seek not only to produce bold and challenging arts and learning programmes but also that we consider how we can actively ensure that our work is accessible to all. To do so, we have developed an ambitious five-year Equality and Inclusion Strategy.
We know that the issues surrounding Equality & Inclusion are often complex and that sustainable change is not made overnight. Making progress in this area requires patience, rigour and a commitment to changing existing working practices as well as delivering new initiatives. Our Equality & Inclusion work is therefore rooted in the following principles:
Always striving towards achieving equality of opportunity for artists, workforce, audiences and participants
 Ensuring that the Barbican is a welcoming and inclusive space for everyone
 Grounded in the working practices and production models of each department
 Informed and led by research from within and beyond the sector
 Fully evaluated and adjusted annually in response to findings
By 2021 the Barbican will have made significant progress towards ensuring that everything we do across all areas of the organisation reflects our commitment to being an inclusive, welcoming and inspiring place to work, perform, learn, visit and do business with. This covers three areas:
Workforce and working culture
Audiences
Artists and participants
Workforce and working culture
We are reviewing and strengthening our processes and activities to ensure our existing staff are well trained to deliver our Equality & Inclusion ambitions, that they are supported in their personal and professional development and that talented people from all backgrounds are excited by the prospect of joining our teams, perceiving the Barbican as an inspiring and welcoming place to work.
We will achieve this through the following three objectives:
Removing barriers to gaining employment at the Barbican to achieve a workforce that better reflects London
Expanding opportunities for workforce development across our teams by providing staff at all levels with development opportunities to enable progression and support the next generation of cultural leaders
Supporting teams to develop and achieve their individual Equality & Inclusion ambitions by ensuring the way we operate across the organisation places equality and inclusion at the core of how our teams and individuals work
Audiences
Representing the best in UK and international talent is at the core of what we do. We are committed to ensuring that our creative learning offer is accessible to all and that our audiences are as diverse as the perspectives we hope to explore through our programme.   We will do this through the following objectives:
Ensuring our audience experience is of a world class standard for everyone that visits our website and that comes through our doors so that everyone – including visitors, artists, schools, performers and more – find our spaces welcoming and accessible
Reaching and developing new audiences and participants for new and existing programmes to ensure our arts and learning offer is taken advantage of by a broad group of people reflecting London's population
Working with partners in the City of London, in our neighbouring boroughs and across the UK to support the development of the sector through delivering free learning and arts activities in our offsite programmes and work in schools and communities
 Artists and participants
Diversifying representation across our programme to ensure our stages, screens and galleries reflect our audiences and that we are presenting the best in music, cinema, visual arts, theatre &dance through programming innovative, world leading artists from all backgrounds
Continuing to invest in and develop new talent from diverse backgrounds to champion the next generation of artists, companies and future cultural leaders through our support of Artistic Associates, programming and profiling emergent companies and artists, as well as Creative Learning initiatives, including Barbican Box, Creative Careers and Open Labs
Please Note:
The Barbican's Equality and Inclusion Strategy sets out how the organisation can actively ensure that our work is accessible to all. Each year the Barbican works with hundreds of artistic and commercial partners to deliver our programme. While we aim to work with partners and organisations that share our values, those we work with are independent organisations and the Barbican cannot be held accountable for the Equality and Inclusion strategies of these
organisations.
The Barbican's vision is Arts without boundaries.
Our mission is to
inspire people to discover and love the arts
work with outstanding artists to create an innovative international programme that crosses art forms
celebrate the artists of today and invest in those of tomorrow
Guiding principles
Our vision of arts without boundaries means that, in line with the Barbican and City of London Corporation's diversity and inclusion plan, we believe that the work we present on our stages, in our galleries and on our screens should represent the widest possible range of human experience across a wide diversity of age, ethnicity, nationality, sexuality and gender.
One of our core values is to be brave and sometimes provocative. Our programme is international in scope and, as an organisation that enables artists to showcase their work, we believe it's our responsibility to sometimes programme work that responds to our fast changing world, that engages in the debates that define our age and that is relevant to the issues that affect people's lives.
We're proud of our international outlook but recognise this can occasionally put us at the centre of difficult, nuanced and sometimes controversial debates. As a recipient of public funding, we see the Barbican as a civic space that can foster this kind of discussion and debate. Our aim is to strike a balance between being confident in the work we present but also being open to engaging in discussion.
Our approach to programming controversial work
All work the Barbican presents is programmed in the context of our international, cross-arts programme. We do not set out to offend or provoke controversy, however we do recognise sometimes individuals and/or communities may find some of the work we present provocative.
In line with What Next's? arts sector guidance on meeting ethical and reputational challenges, when making a decision whether to programme a potentially controversial artwork we use the following criteria: 
Is the decision we're making consistent with our vision, mission, guiding principles and ethical policy?
Does the work contribute to our international, cross-arts programme?
Have we undertaken a risk assessment and sufficiently weighed up the risks and benefits?
Has the course of action been discussed internally to an appropriate extent?
Have we done enough research and taken the necessary advice from relevant experts and communities outside the organisation?
Has the Barbican's Board and/or Barbican Board Risk Sub-Committee been informed where appropriate?
Is the decision publicly defensible and do we have a clear articulation for the reasons for the decision being made and the process used for reaching this conclusion? 
Programming decisions will be based on the criteria set out above, with the final decision made as per the below:
For work where risk is rated as Minor the decision whether to programme will be made by the Head of the relevant artform.  
For work where risk is rated as Serious the decision whether to programme will be made by the Director of Arts in consultation with the Head of the relevant artform.  
For work where risk is rated as Major the decision whether to programme will be made by the Managing Director in consultation with the Head of the relevant artform and the Director of Arts.
For work where risk is rated as Extreme the decision whether to programme will be made by the Managing Director in consultation with the Chairman and Deputy Chairman of the Barbican Board, the Head of the relevant artform and the Director of Arts.
In cases where risk is rated as Major or Extreme, the Town Clerk of the City of London Corporation will be informed. The City of London Police will also be informed if relevant.
Our political position and relationship with artists
As a department of the City of London Corporation the Barbican is apolitical. Our aim is to give the best artists from around the world a platform to showcase their work.
While apolitical, the Barbican does not shy away from presenting work that invites discussion and debate. However, all artists/organisations who appear in the Barbican programme are there as a result of their exceptional artistic work and our relationship with them does not extend to political issues, or imply sympathy with their personal views or those of anyone associated with them.
Artistic hire  
Alongside the arts and learning events that the Barbican programmes, the Barbican's artistic venues are available for hire by third party promoters. In hiring out our spaces we aim to work with promoters and organisations that share our values and artistic ambitions. While we are selective about the projects we can accommodate, including where appropriate assessing using our criteria for programming potentially controversial work, we cannot be held fully accountable for the artistic content of these events. We identify the promoter of all events on the relevant event page of the Barbican website and direct customer comments back to them.
Commercial hire
The Barbican regularly hosts business events across our spaces, the income from which directly supports the Barbican's arts and learning programme. These are private and corporate events and do not form part of our public programme. While we are not responsible for the business practices of any organisation that hires our spaces, we undertake a risk assessment procedure to ensure any risk these events may cause to the City of London Corporation's and the Barbican's reputations, policies, and working practices are mitigated and/or prevented.
Guiding principles
All staff have an obligation to adhere to and represent the Barbican's vision and principles as set out in this document. Our continued success relies on the trust and confidence of the public and therefore all Barbican staff are expected to uphold the highest standards of personal conduct and integrity.
As a department of the City of London Corporation, Barbican employees must adhere to the City of London's employee Code of Conduct. This incorporates requirements to abide by City of London financial procedures, restrictions on receiving hospitality/gifts and anti-corruption/anti-bribery measures.
The Code also includes a requirement for all Barbican staff to uphold the Nolan Principles on standards in public life which are:
Selflessness
Holders of public office should act solely in terms of the public interest.
 
Integrity
Holders of public office must avoid placing themselves under any obligation to people or organisations that might try inappropriately to influence them in their work. They should not act or take decisions in order to gain financial or other material benefits for themselves, their family, or their friends. They must declare and resolve any interests and relationships.
 
Objectivity
Holders of public office must act and take decisions impartially, fairly and on merit, using the best evidence and without discrimination or bias.
 
Accountability
Holders of public office are accountable to the public for their decisions and actions and must submit themselves to the scrutiny necessary to ensure this.
 
Openness
Holders of public office should act and take decisions in an open and transparent manner. Information should not be withheld from the public unless there are clear and lawful reasons for so doing.
 
Honesty
Holders of public office should be truthful.
 
Leadership
Holders of public office should exhibit these principles in their own behaviour. They should actively promote and robustly support the principles and be willing to challenge poor behaviour wherever it occurs.
The Barbican delivers its world-class arts and learning programme through a mixed-funding model consisting of: core support from the City of London Corporation which is the Barbican's principal funder; revenue generated from audience attendances; commercial income from sales, events etc.; as well as raised income including from grants, donations, sponsorship and membership income from individuals and organisations.
The Barbican is supported by The Barbican Centre Trust Limited, a charity registered in England and Wales (Charity No. 294282; Company No. 01962950). The Trust is a separate company with charitable purposes, and its objectives are: To foster and promote the maintenance, improvement, and development of artistic taste and the knowledge, understanding, education, and appreciation of the arts amongst the inhabitants of the City and generally. In support of those objects, the Trustees are dedicated to raising funds to support the Barbican's world-class arts and creative learning programmes.
The Barbican and the Barbican Centre Trust are separate legal entities, and while the Trust Board includes two ex officio Trustees (the Managing Director and the Chairman of the Barbican Centre Board), elected Members and employees of the City of London Corporation may not form the majority on the Trustees. The Trust has no employees and the Barbican Centre provides support to the work of the Trust. The Barbican Centre Trust has also agreed to follow the Approach to Fundraising and Gift Acceptance Process guidance and principles set out in this policy in support of their charitable purposes.
The Barbican recognises that individuals, the grant making community and private sector businesses have an important role to play in advancing our vision and mission. Funds raised by the Barbican and the Barbican Centre Trust provide vital support towards these goals, and we are grateful to those who contribute to making the Barbican's programmes possible.
When the Barbican and the Barbican Centre Trust seek the support of external organisations and individuals to work together to help achieve our respective goals we each aim to ensure that:  
We have honest relationships with our donors.
We retain our independence and avoid over-reliance on one or more key donors.
We have consistent processes for making decisions about who we accept money from.
We seek to be as cost effective as possible in developing sustainable fundraising streams.  
The Barbican's Development team are members of the Institute of Fundraising and have agreed to adhere to the Fundraising Regulator's Codes of Practice to ensure best practice, transparency and accountability. The Barbican Centre Trust is registered with the Fundraising Regulator.
Accepting grants, donations and sponsorship can bring with it an element of risk. When deciding whether to accept a donation the Barbican and the Barbican Centre Trust each have a duty to:
weigh the benefits of the donations against the level of risk this will or might bring (and to identify if and how risks might be mitigated).
demonstrate that they have acted in the best interests, as relevant, of the Barbican Centre Trust (and its beneficiaries in furtherance of its charitable purposes for the public benefit) or the Barbican (and, the City of London, in provision of a public service).
demonstrate that the association with any particular donor does not unduly compromise each organisation in any way, and further the Barbican's position and artistic integrity, harm its reputation or put future funding at significant risk.
The main criteria for accepting partnerships or donations will be where there are grounds for believing that it will benefit the Barbican's mission. The Barbican and Barbican Centre Trust will not accept funding where the donation:
was known to be associated with criminal sources.
would help further a donor's personal or business objectives when these are in conflict with the objectives of the Barbican or the Barbican Centre Trust.
would lead to long-term and / or irreparable decline in support of the Barbican or in the resources available to fund our work.
would cause long-term and / or irreparable damage our respective reputations.
We assess potential donations to ensure they meet our standards for accepting such gifts and to ensure they do not conflict the values stated above, or otherwise would cause us to breach any legal obligations. This process starts with an informal review, moving into formal review and / or escalation for those deemed at higher risk, using a standardised assessment criteria. For those gifts under formal review and rated as Serious, Major or Extreme, a Gift Advisory Committee will be formed from key personnel which shall include the Barbican's Chief Operating & Financial Officer (CO&FO) (and may include the Chairman of the Barbican Centre Trust) in order to make a recommendation about whether the gift should be accepted or not.
Taking into account the recommendation made by the Gift Advisory Committee a final decision on Major and Extreme risk-rated gifts to the Barbican will be made as per the below:
the Managing Director (MD) in the case of gifts of up to £1,000,000 per annum in consultation with the Chair of the Barbican Centre Trust.
the Managing Director in consultation with the Chairman and Deputy Chairman of the Barbican Centre Board and the Chair of the Barbican Centre Trust for gifts £1,000,001+ per annum
Accepting or otherwise gifts rated as Serious will be made by the Chief Operating & Financial Officer in consultation with the Head of Development, following consultation with other key colleagues, as deemed necessary. Accepting or otherwise gifts rated Minor will be made by the Head of Development.
Individuals involved in making any decision will be asked to declare any conflicts of interest that might prevent them from making an unbiased and objective assessment of the gift under review.  Any individual deemed too closely connected to the donor or donation under review will be excluded from the advisory and decision-making process and an alternative individual approached.
The Gift Advisory Committee will meet in person or by secure correspondence to consider the matters referred to it. Minutes will be kept of its discussions and key points from the minutes which inform the decision-makers in taking their decisions (as noted above) will be presented to next subsequent meeting of the Barbican Centre Trust and Board, as relevant, together with the research material and reports and supporting documents, as required.  
Environmental sustainability policy
The Barbican is a world-class arts and learning centre, pushing the boundaries of all major art forms including dance, film, music, theatre and visual arts.
The Barbican recognises the impact that our operations and activities can have on the environment and is committed to reducing these impacts by setting and achieving clearly defined objectives and targets, as well as developing frameworks to achieve continual improvement.
Due to the nature and scale of the Barbican we recognise that we have a leadership role to play and are developing our systems with the ambition of being acknowledged as exemplars of best practice in environmental management.  
The Barbican identifies with the definition of Sustainable Development as 'Development that meets the needs of the present without compromising the ability of future generations to meet their own needs' as set out in the Brundtland Report for the United Nations World Commission of Environment and Development.
The Barbican is a department of the City of London Corporation and works towards the City's corporate and sustainability aims, in particular the City of London Corporation's Sustainability Policy and Responsible Business Strategy. 
The primary environmental impacts generated by our estates and activities are: fossil fuel energy consumption, water consumption, waste generation, use of materials and resources, and staff, artist and audience travel.    
Given our reach to audiences and the nature of our open spaces we have the opportunity to generate positive environmental impact by:
inspiring staff and audiences to live and work more sustainably.
sharing best practice with arts, education and other organisations.
encouraging biodiversity in our open spaces.
The Barbican is committed to:
Meeting or exceeding the requirements of all relevant environmental legislation, regulations and other compliance obligations.
Ensuring minimal environmental impact from construction, refurbishment and maintenance activities.
Promoting sustainable procurement and efficient use of materials and resources including energy, water, materials and other resources.
Avoiding waste where possible and increasing reuse and recycling rates.
Avoiding, where possible, the use of hazardous materials and products, and take all reasonable steps to protect the environment.
Promoting environmental awareness among our employees, audiences, visiting companies and those working on our behalf and encourage them to work in an environmentally responsible manner, and creating opportunities for them to take ownership of initiatives that support environmental and sustainable practices.
Promoting artistic response to issues related to the environment and sustainability, to broaden understanding and support the creation and develop of public dialogue in these areas.
Communicating our environmental and sustainability commitments and practices to all relevant parties.
Encouraging the use of sustainable forms of transport.
Exploring ways of increasing biodiversity in our estate.
The Sustainability Steering Group is made up from members of staff from both the Barbican and the Guildhall School of Music and Drama. Being neighbours within the same iconic listed Grade 2 Barbican estate, and sharing a number of integrated services and management responsibilities, the two organisations have developed a joint approach to managing sustainability, this being part of our 'Common Platform / Operational Alliance' approach.
The Sustainability Steering Group's mission is to ensure that both organisations make ethical and environmentally-sound decisions in all facets of the business and encourage others to do the same.  The group exists to co-ordinate and communicate various initiatives including this policy and associated action plan.
The group meets six times per year and is made up of members of staff from both organisations and includes representation from the student body and senior management.
Sustainability issues are communicated internally to staff through clear notices and guidance on the intranet, including links to any relevant policies, the Sustainability Steering Group will continue to advocate green issues, and will meet regularly to explore new initiatives along with more sustainable ways of working.  
We will continue to communicate our green successes with audiences and other interested parties. Sustainability will feature on our website, which will include highlighting awards and other recognition for work achieved.
In order to achieve our ambitions and continual improvement we will continue to develop and review our environmental sustainability action plan which sets out actions that are completed, ongoing and scheduled.  Although it remains the case that we are not starting from scratch with many successful initiatives undertaken and awards received to date. 
Environmental impacts will be assessed and audited annually by the Sustainability Steering Group which will inform the review process for the policy and action plan. Significant findings from audits will be reported to the Barbican's Senior Team.
This policy and associated action plan will be reviewed on a regular basis by the Sustainability Steering Group who will report at least annually to the Barbican's Senior Team.
To ensure alignment and to support our strategic partnerships we will continue to:
monitor our gas, electricity, water and waste usage, and report via Arts Council England's Sustainability Partner, Julie's Bicycle.
ensure linkage between the City of London and the Barbican's teams.
Review Date: 25 November 2019
Reviewed by: Sustainability Steering Group
Approved by: Barbican Management Team