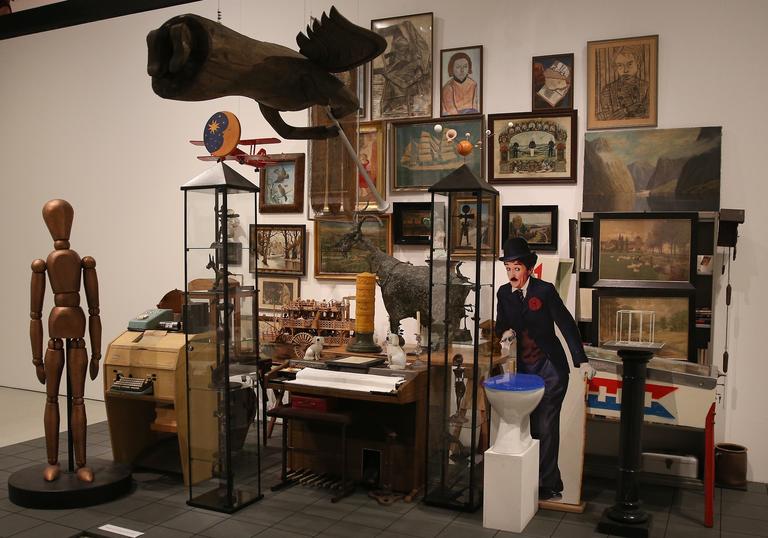 Featured artists
Arman, Peter Blake, Hanne Darboven, Edmund de Waal, Damien Hirst, Howard Hodgkin, Dr Lakra, Sol LeWitt, Martin Parr, Jim Shaw, Hiroshi Sugimoto, Andy Warhol, Pae White, Martin Wong / Danh Vo. 
Reviews
'What a delightful exhibition Magnificent Obsessions proves to be. Bursting at the seams with bizarre and beautiful objects...'
'The exhibition is, by its nature, compelling and confounding'
Wall Street International
'A fabulous gallimaufry of an exhibition… the result is a glorious mix of nostalgia, eccentricity, kitsch and downright weirdness'
'There has never been a London art show like it'
'Magnificent Obsessions is a fantastic and innovative exhibition'
'Truly worthy of its title'
'There is an eclectic mix on display, prompting the question of what and why we collect...'
Touring
Magnificent Obsessions: The Artist as Collector went on to tour to The Sainsbury Centre for Visual Arts: 12 September - 24 January 2016.
Discover
Listen: Sir Peter Blake
With a mutual love of elephant ephemera, Sir Peter Blake remembers his visit to Howard Hodgkin that inspired his ever-growing elephant collection.
Listen: Dr Lakra
Dr Lakra takes us back to the Mexican chacharas of his childhood, the treasure trove markets where his collection first began.
Listen: Pae White
Amongst the glamour and celebrity of the likes of Marilyn Monroe and friends, Pae White's magpie eye developed – associate curator Sophie Persson looks back at her indiscriminate love of collecting and her beautiful jumbles of Vera Neumann pieces.
From ceramic elephants and cookie jars to Margaret Thatcher memorabilia, uncover the private obsessions of artists as we explore their collections and discover how they inspire them in their own work. Download the free Magnificent Obsessions app.