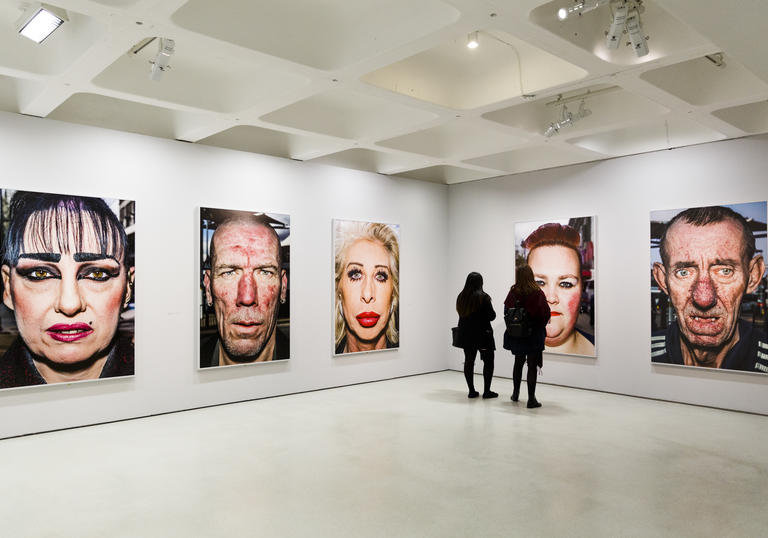 Reviews
'This beautiful show perfectly captures the changing and diverse nature of Britain as well as the evolution of photography'
'One of the most involving and moving exhibitions of the year'
'A lively, consistently entertaining exhibition, full of great images'
Discover
Listen to the stories behind five photos from Strange and Familiar with audio from Martin Parr, curator Alona Pardo, author Pamela Roberts plus voices from around the UK.
In Conversation: Martin Parr and Bruce Gilden
New York photographer Bruce Gilden talks to Strange and Familiar curator – and personal friend – Martin Parr about his introduction to photography, black and white versus vibrant colour and why we should take a closer look at people in the street...
In extracts from his photography books from his travels around the UK, Bruce Davidson's shares his vision of British society, revealing the stark contrasts between city and country life, of the landed gentry and the common people.
Sophie Wright from Magnum Photos shares her insight on Sergio Larrain's photography.
Visit the cities and communities behind the photographs that make up this vibrant portrait of modern Britain in our 'Strange and Familiar' collection featuring audio, photography, interviews and more, inspired by the themes of the exhibition
Touring
Strange and Familiar: Britain as Revealed by International Photographers was shown at Manchester Art Gallery from 25 November 2016–29 May 2017