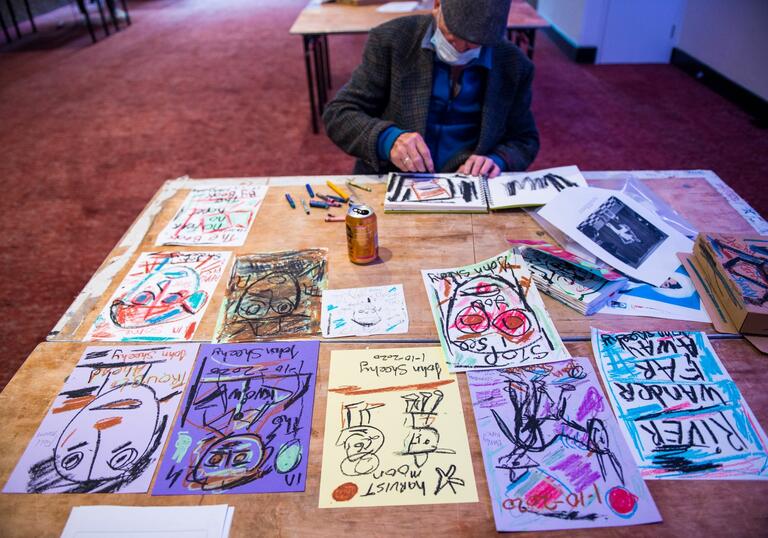 Our Community Collaborator: Headway East London
Our Community Collaborators programme is an in-depth partnership model we have introduced as a way to build solid relationships with community-based organisations and learn from each other. Across a three-year period, we aim to develop a deeper understanding of prolonged collaboration and encourage meaningful dialogue expressed through creativity.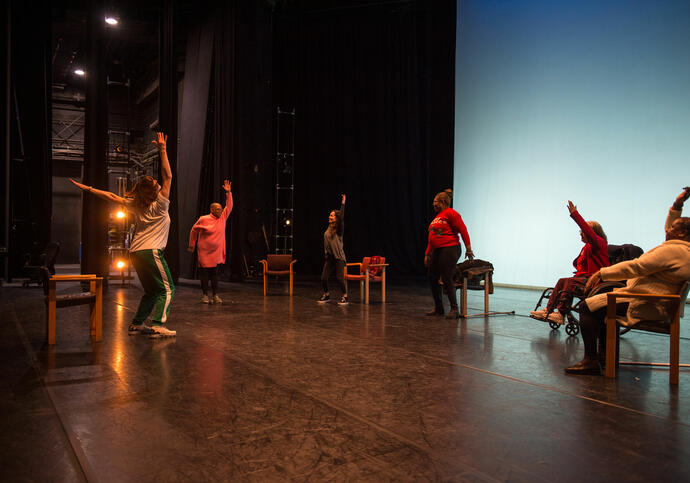 Headway East London
Over the last three years we have worked with one local community organisation on a range of projects that encourage dialogue, collaboration and learning.  
Headway East London is a local charity supporting people affected by brain injury, offering specialist services to survivors and their families. The charity has exceptional artists as members and we work to complement, develop and showcase their work and, in turn, they support our staff and programme to develop in new ways.  
Our partnership with Headway East London culminates in 2023 with a takeover of the Curve gallery.
Our Creatives in Residence: We Are Parable
Our Creatives in Residence is a pilot programme exploring how we can best support creatives and creative enterprises by sharing our facilities, spaces and resources over an agreed period of time. The programme encourages collaboration across our different art forms and departments through co-developing projects and events of different scale and ambition.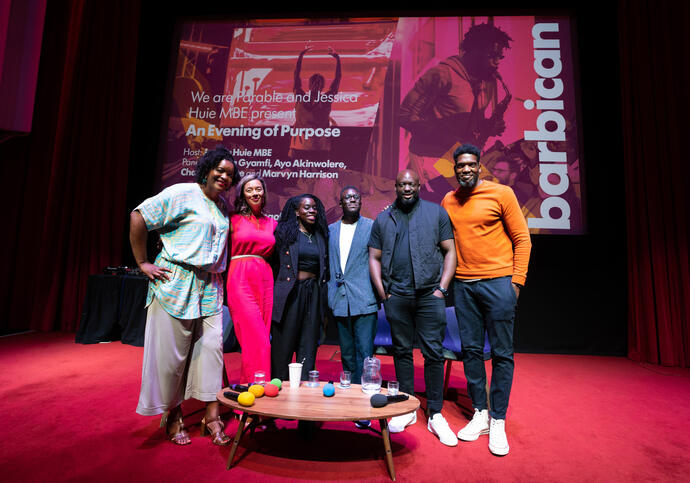 We are Parable
We Are Parable are a multi award-winning film exhibition company who provide opportunities to experience Black Cinema in culturally relevant ways. We Are Parable are dedicated to providing a platform for Black films and their creators through their work in exhibition and the production of mentorship opportunities. National Lottery & BFI backed, We Are Parable have been creating cinematic moments, supporting filmmakers and championing new voices in film since 2013. 
Our Communities in Residence
Our four Communities In Residence partners, appointed in 2022, and with whom we will be working for the next twelve months: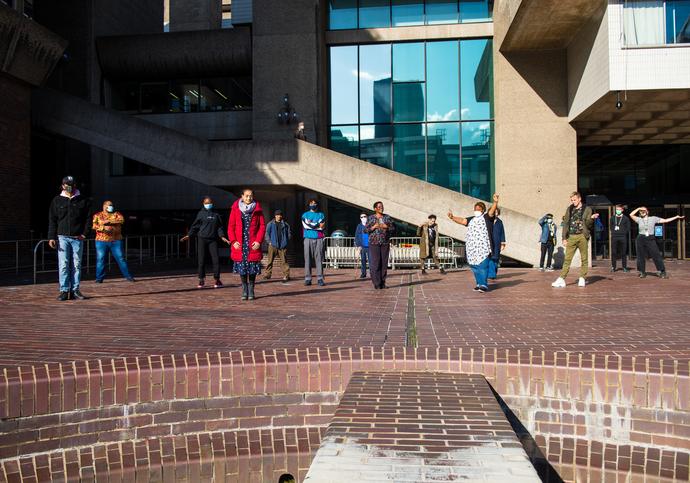 Accumulate
Accumulate is The Art school for the Homeless. It uses creativity to empower and increase the wellbeing of young people who are affected by homelessness. It works with hostels and housing organisations across London delivering courses and learning experiences in art, photography, creative writing, audio-visual production, fashion, and other creative disciplines. 
The Accumulate residency at the Barbican enables us to open up access to an arts centre for Accumulate's participants, some of whom may have never visited a space like this or felt welcome entering art centres in the past. The residency provides participants a safe space that is welcoming where they share their learning with each other, build valuable friendships and become part of a new creative community that they have created together. The Accumulate participants also get positive life experiences to progress from and are involved in something that is enjoyable and fulfilling and so they look forward to returning to the Barbican each week for more learning and more art.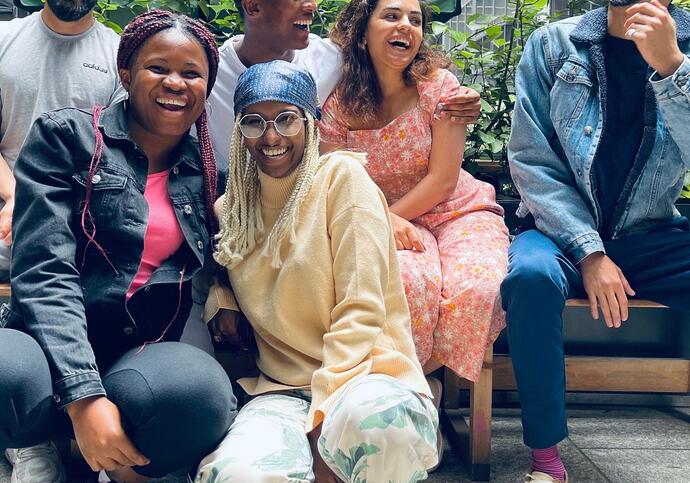 Phosphoros Theatre
Phosphoros Theatre was founded in 2015 and is an award-winning, industry-leading company, focused on amplifying refugee voices and bringing them to the main stage. They make socially engaged performance with, for, and by refugees and asylum seekers. Phosphoros make and hold space for those with forced migration backgrounds to voice, reflect on and respond to their lived experience, taking charge of the narratives that seldom include their perspective. The theatre company create nationally touring productions, deliver one-off and regular arts work with refugees, train professionals and provide paid work, training and development opportunities for refugee artists and youth workers.  
Their fourth show All the beds I have slept in toured the UK in Autumn 2022 and finishes in February 2023. Our Phosphoros Young Company for young refugees and asylum-seekers aged 16-21 year olds runs weekly. Phosphoros Sisters, is for refugee and-seeking women and girls and will be performing in Refugee Week 2022. They are officially recognised as a Theatre Company of Sanctuary by City of Sanctuary.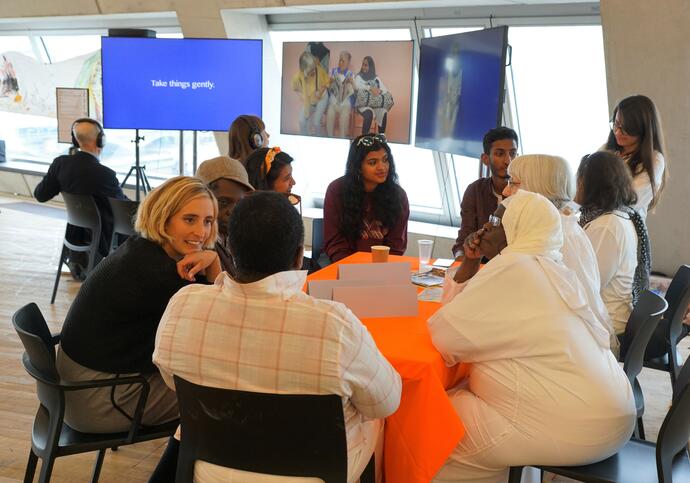 Flourishing Lives
Flourishing Lives is a London-wide coalition of arts and wellbeing organisations taking a creative and aspirational approach to supporting richer, more independent lives for people over the age of 55. They combat social isolation amongst older people by promoting community, expression and engagement through the arts. The coalition work alongside older people activists, artists, allies and our coalition partners, providing a platform for arts and wellbeing organisations to showcase their work, and for older people to champion their creative abilities, aspirations, and achievements. 
The Flourishing Lives Series at Barbican is an innovative series of free quarterly workshops, events and activities that are open to all, celebrating the immense contribution that older people make to both art and society. The aim is to change the public discourse around ageing by fostering an intergenerational exchange of ideas, knowledge and inspiration, and showcasing the incredible work that arts and wellbeing organisations are developing and creating in collaboration with older people. The workshops are free and open to people of all ages - everyone is welcome!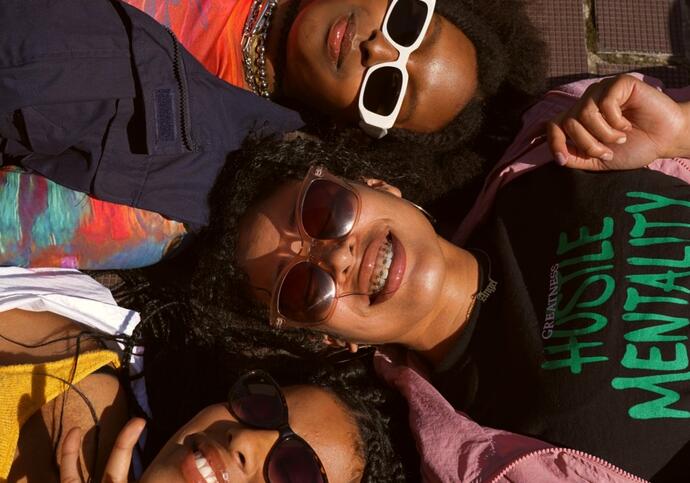 Babes in Development
Babes in Development is an incubator and development space for Black women/non-binary creatives, founded by Adna Ahmed and Marissa Mireles Hinds, with co-founding partner Ruth Hundama. The collective host interdisciplinary creative events, mentorship opportunities and lecture series based at the Barbican. They collaborate with, hire and highlight other Black artists and support them to find work opportunities and grants in film.
The Babes in Development network have provided participants opportunities to go to high profile events such as talks by high profile actors such as Lena Waithe, work on set on Kano and Daniel Kaluuya's film The Kitchen, work in the prop department of a Netflix production, attend masterclasses hosted with the scriptwriter of Top Boy, and much more. They have been featured on Dazed billboards over the summer.
'Opportunities to connect and create together across generations are vital to our communities and we are delighted that the Barbican is committed to raising the profile of the Creative Ageing agenda.'
David McDonagh and Cordelia Wyche, Programme Director and Head of Engagement at Flourishing Lives