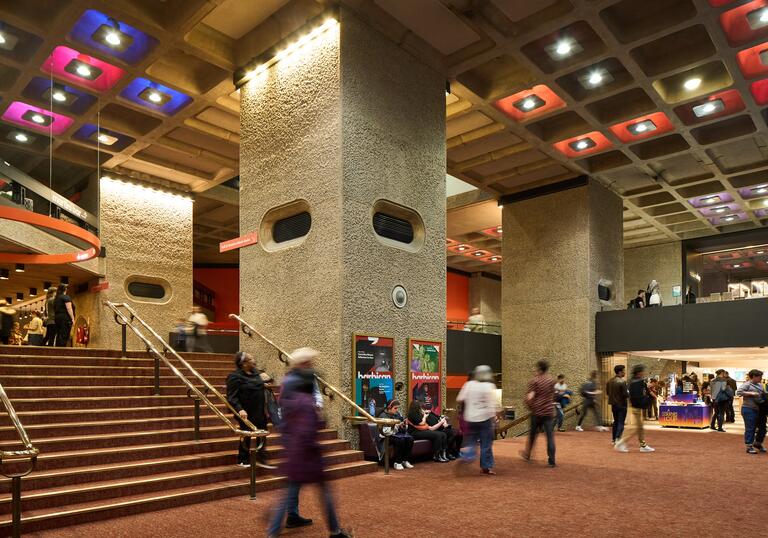 E-tickets
E-tickets are the quickest way to receive your tickets. If you choose this option, your tickets will be sent to you immediately via email. You may print them out or present them on your mobile device. Each ticket is only valid for admission once and should not be duplicated. Keep your e-tickets in a safe place and with you until the end of the performance.
We don't require e-tickets to be returned. If you notify us by email 24 hours before your performance date then we'll be able to swap your tickets to another available performance or credit your account.  
Please keep your tickets in a safe place and with you until the end of the performance. Each ticket is only valid for one admission and should not be duplicated. Our staff will be aware immediately if more than one copy of the same ticket is used. Unauthorised duplication renders the ticket void.
If you do not receive your confirmation email or if no ticket is attached, please call our ticket sales team on 020 7870 2500 (12 Noon - 5:30pm Mon - Fri) Text phone for hard of hearing visitors 07710 854 085. If possible please have your booking reference to hand.
Conditions of sale
Tickets and items purchased where a discount or benefit has been claimed without entitlement and tickets purchased through misuse of promotional codes , schemes and promotions are in breach of our terms and conditions of sale will be declared void and are not valid for entry. 
Tickets must not be sold or offered for sale from within the Barbican premises except from the Box Office by our ticketing team. Only tickets purchased from our box office or our approved agents are valid for admission.
Tickets sold via unauthorised third parties, including online auction sites and 'fan to fan' resale sites are not valid for entry. 
Reselling a ticket for profit or commercial gain makes it void and the ticketholder will be refused entry.
Any attempts to manipulate or damage our systems may be unlawful and could result in legal action being taken.
Failure to adhere to our Terms and Conditions of sale may result in tickets not being valid for entry. 
Our staff are here to enhance your experience and to ensure your safety at all times. Please follow any guidance they give in relation to your and others' comfort and safety.
No member of the audience will be permitted to sit in any gangway which intersects or flanks the seating.
Re-admission cannot be guaranteed. On occasion we may have to show you to alternative seats.
The taking of photographs, capturing of images or the use of any recording devices including mobile phones during any performance is strictly prohibited.
The Barbican or any permitted third parties may carry out general filming and sound recording in or about the venue. By purchasing tickets you consent to you and your party being included in and to the exploitation of such films and recordings without payment.
The Management of the Barbican reserves the right to:
refuse admission to the premises and any Barbican venue
request any ticket holder to leave the venue, and take appropriate action to enforce this right
change the advertised arrangements of any performance in the event of illness or any cause beyond our control
If for any reason you are unable to use your tickets, we offer a flexible exchange service online. Tickets can be exchanged for credit valid for twelve months. In order to take advantage of this service, we will need to be notified no later than 24 hours before the performance. You can use our online self service returns system in your account. Simply select the booking and tickets you wish to return and we'll process it.
To return a group booking (10 or more tickets) please email our groups team on: [email protected]. We require 14 days cancellation notice for any group booking.
There is an administration fee of £2.50 per ticket for all ticket exchange services.
Tickets purchased as part of a subscription or multi-buy package where discounts have been generated cannot be exchanged for credit vouchers out with the original qualifying package.
Tickets received less than 24 hours before the performance may be offered for sale once all house tickets have been sold, at the discretion of the Ticket Sales Manager.  Should we successfully re-sell tickets, a credit will be due from which an administration fee of £2.50 per ticket will be deducted. Successfully reselling tickets on your behalf - even for sold out performances - is never guaranteed and we would recommend exchanging your tickets 24hrs in advance for ticket credit vouchers.
We reserve the right not to accept tickets for re-sale.
Tickets will not be refunded unless the event or exhibition you booked for is cancelled or abandoned when less than half  has taken place.
Agents' tickets are accepted on the understanding that the agent is acting for the customer and not for the Barbican. 
Children under 5 are not permitted in the Barbican Hall or Barbican Theatres except for family performances. Tickets are required for each child over the age of 18 months old attending a family event.
Theatre performances have age guidance as stated on the website. Parents/guardians are reminded that some events are not suitable for young children. 
Minimum age for entry to a Barbican event is 14 years of age. Anyone younger than 14 must be accompanied by someone aged 16 or over.
 
E-tickets are available for most performances.
If you choose to have your tickets delivered, they will be sent out by first class post or, if you are booking within 5 days of the performance, held care of the Box Office.  Tickets held at the Box Office can be collected on presentation of the Debit/Credit Card used to make your booking and your booking confirmation if you have booked online.
If you arrive late for the start of a performance or after an interval we appreciate that you will want to take your seat as soon as possible. We will do everything possible to assist. To limit disturbance to fellow audience members and artists we may have to ask you to wait until a suitable break in the performance. Occasionally this may not be possible once the performance has started.