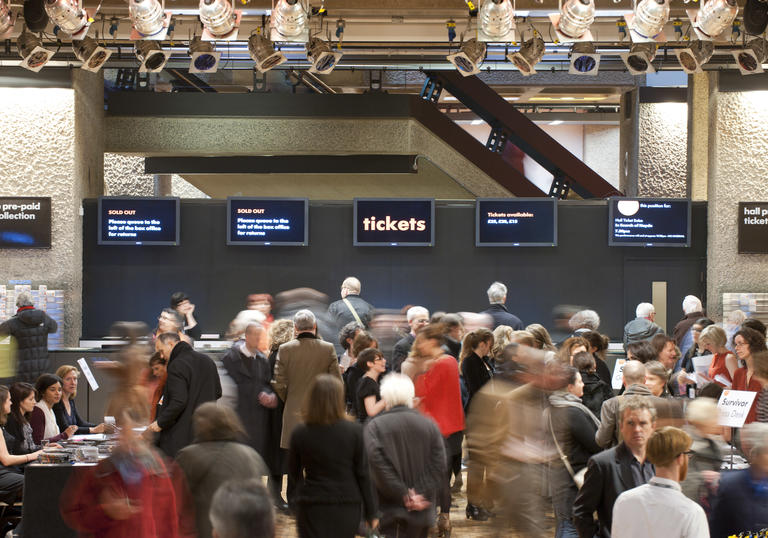 Save for later
We recently introduced some new functionality to our website which will allow you to bookmark events you might be interested in, so you can come back at a later date to book your tickets. Please share your feedback so we can make improvements in the future: complete a short survey.
'Saved events' uses cookies, so it doesn't rely on you being logged in to your Barbican account for it to work. When you choose an event you'd like to save for later, a cookie (an instruction) is sent to the browser on the device you are using, so it will still be saved next time you browse our site from that device. You'll be able to go straight to your 'Saved events' and browse the events you added last time you visited.
On each event listing, you'll notice a star icon and a link 'Save for later'. Simply click on this link and you'll add that event to a 'Save for later' list which will pop out from the right of your screen. On the listings view, the button is located next to the 'More info' button and on the event page, it's below the 'Book tickets' button.
If you're viewing an event from the listings view or the event page, click on 'Saved for later' again and you'll notice the label will revert to 'Save for later' – this will remove the event from your list. From the 'Saved events' list, simply click 'Remove' to remove a particular event.
You can save any event that has one or more performance date, whether it is ticketed, free or drop-in. You cannot save Series, Seasons, Festivals or general information pages. You can save events that are currently sold out letting you easily check availability from your 'Saved events' to see if any tickets become available.
You'll be able to access your 'Saved events' directly from the basket page so you don't have to rebrowse to find them. You'll notice a new button 'Go to my saved events' at the bottom of the basket page on the left hand side – this will direct you to a page containing all your Saved events. You'll be able to simply return to this page to continue booking multiple items in your Saved events list.
For now, events you've booked from your 'Saved events' will remain on your list.  
Events will be displayed in your list chronologically according to event date. Where an event has multiple performances, the event with the earliest first performance date (even if it has passed) will be displayed first.
If you clear the cookies on your device, you will clear your 'Saved events' list.
Your Saved events can currently only be viewed on the same device.
At the moment, this list is purely for customer reference and we will not contact you about the events in your list.
e-tickets
Instant delivery.
Present them on your phone. 
The best way to receive your tickets.
e-tickets are the quickest way to receive your tickets. If you choose the e-ticket option your tickets will be sent to you immediately via email for you to print at home. Please print out all the pages of the e-ticket and bring them with you to gain entry to the event. Alternatively, you may present your e-ticket on your mobile device.(please download it to your device in advance as mobile connectivity strength differs in some venues). Please also bring the credit or debit card you used to make your booking. Each ticket is only valid for admission once and should not be duplicated. Keep your e-tickets in a safe place and with you until the end of the performance.
You will need Adobe Acrobat reader version 9 or higher and a printer. Use A4 white paper for the best results. 
Please keep your e-tickets in a safe place and with you until the end of the performance. Each e-ticket is only valid for one admission and should not be duplicated. Our staff will be aware immediately if more than one copy of the same e-ticket is used. Unauthorised duplication renders the ticket void.
e-tickets are currently available for theatre, concert hall and cinema events. They are not yet available for general admission events with the exception of gallery exhibitions when they are available.
If you experience problems printing your e-tickets please call our ticket sales team on 0845 120 7511 (10am-8pm Mon - Sat, 11am - 8pm Sun and bank holidays). If possible please have your booking reference to hand. 
If you do not receive your confirmation email or if no e-ticket is attached please call our ticket sales team on 0845 120 7511 (10am-8pm Mon - Sat, 11am - 8pm Sun and bank holidays). Text phone for hard of hearing visitors 07710 854 085. If possible please have your booking reference to hand.
If you are unable to retrieve the email containing your print@home tickets you may also download them directly from the bookings tab in your account once you've logged in. This option will be unavailable if you chose to 'Continue as guest'
You will receive one confirmation email with an attachment containing all your e-tickets. Please print out all the pages of the attachment and bring them, together with the debit or credit card you used to make your booking, with you to gain entry to the event.
Conditions of sale
Find out about our ticketing policies including how you can receive your tickets, how to return tickets and information about third party ticket agents. 
Tickets and items purchased where a discount or benefit has been claimed without entitlement and tickets purchased through misuse of promotional codes , schemes and promotions are in breach of our terms and conditions of sale will be declared void and are not valid for entry. 
Tickets must not be sold or offered for sale from within the Barbican premises except from the Box Office by our ticketing team. Only tickets purchased from our box office or our approved agents are valid for admission.
Tickets sold via unauthorised third parties, including online auction sites and 'fan to fan' resale sites are not valid for entry. 
Reselling a ticket for profit or commercial gain makes it void and the ticketholder will be refused entry.
Any attempts to manipulate or damage our systems may be unlawful and could result in legal action being taken.
Failure to adhere to our Terms and Conditions of sale may result in tickets not being valid for entry. 
Our staff are here to enhance your experience and to ensure your safety at all times. Please follow any guidance they give in relation to your and others comfort and safety.
No member of the audience will be permitted to sit in any gangway which intersects or flanks the seating.
Readmission cannot be guaranteed. On occasion we may have to show you to alternative seats.
The taking of photographs, capturing of images or the use of any recording devices including mobile phones during any performance is strictly prohibited.
The Barbican or any permitted third parties may carry out general filming and sound recording in or about the venue. By purchasing tickets you consent to you and your party being included in and to the exploitation of such films and recordings without payment.
The Management of the Barbican reserves the right to: 
refuse admission to the premises and any Barbican venue
request any ticket holder to leave the venue, and take appropriate action to enforce this right
change the advertised arrangements of any performance in the event of illness or any cause beyond our control
If for any reason you are unable to use your tickets we offer a flexible exchange service. Tickets can be exchanged for another performance or for a credit voucher valid for six months. In order to take advantage of this service your original tickets are required to be received by us at least 24 hours before the performance (14 days for group bookings of 10 or more). 
There is an administration fee of £2.50 per ticket for all ticket exchange services.
Tickets purchased as part of a subscription or multi-buy package where discounts have been generated cannot be exchanged for credit vouchers or performances out with the original qualifying package.
Tickets received less than 24 hours before the performance may be offered for sale once all house tickets have been sold at the discretion of the Ticket Sales manager. 
Should we successfully re-sell tickets a refund will be due from which an administration fee of £2.50 per ticket will be deducted from the refund due to you.
Successfully reselling tickets on your behalf - even for sold out performances - is never guaranteed and we would recommend exchanging your tickets 24hrs in advance for ticket credit vouchers.
We reserve the right not to accept tickets for re-sale. 
Tickets will not be refunded unless a performance is cancelled or abandoned when less than half the performance has taken place.
Agents' tickets are accepted on the understanding that the agent is acting for the customer and not for the Barbican. 
Tickets are required for each child attending a performance. Children under 5 are not permitted to enter the Barbican Hall excepting family concerts. Children over the age of 18 months require a ticket for family concerts. Theatre performances have age guidance; please call the Box Office for details. Parents are reminded that some performances are not suitable for young children. 
On most performances you can have your tickets delivered instantly by email.
Alternatively your tickets will be sent out by first class post or if within 5 days of the performance, held care of the Box Office.  Tickets held for collection can be collected on presentation of the Debit/Credit Card used to make your booking and your booking confirmation if you have booked online. 
If you arrive late for the start of a performance or after an interval we appreciate that you will want to take your seat as soon as possible. We will do everything possible to assist. To limit disturbance to fellow audience members and artists we may have to ask you to wait until a suitable break in the performance. Occasionally this may not be possible once the performance has started. 
Security
The Barbican Centre takes the security of your personal information seriously. Our systems are regularly penetration tested and audited and all sensitive data is encrypted.
None of the personal information, including credit card details are stored on our server infrastructure.
This is the [website] of the Barbican Centre, which is owned, funded and managed by the Corporation of London.
By using this website the [User] agrees to be bound by the "Terms and Conditions of Use" and if the User purchases any goods or services from the website agrees to be bound by the "Conditions of Sale" and any specific conditions set out.
We support the following platforms:
Windows: Internet Explorer 11, Chrome and Firefox
Mac: Safari, Chrome, Firefox
TLS v1.1 and above
The Barbican Centre is committed to the highest standard and quality of information and every attempt has been made to present up-to-date, accurate information.
However the Barbican Centre gives no warranty as to the accuracy of the information on this website and accepts no liability for any loss damage or inconvenience caused as a result of reliance on such information.
Although the Barbican Centre takes all reasonable measures to ensure that the information provided to it from third parties is accurate and not defamatory or offensive it cannot control the content or take responsibility for pages maintained by external providers or linked pages
In accessing information from this website the User agrees to be bound by these Terms and Conditions of Use as set out below. This website contains proprietary notices and copyright information, the terms of which the User agrees to observe and follow.
The User assumes full responsibility for the protection of his computer system including computer hardware software and stored data on his computer system including hardware software and stored data of third parties who may access or be otherwise connected to the User's computer system. The User will assume the responsibility of ensuring that program or other data downloaded or otherwise received from this website are free from viruses, worms, Trojan horses or other items of a destructive nature.
The Barbican Centre will take reasonable steps to ensure that data transmitted electronically to the Barbican Centre via the site or otherwise and stored by the Barbican Centre is not accessed by unauthorised third parties in accordance with the requirements of the Data Protection Act 1998. The User accepts the risk that data transmitted electronically to the Barbican Centre via this website or otherwise may be intercepted before reaching the Barbican Centre or accessed from the Barbican Centre's data storage by third parties not authorised by the Barbican Centre and may be exploited unlawfully by such unauthorised third parties.
The Barbican Centre makes no representations as to the security quality or propriety of any website which may be accessed through this website and accepts no liability for the content or for any loss or damage caused or alleged to have been caused by the use of or reliance on information contained in such websites or goods or services purchased there from. Connected websites accessed through this website are independent websites over which the Barbican Centre does not exercise any control whether financial editorial or of any other kind and are not in any way endorsed by the Barbican Centre.
Information contained in this website may contain technical inaccuracies or typographical mistakes. Information may be changed or updated without notice and any queries relating to the information including queries as to its currency and accuracy should be addressed to the person or persons stipulated in the Specific Conditions on the appropriate pages relevant to the goods or services sought.
All information made available from within this website is provided "as is" for information purposes only and without warranty of any kind either express or implied including but not limited to any warranties as to non-infringement of rights merchantability or fitness for a particular purpose.
View Barbican's Conditions of Sale.
'User' a Barbican Member, customer or visitor to the Barbican website; 
'Website' the network location on the World Wide Web written in hypertext mark-up language (or other World Wide Web compatible language) format developed in accordance with these terms and conditions containing digital text, graphics, sound, and video which is the Customer's proprietary site stored on a server and accessed via the Internet, being identified as 'www.barbican.org.uk'.
Privacy
This policy was last updated on 2 August 2017.
The Barbican (we) are committed to upholding your privacy and taking care with the personal information that you may volunteer as part of ticket bookings, online purchases, membership or donation forms, e-newsletter or event sign-ups and visitor surveys.
The personal information we collect, process or use is treated securely and in accordance with our privacy policy (described below) the Data Protection Act 1998, and the Privacy and Electronic Communications Regulations 2003.
Whenever you give us personal information, you are consenting to its collection and use in accordance with this policy, including our use of cookies (as explained below).
What personal information do we collect and process?
You will be asked for personal information when you register, join as a member, make an enquiry, make a donation, sign up for a learning activity, or order products and services from us.
When you buy from us
We will retain your name, contact details and contact preferences when you make a purchase from our box office or otherwise buy products from us. We will keep a record of your bank or credit card details used to make the purchase, but only temporarily and solely to process your transaction.
When you make a donation, join as a member, or otherwise provide us with your information
We will record details when you sign up to our mailing list, become a member or make a donation. Where you make a donation, we will keep a record of the details of the gift (amount, date, purpose) and your Gift Aid status. We may also ask you to provide details about your current interests and activities, and the details of your family and spouse/partner details where appropriate.
When you provide us information in relation to an event that you are attending with us, we may ask you about your access requirements and dietary preferences.
As part of your participation in some of our programmes we may use your data differently than is set out in this policy. For more information about how these programmes (such as our Creative Learning programme) may collect and use your data, please click here.
When you use our website
We log your Internet Protocol (IP) address, in order to receive and send information from and to you over the internet. Our website also uses cookies to enable online transactions, understand how people use our website and inform our digital advertising.  Find out more about our use of cookies by clicking here.
Whenever we ask you to provide your personal information we will let you know why we are asking, and how we will use your information, by directing you towards this notice.
What information we collect about you and from other sources
We may combine the information above which you provide to us with the information we collect about you from external sources in order to gain a better understanding of our audiences, members, learning participants and supporters and to improve our membership and fundraising methods, learning programmes, or other products and services. The personal information we collect from you or public sources may (depending on the purpose for which you initially provide us with your information) include:
ticket purchases (and other online retail purchases from us) and event registration/attendance
details of correspondence we send to you, or we receive from you
education, employment and professional information and activities
information relating to charitable interests and activities, as well as inclination and capacity to support the Barbican Centre Trust a registered charity
where not otherwise available, the information listed in the "personal information we collect and process" section above
Sensitive Information
Some of the information which we collect from you (for example where you apply to take part in one of our projects) may constitute sensitive personal data. We will only ever use this in accordance with this policy and shall maintain necessary measures to protect this information and its confidentiality.
What we use your information for
Depending on the preferences you have indicated and your relationship with the Barbican Centre, we will use the personal information you have provided to:
provide goods and services to you or your organisation or process donations that you make to us
send you communications by post, telephone or electronic means in order to inform you of other products, services or events related to the Barbican, which may include emails containing relevant news or competitions from our sponsors
ask you to participate in surveys and market research
conduct fundraising activities and ensure our fundraising resources are used in the most effective and efficient manner and that any communications we may send are appropriate and of interest to you
improve our understanding of our audience through basic profiling, tracking of your activity on our site and your response to emails (or other communications) that we send you
notify you of changes and improvements to events, services, website and this privacy policy
You can opt out of any or all of the above communications at any time simply by selecting 'unsubscribe' at the bottom of any email communication, or by contacting [tickets@barbican.org.uk]. Alternatively you change your preferences at any time by changing the relevant settings in the "My Account" section of our website.
Building an understanding of audiences, members and supporters and improving communications
We use various techniques including market research and audience profiling techniques to help us understand our audiences, customers, members, donors and potential supporters. This includes gathering information from you as well as publicly available resources to give an insight into your interests and inclination to attend the Barbican more frequently, join as a member, or make a donation to support the Barbican.
We do this because it allows us to understand our audience members and the people who support us, and helps us to send appropriate communications and make appropriate requests to those who may be able and interested in attending or giving more than they already do. 
When building a profile we may analyse geographic, demographic and other information relating to you in order to better understand your interests and preferences in order to contact you with the most relevant communications. 
Opting into and out of marketing and other fundraising communications
With your consent, we will contact you to let you know about upcoming events, offers from our shop and restaurants, updates on our plans and progress we are making, and to ask you to join as a member, make a donation or give other types of support.  Occasionally, we may include information from our partner organisations or organisations who support us in these communications.
We make it easy for you to tell us how you want us to communicate, in a way that suits you. Our forms have clear marketing preference questions and we include information on how to opt out when we send you marketing. If you don't want to hear from us, that's fine.  Just let us know when you provide us with your information, change your preferences at any time by changing the relevant settings in the 'My Account' section of our website or contact tickets@barbican.org.uk.
Who we might share your personal information with
Your personal information might be passed to a third party if they need it to fulfil your order(s) for our goods and services, to execute the communications we send to you, to process a donation, or where you have otherwise consented to being contacted by selected third parties, such as artistic partners and associates. We do comprehensive checks on these companies before we work with them, and put a contract in place that sets out our expectations and requirements, especially regarding how they manage the personal information they have collected or have access to.
For more information on how we use your data in conjunction with other artistic organisations, including the London Symphony Orchestra, please click here.
Examples of these third parties include our bank (in order to process Direct Debit and other payments), mailing houses (for distributing our events guides), our bulk email distribution service provider, and audience analyses and data cleansing suppliers, for example to access the Post Office National Change of Address (NCOA) database.
Except as set out in this policy, we shall not disclose your personal information unless obliged to, or allowed to do so by law, or where we need to in order to run our business (e.g. where other people process information for us). In such circumstances, we ask those people to give us confidentiality or non-disclosure undertakings.
We may also share your personal information with the Barbican Centre Trust, a registered charity, for the purposes of processing and administering any donations or gifts that you make, processing claims for Gift Aid. The Barbican Centre Trust may then update you on the impact of your donation, send you event invitations, and send other relevant communications based on your relationship with us and the Trust.
We will not share your information other than as described above without your express consent.
How do we keep your personal information safe?
We ensure that there are appropriate technical controls in place to protect your personal details.  The personal information that you provide will be held securely and will not be used for any other purpose than as provided for in this policy. We ensure that there are appropriate technical controls in place to protect your personal information; for example, any information which we transfer is encrypted and password protected, and all of our staff receive data protection and security training.
Some of our suppliers run their operations outside the European Economic Area (EEA).  Although they may not be subject to same data protection laws as companies based in the UK, we will take steps to make sure they provide an adequate level of protection in accordance with UK data protection law. By submitting your personal information to us you agree to this transfer, storing or processing at a location outside the EEA (including in the United States).
Where we have given you (or where you have chosen) a password which enables you to access certain parts of our site, you are responsible for keeping this password confidential. We ask you not to share a password with anyone.
Unfortunately, the transmission of information via the internet is not completely secure. Although we will do our best to protect your personal information, we cannot guarantee the security of your information transmitted to our site; any transmission is at your own risk. Once we have received your information, we will use strict procedures and security features to try to prevent unauthorised access.
How do we keep your information up to date?
We endeavour to keep your personal information accurate and up to date. If you become aware of errors or inaccuracies, please email tickets@barbican.org.uk or update the information we hold about you by using the ["My Account" section of our website].
Where possible we use publicly available sources to keep your records up to date; for example, the Post Office National Change of Address (NCOA) database and information provided to us by other organisations as described in this policy.
We would really appreciate it if you could let us know if your contact details change.
How can you access the information we hold about you?
You have the right to know what personal information we hold about you, and request to receive a copy of that information. Any access request will be subject to a fee of £10 to meet our costs in providing you with details of the information we hold about you.
Links
This website contains links to other websites. We are not responsible for the privacy practices of these and you should read their own privacy policies. This applies only to personal information collected by us.
Cookies
In order to make our website easier to use and improve our service, we use cookies, which are small files stored on your computer. Cookies are used by most websites, and you can find out more about our use of cookies [by following this link].
Changes to this policy 
Our privacy policy may change at any time, so you may wish to check it each time you visit our website. Any changes will apply from the time that they are posted to this page. If we make any significant changes in the way we treat your personal information we will make this clear on our website or by contacting you directly.
If you have any questions at all about the ways in which we collect and use your personal information please contact us at tickets@barbican.org.uk at any time.
Creative Learning
Where we are working with you individually, or over a sustained period of time, for example in one of our Creative Learning projects, we may need to collect additional information from you including, for example, medical details, educational attainment, details of prior artistic experience and details of any learning difficulties or special access requirement. This information will be used by our project team in order to plan and deliver the very best artistic and educational experiences for you, to keep participants safe throughout their experience with us, and may be passed to emergency services for use should any emergency situation arise.
 
We will always seek your consent for the above at the time we collecting your information, and, where we need to collect this information in respect of children or young people we will ask parents or guardians to provide the information and consent to its use for the purposes described.
Other artistic organisations
Many of the events at the Barbican are presented in partnership with other organisations such as the London Symphony Orchestra, our Resident Orchestra, and other artistic organisations and promoters. If you select 'Keep me up to date with news from the artists, companies or producers whose events I've booked' [in your account settings], we will tell the relevant organisations that you would like to hear from them, and we will let them know about your booking. This means that we will give them your name and contact details and that they may contact you again to re-affirm your consent to receive communications directly from them. We will not share sensitive information or your payment details.
We sell tickets on behalf of the London Symphony Orchestra (LSO) and we share our customer relationship database with them. If you buy a ticket from barbican.org.uk for an LSO performance, your name, contact details and a record of the tickets you have bought will be visible to the LSO. The LSO will use your data for customer services and analysis and, if you select the option under 'Keep me up to date with news and offers from the Barbican and the London Symphony Orchestra' [when making a booking], the LSO may also contact you for marketing purposes.]
 
Cookies
About Cookies
Cookies are files stored in your browser and are used by most websites to help personalise your web experience. Some features on this site will not function if you do not allow cookies.
Compliance Cookie
This cookie allows us to know whether or not you have given consent to the use of cookies and therefore do not need to be presented with this consent request message again. Cookies used: CookieLawCompliance
Analytics Cookies
These cookies allow us to count page visits and traffic sources so we can measure and improve the performance of our site, using a service provided by Google Analytics. Cookies used: __utma, __utmb, __utmc, __utmz
Third Party Cookies
These cookies may be set through our website by other companies. Data may be collected by these companies that enable them to serve up adverts on other sites that are relevant to your interests.
ShareThis Cookies: __stid, __uset, __utma, __utmb, __utmc, __utmz
Atlas Cookies: MUID
Google Cookies: APISID, HSID, NID, PREF, rememberme, SAPISID, SID, SS, SSID, ULS
Google Plusone Cookies: BEAT
Facebook Cookies: c_user, presence, xs
YouTube Cookies: demographics, HSID, LOGIN_INFO, lwb, PREF, SID, use_hitbox, VISITOR_INFO1_LIVE
Filmtrailer Cookies: SERVERID
ComScore Cookies: UID, UIDR
Session Cookies
These cookies store temporary information to enable site functionality. They are automatically deleted when you close your browser.
Cookies used: ASPSESSIONIDACRQQTQT, ASPSESSIONIDCCRQRSRT, ASPSESSIONIDQCATTBSA, ASPSESSIONIDQCCTRCSA, ASPSESSIONIDQQQQBTRT, ASPSESSIONIDQQTSDQRT, ASPSESSIONIDSQTRCQQS, ASPSESSIONIDSQTSCQRT, ASPSESSIONIDSSRRBSRT, ASPSESSIONIDSSSQCRRT, BNES_ASPSESSIONIDACRQQTQT, BNES_ASPSESSIONIDCCRQRSRT, BNES_ASPSESSIONIDQCATTBSA, BNES_ASPSESSIONIDQCCTRCSA, BNES_ASPSESSIONIDQQQQBTRT, BNES_ASPSESSIONIDQQTSDQRT, BNES_ASPSESSIONIDSQTRCQQS, BNES_ASPSESSIONIDSQTSCQRT, BNES_ASPSESSIONIDSSRRBSRT, BNES_ASPSESSIONIDSSSQCRRT
Functional Cookies
These are cookies used for core site functionality, the Barbican cookie lasts for one year, the Enta for a single day 
Once registered with us, you can easily manage what you would like to hear about and how we can contact you. This can be done online by logging in to your account and clicking on "edit details". You may also inform us of your preferences by contacting the Box Office by email (tickets@barbican.org.uk) or phone (020 7638 8891). 
You can also use these methods to opt out of all communications if preferred. By selecting this option, you will not receive any notifications from us. This may mean, however, that you will miss out on important up-coming event information. All notifications are made via email first.