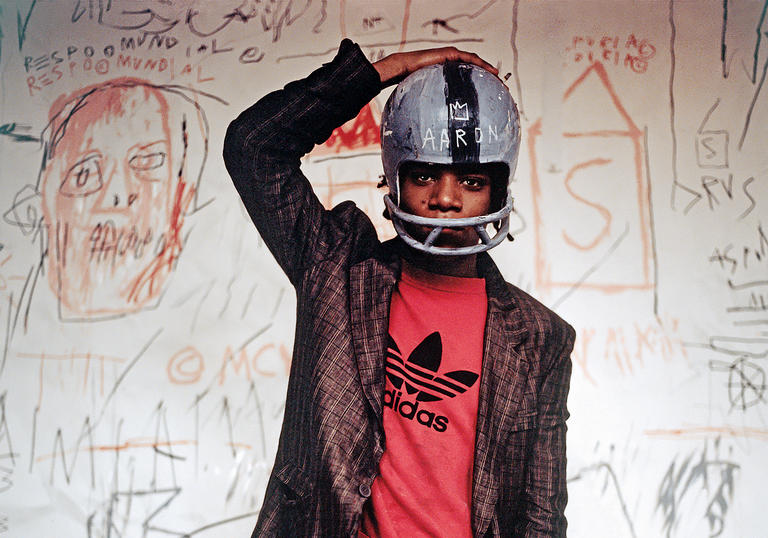 Reviews
'An exhilarating glimpse behind the myth'
Discover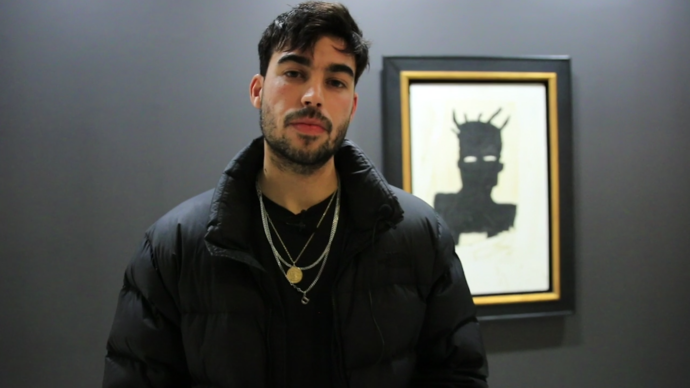 Watch: Poet Jack Miguel performs 'Casino'
Poet and rapper Jack Miguel performs his piece Casino, inspired by Jean-Michel Basquiat's work, in the 'Self-Portrait' room of Basquiat: Boom for Real.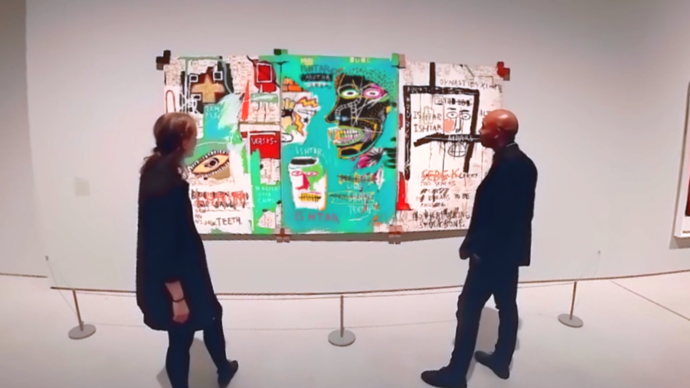 Basquiat: A 360 Exhibition Tour
Look around the gallery in our 360 video as curator Eleanor Nairne and Gus Casely-Hayford take you on a private tour, exploring the influences Basquiat brought into his paintings.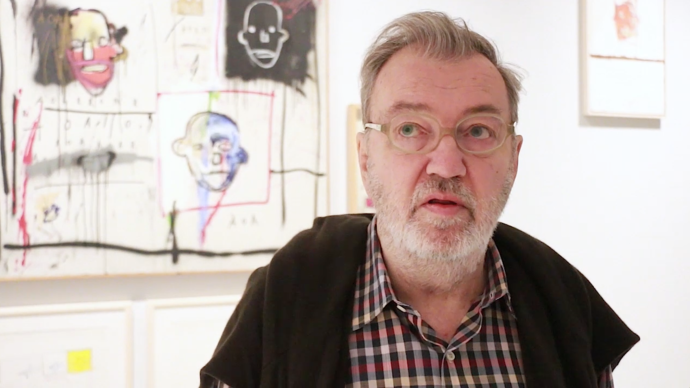 Barbican Meets: Diego Cortez
Curator Diego Cortez shares his reflections on knowing and working with Basquiat and guides us around the exhibition's partial recreation of Basquiat's first exhibition, 'New York / New Wave' at PS1, curated by Cortez in 1981.
Music was integral to Basquiat's creative process, seeping into the canvas itself as more than just something to listen to in the studio.
From Prince to David Byrne, Donna Summer to Bach, listen to the music that might have been on his playlist.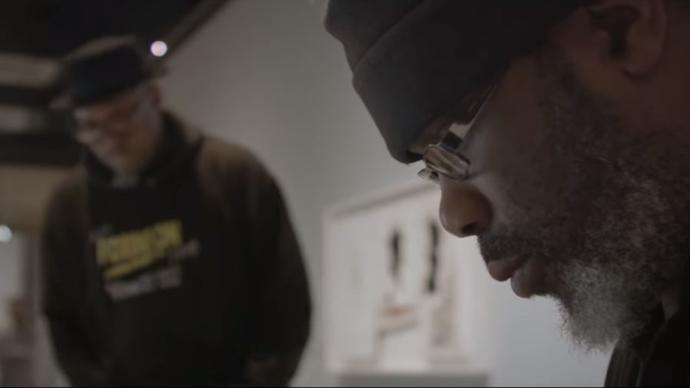 Watch: Barbican Sessions- Black Top
In the first of our Barbican Sessions, Black Top, the duo of multi-instrumentalist Orphy Robinson and pianist Pat Thomas, perform a live concert after hours in our 'Basquiat: Boom for Real' exhibition.
Take a closer look at Basquiat's life and work through our blog collection featuring articles and long reads, videos and playlists.
My Basquiat: Tours by Young Barbican members
Saturdays at 6pm and 7pm join our guides for their unique perspective on Basquiat's life and work and what he means to young people today.
Saturday 13 January
6pm: Bianca's tour
How does language appear on the canvas? Are we reading or looking when we see letters painted against shapes? Ellen's tour will explore how Basquiat used words in his work, which shifted from street graffiti to notebooks to painting. The tour will unearth the influences visible in Boom for Real, such as the Beat generation, lexicon encyclopaedias and hip-hop. 
7pm: Clara's tour
Clara's tour is a translation of Jean-Michel Basquiat's painting "Ishtar" into a jazz composition performed with Nubya Garcia, Jake Long, Lyle Bartot, and Twm Dylan. She explores Basquiat's complex involvement with jazz and his ability of referencing between paintings, a practice comparable to the exchange of 'licks' between jazz musicians.
Ellen is based in London, she works in an art gallery during the day, organises literary events and writes short fiction by night. Basquiat's work came into her life during her MA in Issues in Modern Culture, where she wrote her thesis on the artist's use of language in the context of Beat literature.
Clara is a composer, producer, engineer, and electronic musician based in London. She discovered Jean-Michel Basquiat's artwork during her art history classes and this has been a recurring wave of inspiration ever since and of great influence on her compositions.
My Basquiat tours will occur every Saturday during the exhibition except 23 December and 27 January.
School groups
Please download our Activity Sheet and Teacher Resource
A special school group rate is available alongside free exhibition tours which are suitable for both primary and secondary school groups. A discounted group booking applies to all school groups of 10 or more:
Secondary and sixth form (up to age 19): £3 per student
Students under 14 years: free
For bookings and enquiries please contact the school groups booking line: Tel: 020 7382 7211 (Mon–Fri 10am–5pm) Email: groups@barbican.org.uk
Please note, you will need to book at least two weeks in advance if you would like a free exhibition tour as part of your visit.