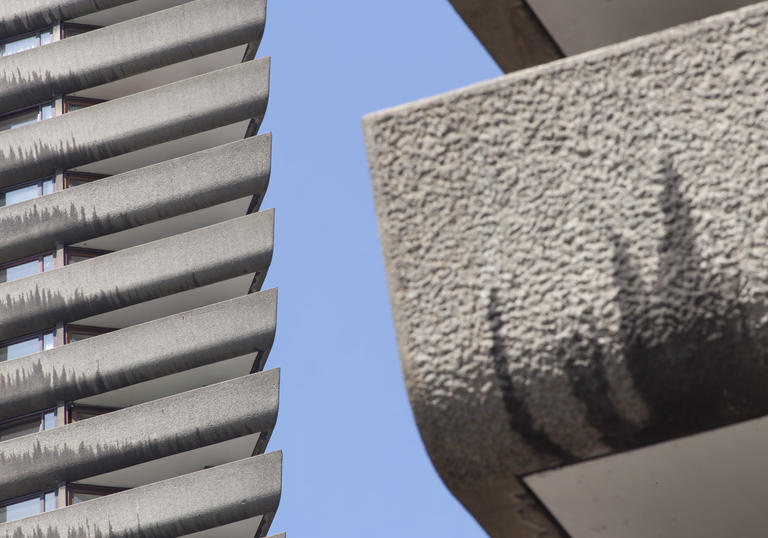 Trustee biographies
Emma Kane is the Chairman of the Barbican Centre Trust. She has been in corporate and financial PR for over 30 years with experience in-house and within consultancies, working for small to mid cap listed companies, major financial institutions, not-for-profit organisations and leading privately owned companies. She is the Founder and Chief Executive of Redleaf Communications, a leading financial, corporate PR and investor relations agency. Emma is an avid sculptor and loves opera and jazz. She is a Fellow of the Royal Society of Arts and a Member of the Chartered Institute of Public Relations; she has a Diploma in Jazz & Popular Music. 
Richard Bernstein is Investment Adviser to Crystal Amber, the London listed special situations activist fund. He is also the founder and Chief Executive of Eurovestech plc. As a business leader, he harnesses corporate support for charities, establishing the concept of 'corporate share gifting': publicly listed companies issue new shares and give them to registered charities. Since 2001, Eurovestech's share-gifting has benefited over 100 different charities: in excess of £2.5 million has been gifted. The charities are nominated by employees, board members and supporters of Eurovestech. They receive the shares without restriction, so they can hold, sell, or part-sell the shares at market value. Richard is currently assisting a number of charities in an effort to raise significant funds through corporate share giving.
Tony Chambers is Founder and Creative Director of design and lifestyle consultancy TC & Friends. He is also Co-Chair of Brainstorm Design, Fortune magazine's annual design and business conference held in Singapore.
 
From 2003 – 2018 Tony served as Brand & Content Director, Editor-in-Chief and Creative Director of Wallpaper* magazine, for which he still contributes. He has also served as Art Director of British GQ and Art Editor of The Sunday Times Magazine.
 
Over his career so far, Tony has worked with creative luminaries such as Jean Nouvel, Philippe Starck, Louise Bourgeois, Karl Lagerfeld, Hedi Slimane, Christian Marclay, Thomas Heatherwick and Zaha Hadid.
 
Sir Roger Gifford is with the Nordic bank SEB in the UK. He is Chairman of the City of London Green Finance Initiative and the Advisory Board of the IBDE. He began his career in the financial sector at SG Warburg & Co, joining SEB in 1982. Prior to his appointment as Head of SEB UK, he worked in the debt and equity capital markets in London and headed the bank's operations in Japan for six years. He is Vice Chairman of the Association of Foreign Banks, previously Chairman. Sir Roger's interests in music and education are reflected in his voluntary work as a trustee of several charitable foundations. In addition to the English Chamber Orchestra charity, he chairs the Tenebrae Choir and is a trustee of the City Music Foundation and St Pauls Cathedral Foundation. He is a strong advocate for the City's contribution to the economic, cultural and social fabric of the United Kingdom. Sir Roger was Lord Mayor of London in 2012-2013 and was knighted in the 2013 New Year Honours for services to international business, culture and the City.
Sir Nicholas Kenyon became Managing Director of the Barbican Centre in October 2007. He was Controller, BBC Radio 3 from 1992-8, responsible for the award-winning seasons Fairest Isle and Sounding the Century. He oversaw the BBC's programming for the Millennium and then ran the BBC's Live Events and TV Classical Music departments, including the Queen's Jubilee Concerts of 2002, before becoming Director of the BBC Proms from 1996 to 2007. Sir Nicholas has lectured widely and published books on Bach, Mozart, Simon Rattle, the BBC Symphony Orchestra and early music. He is a member of Arts Council England, a board member of Sage Gateshead and a Trustee of the Dartington Hall Trust. He was knighted in the 2008 New Year Honours and received the British Academy President's medal for outstanding service to the arts and humanities in 2011.
Kendall Langford is a Trustee of the Barbican Centre Trust, she is one of the original founding members of Patron Capital Partners and acts as General Counsel and Senior Partner. Since Patron was established in 1999, it has raised a series of private equity funds dedicated to real estate related investments. 
Kendall is also actively involved in trying to address the gender imbalance in the finance industry.
Prior to Patron, Kendall worked at Cargill Inc., and prior to that she was a banking lawyer at Clifford Chance.
Kendall received a first class honours degree in law. She has four children, resides in England and is fluent in French and Spanish.
 
Professor Dame Henrietta L. Moore FBA, DBE is a founding Trustee of The SHM Foundation and Chair and Co-founder of SHM Productions. She has been actively involved in the application of social science insights to the arts, business, and public policy for twenty years. Professor Moore is the founding Director of the Institute for Global Prosperity at University College London, where she also holds the Chair of Culture, Philosophy and Design. Prior to this she was at the University of Cambridge, where she held the William Wyse Chair of Social Anthropology from 2008 to 2014 and was also a professorial fellow of Jesus College. She is a Fellow of the British Academy. Appointed fellow of the Royal Society of Arts in 2000 and a Trustee of the Barbican Centre Trust in 2011, she has an on-going interest in the role of the arts in promoting cultural and social innovation. She has been a member of the European Scientific Research Council and also served as Deputy Director of the London School of Economics. Professor Moore regularly participates in public and academic debates and has written and presented on subjects ranging from virtual worlds and new technologies, to self-imagining, democratic political decision–making and contemporary art.
John Murray is a Managing Director of Credit Suisse, based in London. He is Senior Advisor to the Group Chief Executive Officer. John joined Credit Suisse in July 2015 from Prudential plc where he served as Group Communications Director, and was a member of the Group Executive Committee from December 2010. He was previously Director of Communications at the Financial Services Authority from 2006-2010, a founding partner of the London-based financial PR consultancy Powerscourt, and Director of Strategy and Communications at Telewest plc (now part of Virgin Media). Before moving into communications, John had a long career in journalism, culminating in the position of Executive Editor of The Daily Express. He began his career in national newspapers at The Independent and Independent on Sunday.
Alasdair Nisbet is Chief Executive and co-founder of Natrium Capital, an independent strategic advisory firm specialising in the chemical, materials and biotechnology industries. He is one of the leading mergers and acquisitions advisors to the chemical industry, having spent 30 years working for some of the largest global chemical and oil companies in North America, Europe and Asia. On graduating with a Chemistry degree from University College, Oxford, he began his career working as an equity analyst providing research on companies in Europe and Asia. He went on to head the chemical industry advisory business at Wasserstein Perella and then Lazard before starting his company. He is a Fellow of the RSA and an Honorary Fellow of Leo Baeck College.
John Porter is a tech entrepreneur and has worked for companies such as Natus Medical, AML-Analytics and Verifone, all of which he worked to co-found. John is also Chairman of Sinocare Group which owns and operates hospitals in the People's Republic of China, serving the broad community and aiming to raise the standard of health care. John has led a program of endowment for galleries in London to provide exhibition space for temporary exhibits, allowing museums with large collections to also accommodate temporary exhibitions. John has worked with National Portrait Gallery, Tate, and V&A to create such galleries. He has also chaired the UK Trust for the Israel Philharmonic and has served on the Board of Advisors to the Said Business School, Oxford, the Board of Advisors to Stanford Business School, California and serves as a Governor of Tel Aviv University.
Chair of the Barbican Centre Board, Tom is also the Vice Chair of the City of London's Policy and Resources Committee, the main strategic decision-making group for the Corporation. 
Professionally, Tom works as Head of Public Sector Partnerships, Amazon Business UK. Previously Tom was UK Head of a global Fintech. He also worked at Lloyds Banking Group for 5 years as Chief of Staff to the Director of Retail as Chief Advisor to the COO of the BBC and worked in BBC TV Strategy.
Our current supporters
Arts Council England
City Bridge Trust
Esmée Fairbairn Foundation
SHM Foundation
Sir Siegmund Warburg's Voluntary Settlement
The National Lottery Heritage Fund
The Terra Foundation for American Art
UBS
Wellcome
Crystal Amber Fund
Trevor Fenwick and Jane Hindley
Mr Gregory Jankilevitsch
Marcus Margulies
SHM Foundation
Mr and Mrs Baha Bassatne
Farmida Bi
Emma Kane
Ruth and Stuart Lipton
John Murray
The Porter Foundation
Martin and Celestina Hughes
Natrium Capital Limited     
Ian Rosenblatt
Beatrice and Christian Schlumberger
Anonymous (1)
Russ and Linda Carr
Tim and Catherine Cox
Stuart and Laura Fraser 
J Paul Getty Jr Charitable Trust
Robert Glick OBE
John and Angela Kessler
Horacia Queiro
Brian Smith
Lady Juliet and Dr Christopher Tadgell
Anonymous (5)
Stephen and Alyson Barter
Peter Bazalgette and Hilary Newiss
Sam and Rosie Berwick
Nicholas Berwin
Lynn Biggs
Dr Geraldine Brodie
Gwen and Stanley Burnton
Tony Chambers
Tim and Caroline Clark
Dr Gianetta Corley 
Erica Cosburn
Ian S. Ferguson 
Roger and Clare Gifford
Barbara and Michael Gwinnell
Julian Hale and Helen Likierman
Richard and Jenny Hardie
Malcolm Herring 
Hollick Family Foundation
Richard Hopkin 
Sajid Hussein 
Wendy Hyde
Sir Nicholas Kenyon
Colin Kirkpatrick
Kendall Langford
Neil and Tracy Lawson-May 
Sir Laurie and Lady Magnus
Robert McHenry and Sally Lloyd-Bostock
Wendy Mead
Sir Paul Morgan
Lucy Musgrave and Zad Rogers 
Professor Dame Linda Partridge and Mr Michael Morgan
Ben and Christina Perry
Helen Veale and Trevor Phillips
Keith Salway
Mary Tapissier and family
Peter Tolhurst
John and Paula Tomlinson
Steven Tredget 
Mel Tsiaprazis
Stuart Carey (The Kiln Rooms)
Ben Cooper (The Kiln Rooms)
Alice Herrick
Marie-Claire Porter
Tamsin Relly
Stuart Semple
Gavin Turk
Richard Wilson
Rebecca Youssefi
with thanks to Geoff Leong
Bottega Veneta
Derwent London
Morrison & Foerster
Sotheby's
Taittinger
Aberdeen Standard Investments
Allford Hall Monaghan Morris
Audible
Bank of America
Bloomberg
DLA Piper
Leigh Day
Linklaters LLP
Pinsent Masons
Slaughter and May
Andor Charitable Trust
Art Fund
BFI
Calouste Gulbenkian Foundation (UK Branch)
Cockayne - Grants for the Arts
John S Cohen Foundation
Creative Europe Programme for the European Union
Edge Foundation
Embassy of the Kingdom of the Netherlands
Europa Cinemas
Stavros Niarchos Foundation (SNF)
Harold Hyam Wingate Foundation
The Henry Moore Foundation
The London Community Foundation
The Mactaggart Third Fund
The Nugee Foundation
Tom ap Rhys Pryce Memorial Trust