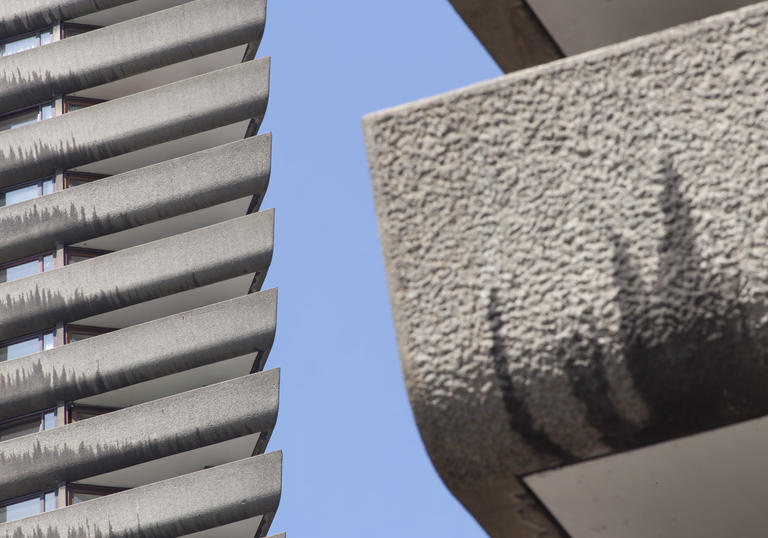 Trustee biographies
Farmida Bi CBE is Chair of the Barbican Centre Trust, and Chair of Norton Rose Fulbright, Europe, Middle East and Asia. She has more than 25 years of experience advising on capital markets and Islamic finance transactions, and is also European Head of Islamic Finance. Farmida champions diversity and social mobility within Norton Rose Fulbright and in wider society, currently serving as Chair of the Patchwork Foundation, which promotes the integration of disadvantaged and minority communities into public life. She was awarded a CBE in the Queen's Birthday Honours 2020 for services to the law and charity.
Robert Glick OBE is Vice Chair of the Barbican Centre Trust, and Vice President, Head of International Public Affairs at American Express, having held various senior positions in corporate communications and public health. A graduate of the University of Cambridge, the London School of Economics and Emory University (USA), he serves currently as Chair of Save the Children's Global Malnutrition Initiative, Trustee of Sadler's Wells Theatre, Founding Chair of the Adult Literacy Trust, and Trustee of Open For Business. His previous non-executive roles include as Trustee of the Victoria & Albert Museum and Chair of the Terrence Higgins Trust.
Tom Bloxham MBE is chairman and founder of award-winning regeneration company Urban Splash, which has received 430+ awards to date for architecture, design and business success. The company is responsible for development projects across the country, including Manchester, Liverpool, Cambridge, Milton Keynes, Birmingham, Leeds, Bradford Sheffield, Bristol, Plymouth, North Shields and Morecambe. In 1999 Tom was awarded an MBE for Services to Architecture and Urban Regeneration. Tom also upholds a number of other positions including; Chairman of Manchester International Festival, the Manchester United Foundation and The Bloxham Charitable Trust. Previously he has acted as a trustee for TATE, ACE, Liverpool Capital of Culture 2008.
Stephanie Camu is a founding partner of the independent artist management consultancy Southern & Partners specialising in offering strategic advice on a broad range of matters and fostering the widest possible exposure for their work and developing their legacy. For over 20 years she has worked closely with artists, organising and curating solo and group exhibitions in commercial galleries, international institutions, and heritage sites. Stephanie has been a trustee of Artangel for eight years, and before moving into the arts, she worked in senior management positions in the television industry for the news and current affairs networks CNN and CNBC in London.
Tony Chambers is Founder and Creative Director of design and lifestyle consultancy TC & Friends. He is also Co-Chair of Brainstorm Design, Fortune magazine's annual design and business conference held in Singapore.
 
From 2003 – 2018 Tony served as Brand & Content Director, Editor-in-Chief and Creative Director of Wallpaper* magazine, for which he still contributes. He has also served as Art Director of British GQ and Art Editor of The Sunday Times Magazine.
 
Over his career so far, Tony has worked with creative luminaries such as Jean Nouvel, Philippe Starck, Louise Bourgeois, Karl Lagerfeld, Hedi Slimane, Christian Marclay, Thomas Heatherwick and Zaha Hadid.
 
Cas Donald has been involved in arts advocacy and philanthropy for over twenty years following a career in mineral broking. She has supported and sat on various boards including The Royal Court Development Board, Headlong Touring Theatre, The Battersea Arts Centre, as well as Theatre 503. She has also supported new directors' programmes at the Royal Court and the National Theatre and speaks at the National Theatre's Directors' Course on Philanthropy. For 20 years she was a Trustee of The Kipungani Schools' Trust in Kenya, responsible for building 17 schools and educating over 30,000 children
Starting out with BA Hons in both art and business, David Kapur has established a unique career and network combining entrepreneurialism with creativity. Excelling in commercial development, product creation and trend spotting within film and cinema. David's cv includes co-founding both elevenfiftyfive & ourscreen. David had key roles in developing the iconic Orange Wednesday & Secret Cinema as well as creating industry-wide Virgin Media.
Ann Kenrick has just retired after five years as the first female 'Master'/CEO transforming the Charterhouse, for which she received the Freedom of the City. She has been awarded both an OBE and France's Ordre National du Mérite for her innovative work as Secretary General of policy forum, the Franco-British Council. Her passion for promoting urban cycling led to her becoming Chair of the London Cycling Campaign, contributing to a 25% increase in London cyclists by introducing segregated cycle paths. Her early career included ten years in Marketing at IBM.
Kendall Langford is a Trustee of the Barbican Centre Trust, she is one of the original founding members of Patron Capital Partners and acts as General Counsel and Senior Partner. Since Patron was established in 1999, it has raised a series of private equity funds dedicated to real estate related investments. 
Kendall is also actively involved in trying to address the gender imbalance in the finance industry.
Prior to Patron, Kendall worked at Cargill Inc., and prior to that she was a banking lawyer at Clifford Chance.
Kendall received a first class honours degree in law. She has four children, resides in England and is fluent in French and Spanish.
 
Alderman Sir William Russell was elected Alderman for the Ward of Bread Street in March 2013, and took office as the 692nd Lord Mayor of the City of London on 8th November 2019. Due to the extraordinary circumstances arising from the global health pandemic COVID-19, served two consecutive years in office, becoming the first Lord Mayor to do so since 1861.Sir William has over thirty years' experience in the financial and business City including holding senior positions in the national and international banking sector. He also has a number of charitable interests: he has served as Chair of the Development Board of the Royal Court Theatre; as a Board Member of the Guildhall School of Music and Drama and is also on the Council of the Royal Theatrical Support Trust. He is immediate past Chair of Prostate Cancer UK and past Deputy Chair of Place2Be, a children's mental health charity. He has served as a member of the Barbican Centre Board since July 2019.
Tom has been Chair of the Barbican Board since 2020. He is an elected Councillor at the City of London Corporation, the founder and owner of the Barbican Centre. Professionally, Tom is Director of Corporate Affairs at the technology company and bank The Bank of London, a new global institution disrupting banking and payments. His career has seen Tom hold senior roles at Lloyds Banking Group, Amazon, and the BBC.
Claire Spencer joined the Barbican in May 2022 as the first-ever CEO. Claire was previously at the Arts Centre Melbourne where she successfully led a thriving cultural centre, re-positioned the organisation to be a key player in the district's creative economy and steered it through the Covid-19 pandemic. In the 2020 Australia Day honours list she was conferred a Member of the Order of Australia for her work in the performing arts. Claire has been a champion of women in leadership and a supporter of organisations and projects that provide scholarships and mentoring support to those from marginalised or disadvantaged backgrounds. A Chartered Accountant and Theology graduate, she is married with three children. 
Sian Westerman is a Senior Adviser at Rothschild & Co in the Global Advisory Division based in London, and a non-executive Director of Fenwick Limited. She is a Non-Executive Director of the British Fashion Council and was President of the BFC's Business and Investment Pillar and Co-chair of the BFC Fashion Trust from 2016 to 2020. She is a Trustee of the Royal Academy of Arts and a member of the Development Committee of the Eton John Aids Foundation. She has had a number of other roles in the arts including being on the Advocates Board of the Royal Court Theatre and serving two full terms on the Board of English National Ballet and Chairing their Development Committee.
Our current supporters
The City of London Corporation
Arts Council England
Calouste Gulbenkian Foundation (UK Branch)
Kiran Nadar Museum of Art
SHM Foundation
Sir Siegmund Warburg's Voluntary Settlement
Terra Foundation for American Art
Trevor Fenwick and Jane Hindley
Marcus Margulies
Marie-Laure de Clermont-Tonnerre (Spirit Now London)
Sayeh Ghanbari
Kristin Hjellegjerde Gallery
Elizabeth and J Jeffry Louis
Pat and Pierre Maugüé 
Hugh Monk
James and Louise Arnell
Farmida Bi
Jo and Tom Bloxham MBE
Philippe and Stephanie Camu
Cas Donald
Alex and Elena Gerko
Trevor Fenwick and Jane Hindley
SHM Foundation
Sir Howard Panter and Dame Rosemary Squire
Sian and Matthew Westerman
Anonymous (1)
Martin and Celestina Hughes
Ian Rosenblatt
Viscount Strathallan
Abdullah B.S. Al-Saud
Tim and Catherine Cox
Robert Glick OBE
Julian Hale and Helen Likierman
Soo Hitchin
John and Angela Kessler
Sir William and Lady Hilary Russell
Romilly Walton Masters Award
Anonymous (1)                                
Jesse Armstrong
Matt Astill
Shahzain Badruddin
Sam and Rosie Berwick
Nicholas Berwin
Lynn Biggs
Professor Geraldine Brodie
Tony Chambers
Tim and Caroline Clark
Dr Gianetta Corley
Erica Cosburn
Davide Giordano
Barbara and Michael Gwinnell
Brian Harasek
Richard Hardie
Malcolm Herring
Hollick Family Foundation
Sajid Hussein
David Kapur
Colin Kirkpatrick
Kendall Langford
Neil and Tracy Lawson-May
Robert McHenry and Sally Lloyd-Bostock
Tracey, Eloise and Max Mayerson
Wendy Mead
Sir Paul Morgan
Professor Dame Linda Partridge and Mr Michael Morgan
Jeremy and Angela Palmer
Mark Page
Cressida Pollock
Oliver Pauley
Ben and Christina Perry
Jens Riegelsberger
Keith Salway
Nicola Sawford and Michael Hadi
Carlos and Devy Schonfeld
Richard and Elizabeth Setchim
Mary Tapissier and family
Philip and Irene Toll Gage Foundation
Steven Tredget
Richard Williams
Simon Witty
Irem Yerdelen
Anonymous (6)
Campari
Google Arts & Culture
Sotheby's
Taittinger
Vestiaire Collective
Audible
Bank of America
DLA Piper
Norton Rose Fulbright
Pinsent Masons
Slaughter and May
The Austin and Hope Pilkington Charitable Trust
Art Fund
Bagri Foundation
CHK Foundation
Cockayne – Grants for the Arts
John S Cohen Foundation
Fluxus Art Projects
Goethe-Institut London
Helen Frankenthaler Foundation
Italian Cultural Institute in London
Korean Cultural Centre UK
Kusuma Trust UK
London Community Foundation
Mactaggart Third Fund
Maria Björnson Memorial Fund
Peter Sowerby Foundation
The Polonsky Foundation
Rix-Thompson-Rothenberg Foundation
U.S. Embassy London