Press room
Barbican announces Manu Delago and Gustavo Santoalalla dates for 2022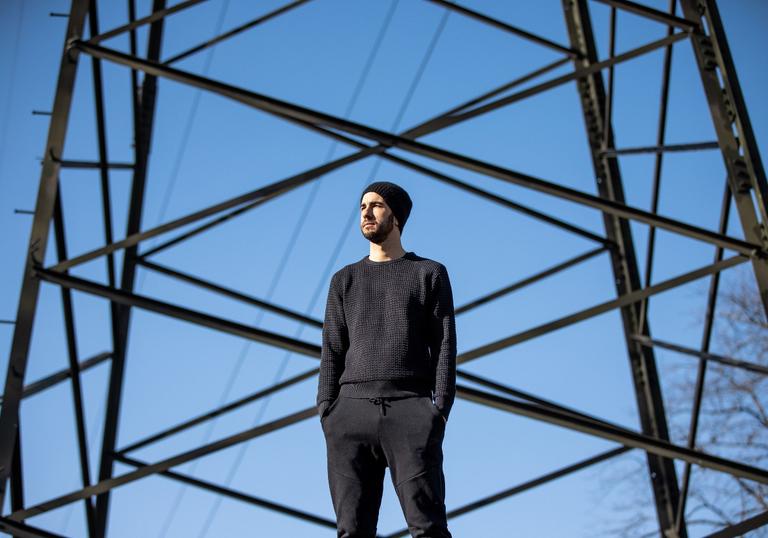 Manu Delago
Tue 22 Feb 2022, Milton Court Concert Hall, 7.30pm
Tickets £20 plus booking fee
Musician, composer and pioneer of the hang (handpan), Manu Delago brings his audio-visual show Environ Me to Milton Court Concert Hall as part of the Barbican's music programme in February 2022.
Following several years as an international touring musician with Björk, Ólafur Arnalds, Cinematic Orchestra and Anoushka Shankar, as well as the multi-award-winning music-and mountain-film 'Parasol Peak', the Grammy-nominated artist now returns with his first solo show.
The ambient and neoclassical sounds of Manu Delago's acoustic percussion instruments are mixed with electronic beats alongside live visuals, bringing elements of the natural world such as water, fire, animals, wind and other environments into the auditorium.
Manu Delago said: "For many years I've been living between urban London and the Tyrolean Alps, and with my new project 'Environ Me' I wanted to create awareness for our immediate surroundings. As a musician it's easiest to do that with sound, so I've done various adventurous outdoor recordings incorporating our environment and integrated them into my compositions. My previous projects 'Parasol Peak' and 'Circadian' were fully acoustic and included many humans. On the new album 'Environ Me' the sound of our surroundings melts with the digital age and electronic music, with highest appraisal for nature."
Produced by the Barbican
On sale to Barbican Patrons and Members on Wed 10 Nov 2021
On general sale from Fri 12 Nov 2021
Find out more
 
Gustavo Santaolalla
Sat 23 Jul 2022, Barbican Hall, 7.30pm
Tickets £20 – 30 plus booking fee
The Barbican is pleased to welcome back Argentine musician, film composer and producer Gustavo Santaolalla for a rare UK appearance in July 2022. He will be performing music from across his 40-year career with his ensemble.
Combining Andean folk influences with his rock guitar roots, Gustavo Santaolalla creates sparse yet emotive compositions through minimal use of instrumentation. Best known for his work composing film scores, including Brokeback Mountain and Babel – for which he won Academy Awards for Best Original Score in consecutive years – he also created the soundtracks for Amores Perros, 21 Grams and Motorcycle Diaries. He's also in the gaming world, composing the music for The Last of Us, which won the Golden Joystick Award for Game of the Year in 2020.
Gustavo Santaolalla returns to the Barbican following his headline appearance here in 2007 with his ground-breaking electronic tango group, Bajofondo Tango Club. He has also been the producer for acclaimed Latin American musicians such as Café Tacvba, Julieta Venegas, León Gieco and Juanes.
Produced by the Barbican in association with Como No!
On sale to Barbican Patrons and Members on Wed 10 Nov 2021
On general sale from Fri 12 Nov 2021
Find out more
 
Change of start time
Alfa Mist 
Sat 4 Dec 2021, Barbican Hall, 8pm
Tickets £17.50 – 22.50 plus booking fee
East London producer, pianist, bandleader and one of the key players in the UK's young and vibrant jazz reformation scene, Alfa Mist makes his Barbican debut this December alongside his band. He will be presenting new material from his fourth solo album Bring Backs, which reveals a detailed exploration of his upbringing in musical form.
Produced by the Barbican
Find out more
Coming up soon
Coming up in 2022