Press room
Barbican announces Luzmila Carpio date for May 2022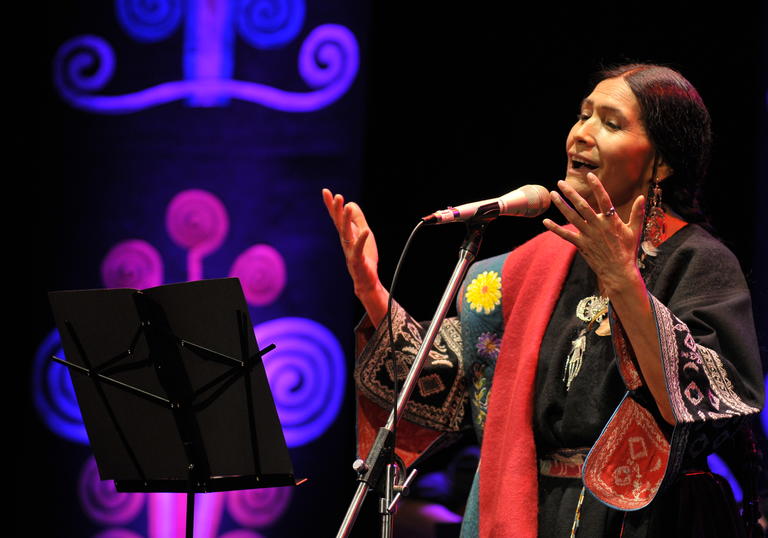 Luzmila Carpio
Part of FLAWA
Thu 5 May 2022, Milton Court Concert Hall, 7.30pm
Tickets £15 plus booking fee
Bolivian Singer, author and composer Luzmila Carpio makes a rare UK appearance as part of the Barbican's music programme and the Festival of Latin American Women in the Arts (FLAWA) at Milton Court Concert Hall in May 2022. She will debut her most recent work, mixing contemporary and Indigenous rhythms from the Andes. 
Carpio was born in Potosí and has been described as "one of the most important figures in Latin American music of the last 50 years" and dubbed as "the voice of the Andes". She sings in her mother tongue Quechua as well as in Spanish, promoting Indigenous culture and heritage and championing Indigenous rights.
The singer began performing in her teens and has since shared the stage with artists including Cesária Évora, Gilberto Gil and Lila Downs and has collaborated with popular Latin electronic artists such as Chancha Via Circuito and Nicola Cruz. She has released more than 25 albums of music and poetry to date and was appointed Bolivian ambassador to France from 2006 to 2010. She was honoured by the French government in 2011 as a Grand Officer of l'Ordre national du Mérite.
Produced by the Barbican 
Part of FLAWA  
On sale to Barbican Patrons and Members on Wed 1 Dec 2021 
On general sale from Fri 3 Dec 2021
Find out more
Coming up soon
Coming up in 2022