Press room
Barbican announces Boiler Room date feat. Berwyn, Demae, Léa Sen, Mansur Brown, NAYANA IZ, Ojerime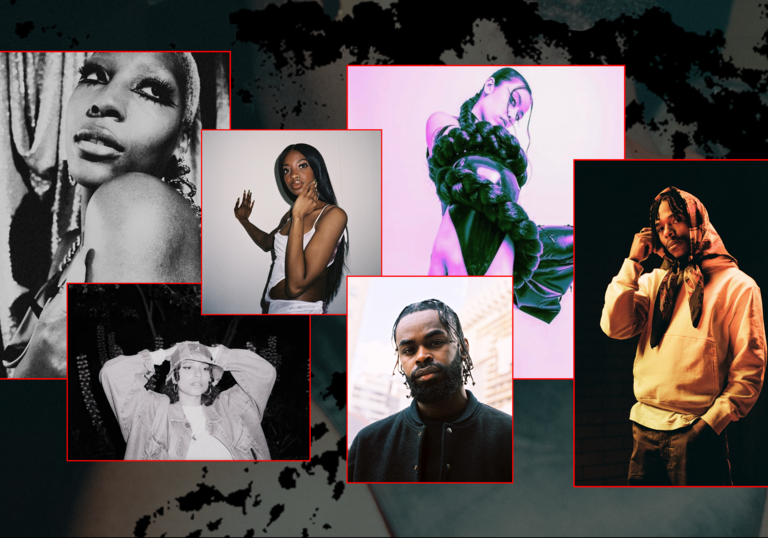 Barbican x Boiler Room
Sun 12 Dec 2021, Barbican Hall, 8pm
Tickets £17.50 – 22.50 plus booking fee

Boiler Room curates an evening of contemporary UK live music with performances by six rising stars in the Barbican Hall, which will also be livestreamed across Boiler Room's large online community.
From brand-new emerging artists through to the Mercury-nominated, and spanning the sounds of R&B, hip hop, rap, soul and beyond, the line-up includes self-taught musician described as 50% water / 50% music, Berwyn; formerly one-third of Hawk House, Demae who creates soothing soul celebrating black joy and empowerment; musician and producer Léa Sen who returns to the Barbican following her recent guest appearance with Speakers Corner Quartet and whose soft vocals embellish acoustic guitar-based songs; artist, producer and multi-instrumentalist Mansur Brown who runs the label Amai Records; boundary-blurring rap goddess NAYANA IZ; and shining light in the UK's music scene Ojerime, with her own brand of 90s R&B-inspired gems.
Connecting club culture to the wider world on screen and through parties, film and video, Boiler Room has played host to some of the best DJs and musicians in the world, and supported artists from the underground up. They return to the Barbican's music programming following 2019's Dreaming The City – a collaboration with Total Refreshment Centre, which saw over 30 musicians paying tribute to the past, present and future of London's vibrant jazz scene.
Produced by the Barbican in association with Boiler Room
On sale to Barbican patrons and members on Wed 27 Oct 2021
On general sale on Fri 29 Oct 2021
Find out more
Taylor Mac – Holiday Sauce… Booster!
Fri 10, Fri 17 & Fri 24 Dec 2021, Online, 8pm
Tickets £10 plus booking fee
Holiday traditions are turned riotously on their head by the inimitable Taylor Mac, who manifests a joyous community spirit to celebrate the season in all of its dysfunction.  
Holiday Sauce… Booster! blends music, film, burlesque, and random acts of fabulousness in the most subversive and cathartic event of the year.  In this virtual reimagining of Taylor Mac's celebrated annual holiday show, the 2021 edition features new original music and festive classics delightfully deconstructed with the help of a spectacular band led by Music Director Matt Ray and eye-popping costumes by long-time collaborator Machine Dazzle. For this beloved New York theatre artist and 2020 Ibsen Award winner, there is more to the holidays than rampant capitalism and gift giving, and imagination is its own spirituality.
Holiday Sauce… Booster! celebrates the power of chosen family and gives us a chance to honour all the families we choose to love – and who choose to love us – at this time of year.
Holiday Sauce… Booster!
Taylor Mac
USA
Directed, Written and Concept by Taylor Mac
Music Direction and Arrangement by Matt Ray
Set and Costumes by Machine Dazzle
Fri 10, Fri 17 & Fri 24 Dec 2021
Online
8pm
Approximately 1 hour
Holiday Sauce… Booster! contains adult language and sexual content and is intended for mature audiences
£10 plus booking fee
Presented by the Barbican
Produced by Pomegranate Arts and Nature's Darlings
On sale to Principal Patrons and Barbican Patrons on Wed 27 Oct 2021
On sale to Barbican Members Plus on Thu 28 Oct 2021
On sale to Barbican Members on Fri 29 Oct 2021
On general sale from Mon 1 Nov 2021
Find out more
Support announced
Christian Löffler
+ Fejká
Saturday 6 November 2021, Barbican Hall, 8pm 
Tickets £22.50 – 27.50 plus booking fee
German electronic/techno producer, musician and visual artist, Christian Löffler makes his Barbican debut in November 2021 (rescheduled from May 2020) with a new immersive A/V performance. Sound and visuals will be in a dynamic dialogue featuring material from his latest and fourth studio album Lys (Danish for 'light') alongside specially commissioned visuals by Canadian lighting designer Chris Moylan, who has been critically acclaimed for his innovative visual atmospheres.
Support comes from Fejká, whose music treads the line between dreamy soft ambient and the hard punch of techno.
Produced by the Barbican in association with Soundcrash 
Coming up soon
Coming up in 2022