Discover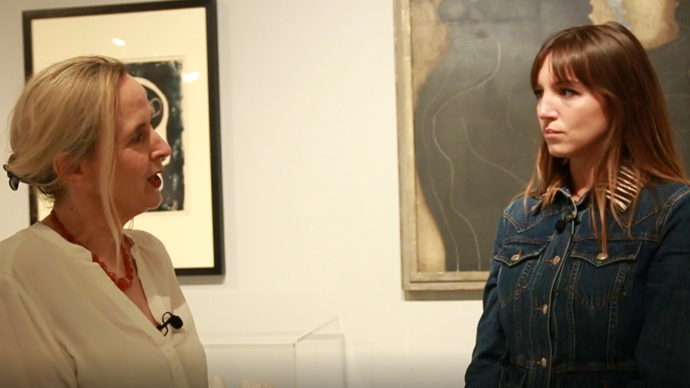 Curator Jane Alison & Katy Hessel on Modern Couples
Curator Jane Alison and Katy Hessel (from The Great Women Artists) discuss some of creative and romantic couples featured in our exhibition 'Modern Couples: Art, Intimacy and the Avant-garde'.
Camille Claudel and Auguste Rodin worked side by side in the studio and their sculptures clearly show mutual influence and synchronicity, announcing a new kind of creative exchange within an artistic relationship.
In 1915, Sophie Taeuber met Jean Arp at his exhibition. From then on, the two immediately began collaborating and creating together, a creative relationship that would last for almost three decades.
Reviews
'...passionate whirlwind of an exhibition'
'...you'll go back for more'
'...timely, revelatory and supremely engaging'
Get closer to the art
Members enjoy invites to exclusive private views and free access to all gallery exhibitions, so they can visit as many times as they like.
Visit Modern Couples and you could win a Membership Plus
Every month we'll pick a winning booker who'll unlock benefits like a year's free gallery entry and access to exclusive private views
Win the ultimate 'Modern Couples' experience with Shangri La, At the Shard, London
We have partnered with Shangri-La Hotel, At the Shard, London, to bring you the most romantic prize going.
Enjoy a delicious breakfast in TĪNG Restaurant and Lounge overlooking the River Thames before following a uniquely designed love map that leads you on a romantic stroll from Shangri-La Hotel, At The Shard, London to the Barbican. After a visit to the Modern Couples exhibition, round off your day with cocktails in GŎNG Bar. Enjoy a luxurious overnight stay in a superior room at Shangri-La Hotel, At the Shard, London.
To enter, please submit your details below before noon on Thu 6 December.
This offer includes:
 A one-night stay in a luxurious Superior Room at Shangri-La Hotel, At The Shard, London
English breakfast for two, served in TĪNG Restaurant and Lounge
Two tickets to the exhibition Modern Couples: Art, Intimacy and the Avant-garde
Modern Couples exhibition catalogue
Modern Couples tote bag, exclusively designed for Barbican Art Gallery
Two cocktails per person in GŎNG Bar 
Complimentary Wi-Fi
Use of gym and infinity Sky Pool
Shop
Modern Couples: Art, Intimacy and the Avant-Garde Exhibition Catalogue
Modern Couples Exhibition Poster