Press room
Barbican announces Sona Jobarteh and Klein dates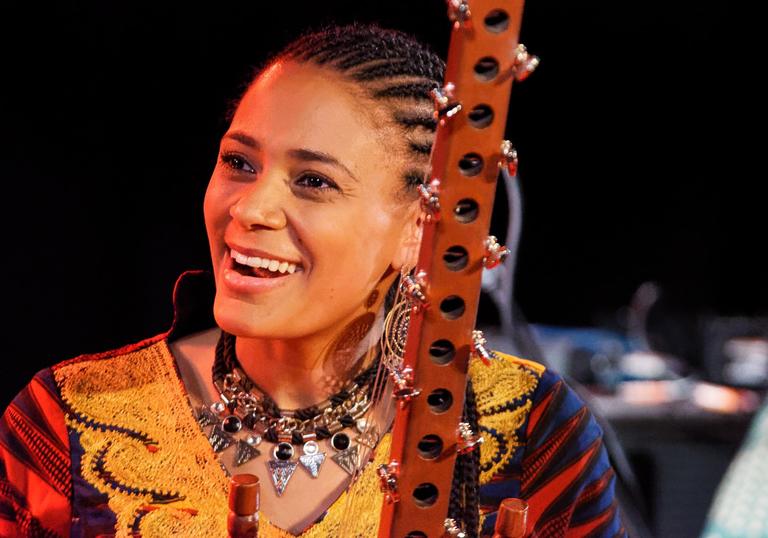 Sona Jobarteh
Sun 28 Nov 2021, Milton Court Concert Hall, 6.30pm & 8.30pm
Tickets £25 – 35 plus booking fee
Sona Jobarteh, Gambian singer and expert player of the kora, a 21-stringed African harp, makes her Barbican programme debut this November alongside her band, giving two performances at Milton Court Concert Hall.  
Sona is the first female professional kora virtuoso in the centuries-old West African griot tradition, which brings together music, storytelling and oral history. She is a pioneer in this male-dominated hereditary tradition that has been exclusively handed down from father to son for the past seven centuries.
Her lineage carries many renowned Kora masters including her cousin Toumani Diabaté and her grandfather Amadu Bansang Jobarteh after whom she has named her Academy in Gambia which she founded in 2016. It is the first school to deliver a mainstream academic curriculum at a high level; providing a platform for her to become a powerful speaker in the areas of social development and educational reform in Africa.  
Sona Jobarteh's on stage skills as an instrumentalist, singer and composer are testament to her success as an international artist; her forthcoming new album has been heralded by her song The Gambia that has attracted over 18 million listeners.
Produced by the Barbican
On sale to Barbican patrons and members on Wed 11 August 2021
On general sale on Fri 13 August 2021
Find out more
Klein
Sun 30 Jan 2022, Barbican Hall, 7.30pm
Tickets £12.50 – 15 plus booking fee
Avant-garde British composer and multi-disciplinary artist Klein will bring a new thrilling, inimitable live show to the Barbican in January 2022. Working at the intersection of composed music, theatre and song, this South London artist defies categorisation.
Her new album Harmattan, to be released on the renowned classical label Pentatone in November 2021, expands our notions of what classical music means today. Live, these explorations are taken further. Her impulse to playfully experiment and push boundaries arrive centre stage, inviting audiences into Klein's unique sound universe.
Klein returns to the Barbican's music programme following her opening set for Moor Mother at Milton Court Concert Hall in October 2019.
Produced by the Barbican in association with Rockfeedback
On sale to Barbican patrons and members on Wed 11 August 2021
On general sale on Fri 13 August 2021
Coming Soon
Coming Up in 2022