Press room
Barbican announces DakhaBrakha date for January 2022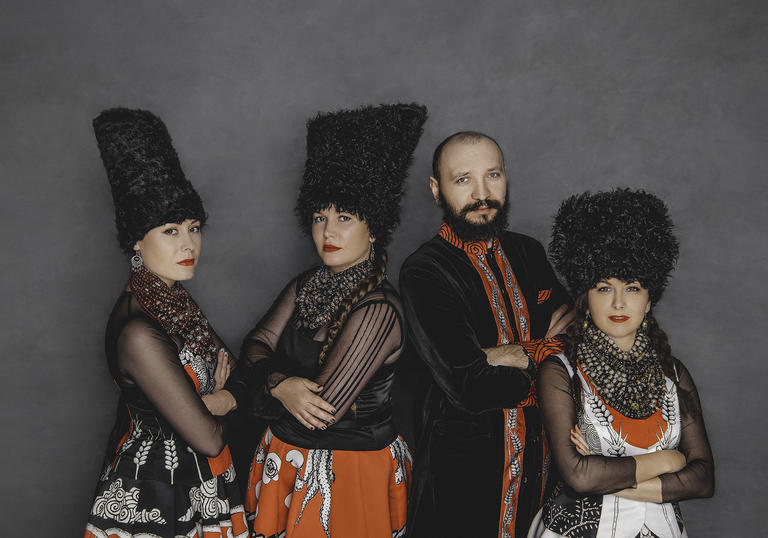 DakhaBrakha
Thu 20 Jan 2022, Barbican Hall, 7.30pm
Tickets £17.50 – 22.50 plus booking fee
Ukrainian quartet DakhaBrakha (meaning 'give/take') will present songs and new material from their latest album, 2020's Alambari, as well as a cross-section of their back catalogue to Barbican audiences in January 2022.
Founded in 2004, the self-proclaimed 'ethnic chaos' band are known for mixing Ukrainian and other Eastern European folk music with traditional sounds from across the world and taking influences from Western pop and rock music.
Featuring traditional instruments such as accordion, bass and cello, the quartet are also using Indian, Arabic, African, Russian and Australian folk instrumentation alongside vocal melodies and harmonies and overtone singing.
DakhaBrakha are musicians Marko Halanevych (vocals, darbuka, tabla, accordion, trombone), Iryna Kovalenko (vocals, djembe, bass drums, accordion, percussion, bugay, zgaleyka, piano), Olena Tsybulska (vocals, bass drums, percussion, garmoshka), Nina Garenetska (vocals, cello, bass drum) and director and founder Vladyslav Troitskyi.
Produced by the Barbican
On sale to Barbican patrons and members on Wed 22 Sep 2021.
On general sale from Fri 24 Sep 2021.
Find out more
Coming Up Soon
Coming Up in 2022