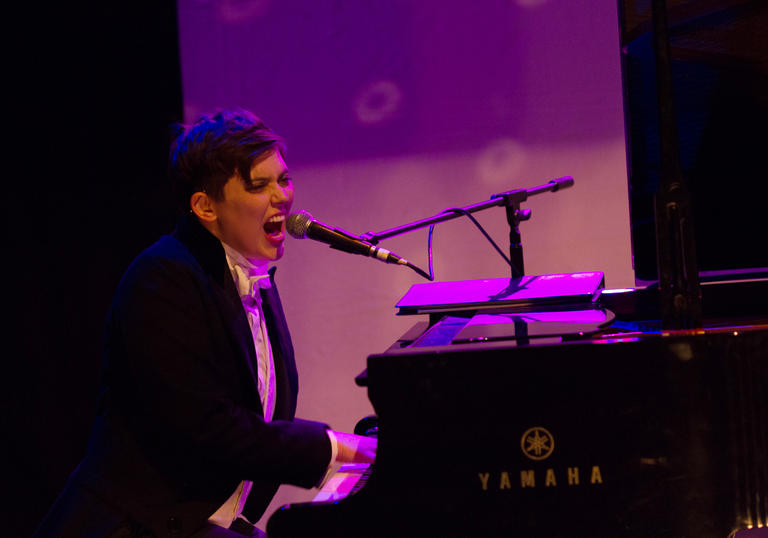 Performers & Creative team
Curator and Performer CN Lester
Director Kate O'Donnell
Lighting Designer Lucy Hansom
Performers
Danielle Braithwaite-Shirley
Nicholas Bonadies
Robin Gurney
Jamie Hale
Holden Madagame
Rebekah Ubuntu
Film Director Raphaël Neal
Film participants Lyman Gamberton, James Le Lacheur, Angelus Squid Marr
Stage Manager Lucinda Hamlin
Lighting Technician Charlie Mann
Sound Technician Kendall
Presented by the Barbican
These performances are BSL-interpreted. BSL Interpreter: Jacqui Beckford
Biographies
Nick Bonadies is a pianist, researcher, teacher, and full-time fabulist. He studies and writes on queer performance in music. Nick's near future involves a pile of conference talks, article submissions, an evening-length drag act for viola and piano, and a queer re-composition of Mozart for next summer's Grimeborn festival.  He also heads lectures, workshops, and student discussion groups in queer art and performance at the Guildhall School, where he studies for his PhD. 
Danielle Brathwaite-Shirley is a multidisciplinary artist, focusing in the intersections of animation, film projection and performance. Graduating in the 18/19 class of the prestigious Slade Art School (BA Fine Art), Brathwaite-Shirley's work draws on their experience and survival as a Black, trans and queer person – creating work to both archive, explore, and disrupt. Noted for their distinctive style and aesthetic, Danielle's work has both been used within their own solo projects, such as Blackzilla, shown at Tate for the 'Let me show you a body' closing event, but also in successful collaborations and commissions, such as working alongside Travis Alabanza to create the visuals for their show Before I Step Outside (You Love Me), which premiered with the visuals at Brighton festival. Constantly evolving, playing and creating, their practice is evolving a live archived mixture of sound, visuals, politic and aesthetic creating work that is both unique and timely. Visit their website.
Robin Gurney is a writer, poet, and performer. They are fascinated by myth, history, and the borderlands between the two; much of their work also deals with monstrosity and gender. In 2015 they collaborated with CN Lester to write experimental opera The Lion-Faced Man. Robin's solo show, The Sleeping Princess, was described by Sabotage Reviews as 'a spellbinding, loving, and nuanced re-imagining of some of our most beloved fairy tales' and explores themes of trauma and patriarchy. Their work has been part of exhibitions at Somerset House and Trans Pride Brighton. Visit their website.
Jamie Hale is a poet and writer whose work explores what it means to have a body, and to live in it, through themes of queer/trans/disabled embodiment, in/visible subjectivity, and the multiple meanings of impairment and disability. A wheelchair-user dependent on tubes and machines, Jamie Hale is interested in the creative potential of bodily automation, identity regeneration, and the weight of mortality. They have recently performed at the Trans Creative Arts Festival, the Saboteur Awards, the Tate Modern, and the Barbican Centre, and are developing a show in conjunction with Barbican OpenLab. They are working towards publication of a poetry collection and a book of essays. Visit their website.
CN Lester is a writer, musician, academic, and leading LGBTI activist. Co-founder of the UK's first national queer youth organisation, they curate the trans art event Transpose, and work internationally as a trans and feminist educator and speaker. Their work has featured on BBC Radio 3, BBC Radio 4, SBS, The Guardian, ABC, The Independent, Newsnight, and at Sydney Opera House. Trans Like Me (Virago/Seal) is their first book, named as one of the three essential works on trans issues by the New York Times. With glowing reviews from The Times Literary Supplement and Publishers Weekly, Trans Like Me is a collection of essays on gender, society, history, and building better futures. A singer-songwriter and a classical performer, composer and researcher, CN specialises in early and modern music, particularly by women composers. Gigs/engagements include work at The Barbican, Southbank Centre, Snape Maltings, The Royal Exchange, Fluid Festival, Queer Prides throughout Europe, and art galleries, bars, recital halls, book and coffee shops, and universities throughout the UK. They have released three independent, crowd-funded albums: Ashes (2012), Aether (2014) and Come Home (2017). They live in London and drink too much coffee. Visit their website.
Holden Madagame is a transgender American tenor and University of Michigan School of Music, Theatre, and Dance alumni. He studied with bass-baritone Stephen West as a mezzo soprano, and currently lives in Görlitz, Germany. Holden is a passionate trans* activist forging the way for trans-identified artists to work openly in opera and classical music. He hopes to reach out to both audiences and professionals to discuss gender and sexuality whenever possible. In 2017 he participated in the Glyndebourne Academy, and has since worked with companies such as Passaggio Oper, Fulham Opera, Gerhart Hauptmann Theater in Görlitz, and the Brandenburgisches Konzertorchester, with whom he recently debuted the role of Wenzel from Die verkaufte Braut. In April 2019 he will premiere the main role from a new opera called Good Country in Austin, Texas, the story of transgender stagecoach Charley Parkhurst. 
Rebekah Ubuntu is a queer and non-binary performance, sound and video artist. A recent graduate of the prestigious British Institute of Modern Music, their artistic and scholarly practices explore notions of futurity, rebellion, paradoxes, transfeminism, queerness and radical shyness. Their work has featured on BBC Radio 1's Annie Mac show, Tate Modern, Tate Britain, London's Serpentine Galleries, the Barbican Centre, and European arts institutions. For Transpose: The Future Rebekah will perform two new Afrofuturist compositions with visuals commissioned especially for and inspired by these soundworks, including a visual homage to Mae Carol Jemison, who was the first African American woman to travel to space. Find them on Instagram.
 
Kate O'Donnell is an award-winning transgender performer, activist, theatre and cabaret maker. In 2016 she founded Trans Creative, a trans arts company whose aim is to help trans people tell their stories. Her work is autobiographical, entertaining and political, showing pride and strength in being transgender and includes: the award-winning Big Girl's Blouse, with its successful Twitter campaign #StandByYourTrans (winning Manchester Pride Spirit of the Parade award 2018). She has also created several well-received cabaret performances: Hayley and Me, A Short History of My Tits and No Pride. With support from Arts Council England she is currently touring her critically acclaimed one-woman show You've Changed in the UK and across Europe, following its preview at the Edinburgh Festival. In her role as Artistic Director of Trans Creative she curated Manchester's first trans arts festival, Trans Vegas, in which 50 trans voices were heard; and she and was part of the Manchester International Festival opening event, What is the City But Its People?. Other credits include: Feste in Twelfth Night at The Royal Exchange; Boy Meets Girl for the BBC; the musical Hush for LIFT Festival and The Royal Exchange; Mum, a short film she co-created with Anne Marie O'Connor (BFI and winner of best LGBT Short film London Independent Film Festival); Sounds Like She for BBC Radio 3, shortlisted for Arias 2017 award; Like a Girl for BBC Radio 4. Other awards include: Brighton Fringe LGBTQ Award and LGBT Foundation Hero Award, all in 2015. In 2017 Kate directed Transpose for the Barbican. Kate O'Donnell regularly hosts and presents on radio and speaks on panels such as Southbank's Women of the World Festival. She has made a guest appearance on the Guilty Feminist podcast. In 2018 she curated and hosted the Manchester Pride Candelit Vigil, with an audience of over 5000 people. She has been shortlisted in the 2018 Gay Times Honours Arts and Culture category, and nominated in the 50 Great Northerners Award.
Part of The Art of Change
Our 2018 season explores how the arts respond to, reflect and potentially effect change in the social and political landscape.
Discover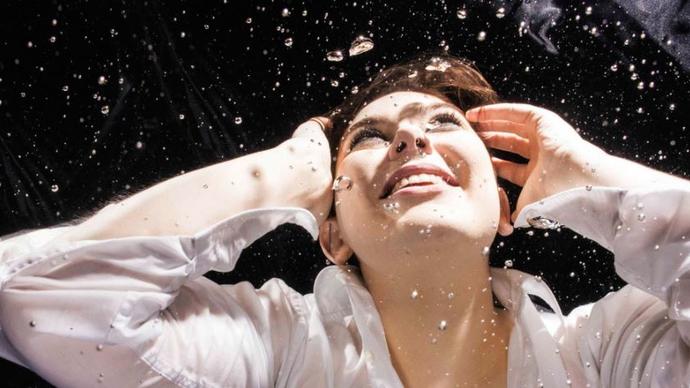 Actor, author and singer-songwriter CN Lester takes a brief look at the history of transgender performance.