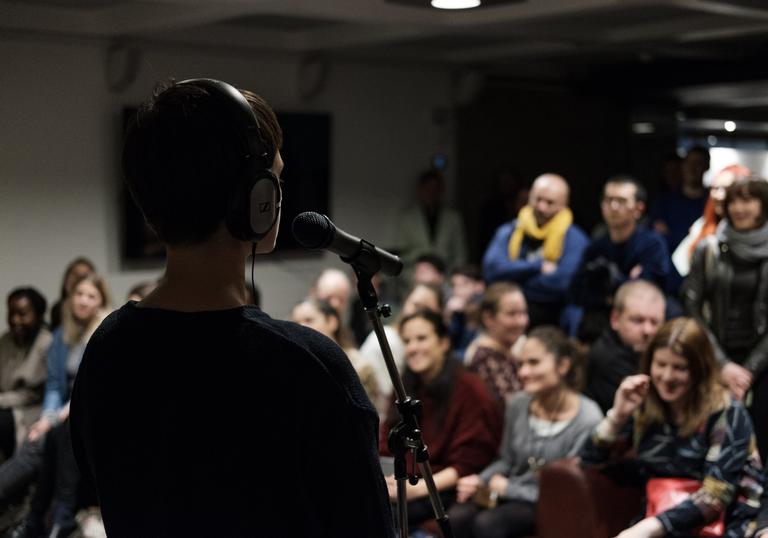 Performance
Sun 16 Dec, 4pm, FreeStage on Level G, Free
More Than Two: Omnibus is a performance of all the 'episodes' developed as part of Johnson's ongoing project More Than Two initiated in June 2017. Episodes are based on the accounts of a constellation of individuals who mediate 'alternative relationships' via screens. Using earpieces, the performers reproduce the words, utterances, intonation and pacing of conversations alongside musical accompaniment. Subjects such as coming out, sex apps and reproduction are handled with humour and anxiety.
Sound recordings from discussions, interviews and real dates inform the piece, with interviewees becoming embedded overtime, eventually becoming collaborators and devising the musical elements of the performance.
Previous episodes of More Than Two have taken the form of a 16-minute performance in the Barbican's Fountain Room in November 2017, a live radio broadcast on Eddie Peake's Hymn Show, and an exhibition at Almanac Project Space (both 2018). Each episode builds sequentially on the last.
The performance duration is approximately 50 minutes and will be presented by the full cast of project collaborators.
About the artist
In 2017 Jasmine Johnson was a participant in alt.barbican, a Barbican and The Trampery artist development project for artists working at the intersection of art, technology and entrepreneurship. 
Johnson's artistic vocabulary incorporates video, drawing, installation and most recently, performance to produce increasingly ambitious portraits of globally dispersed individuals.
Solo presentations include Almanac Project Space, London; Eddie Peake's Hymn Programme (London); DeVos Museum, Michigan, with Rachel Pimm; Jerwood Project Space; ANDOR Gallery, London, with MoreUtopia!; ASI & CCI Fabrika, Moscow. Group exhibitions include the Barbican; Place des Arts, Montreal; Daata Editions; Government Art Collection, London; Bloomberg New Contemporaries. Her work has been screened at Chisenhale Gallery, ICA and Jerwood Presents – Genesis Cinema.
Rehearsal times
Tue 11 Dec  11.30am – 2:30pm
Wed 12 Dec 3.30 – 6:00pm, 8 – 10:30pm
Thu 13 Dec 4 – 6.30pm
Fri 14 Dec 9am – 12.30pm
Sat 15 Dec 1pm – 5pm
 
Always open, always free
Discover our year-round programme dedicated to transforming our public spaces with installations, exhibitions, talks and events.
Discover
We spoke to artist Jasmine Johnson about her creative process, being part of the alt.barbican programme and what we can expect from her new work.
Supported by