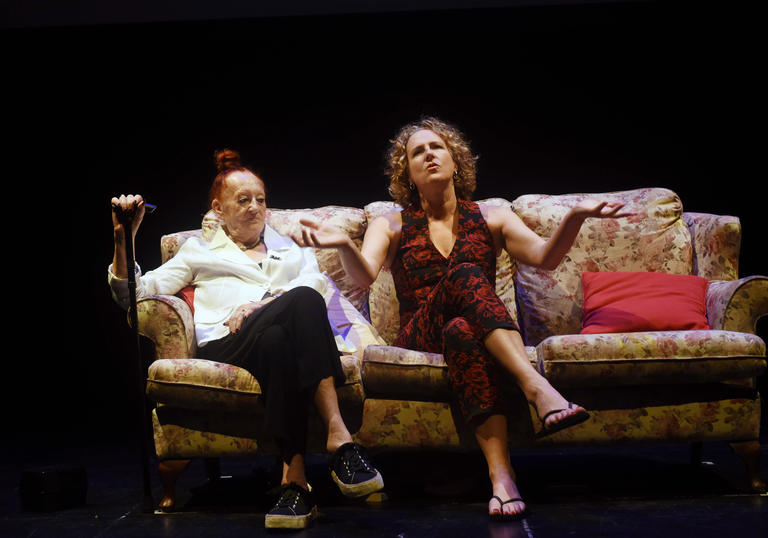 Cast & Creative team
Cast 
Ursula Martinez
Milagros Lea
Creative team 
Creation Mark Whitelaw, Ursula Martinez
Direction Mark Whitelaw
Lighting Design Chris Copland
Co-commissioned by the Barbican, SICK! Festival and Perth Festival
Special Thanks to Arts 4 Dementia for running Early-Stage Dementia Awareness Training for Arts & Heritage Organisations
Special Thanks to Genevieve Closuit, Hugo Glendinning, Ben Harmer (puppet), Mark Morreaux (video) Nicholas Immaculate (costume) Wendy Martin, Deborah May, Victoria Benitez Sevillano, Pilar Bono and Monica Lea
Biographies
Ursula Martinez is a theatre maker, performer and director. After working in experimental theatre, Martinez embarked on a solo career, performing on the London club and cabaret circuit.
In 1998, she combined her experimental theatre background with her cabaret experience and made her first theatre show, A Family Outing, an autobiographical work starring herself and her parents, directed by Mark Whitelaw. Martinez made two more autobiographical shows which, together with A Family Outing, formed a trilogy of work entitled Me, Me, Me!, presented at the Barbican as part of B.I.T.E. 2006.
Subsequent shows include Office Party, commissioned by the Barbican, Free Admission, co-commissioned by Southbank and Fierce Festival and Wild Bore, commissioned by The Malthouse in Melbourne. Martinez is an associate artist with performance provocateurs Duckie with whom she co-created the Olivier Award-winning show C'est Barbican. She is also a founding member of the Olivier Award-winning contemporary circus/variety phenomenon La Soiree. For all her theatrical accolades, because of the internet, she is probably most well known for pulling hankies out of her vagina.
Mark Whitelaw is a writer, director, and dramaturg. After graduating in Theatre from Crewe and Alsager College with a first class honours degree, he formed The Glee Club Performance Company with whom he created 14 national and international touring shows.
As well as his work with The Glee Club, Mark has collaborated with numerous international theatre companies, dance companies and solo artists, including Peter Zegveld (Holland), Mem Morrison, The People Show, Norddans (Sweden), Bedlam Dance Company, H2 Dance, Eggs Collective and Shamshad Khan. He is the director in residence with iconic London performance collective Duckie, with whom he has directed several projects, including C'est Barbican, which won an Olivier Award and a Time Out award in 2003 for Best Entertainment.
Mark Whitelaw has worked with Ursula Martinez for over 20 years. Together they have created 6 theatre shows.
Milagros Lea is originally from Spain and emigrated to England in the early sixties. After marrying Arthur Lea and raising a family, she studied French and Spanish at the London School of Economics and subsequently worked as a modern languages teacher in secondary education. In 1998 she performed at the Edinburgh Festival in A Family Outing and toured internationally for the next few years. Since retiring, she spends most of her time in Almeria in the south of Spain. 
Chris Copland graduated from Goldsmiths College in 2001 with an MA in Theatre Arts. He has worked extensively in theatre and dance since 1993 as performer, director, production manager and lighting designer. 
As production manager, he has toured worldwide for Gary Clarke, Claire Cunningham and Jess Curtis, Bedlam Dance, Nigel Charnock, Ursula Martinez, Laila Diallo, Mayuri Boonham, Wendy Houstoun and Flexer & Sandiland, amongst many others. 
Lighting design credits include Thank You Very Much for Claire Cunningham (currently in production); Stupid Men, One Dixon Road and Ten Men for Nigel Charnock; Heart of Darkness and City of Tribes for Tavaziva Dance; Still for Candoco; My Stories, Your Emails and Free Admission for Ursula Martinez; All Ears for Kate McIntosh; and Pact with Pointlessness for Wendy Houstoun. Chris Copland also regularly lectures in acting and devising for the theatre.
Part of Life Rewired
A season exploring what it means to be human when technology is changing everything
Discover
A look back at when Lyn Gardner met Ursula Martinez in 2006 to discuss Me, Me, Me! at the Barbican and the original performance of A Family Outing twenty years ago