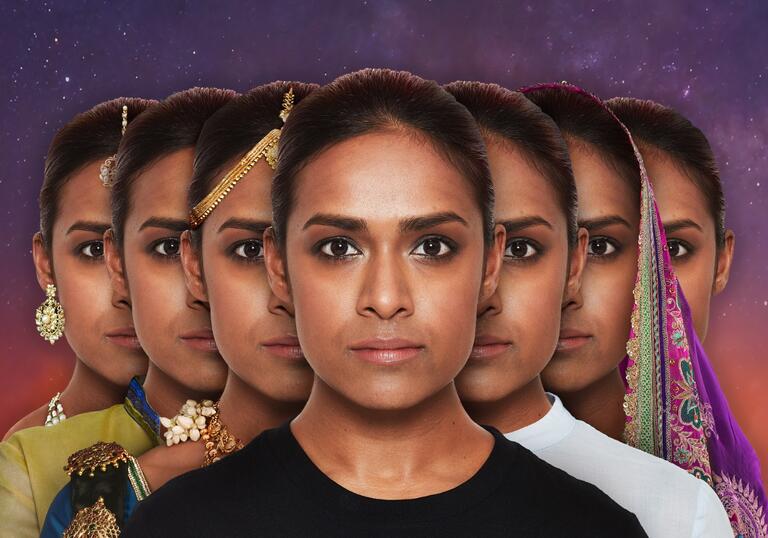 Booking fees
£4 booking fee per online/phone transaction. 
No fee when tickets are booked in person.
Booking fees are per transaction and not per ticket. If your booking contains several events the highest booking fee will apply. The booking fee may be reduced on certain events. Members do not pay booking fees.
Reviews
'A magnificent achievement in every way'
'Four-and-a-half hours of glorious storytelling'
'A stunning world premiere'
The Globe and Mail (Toronto)
'All at once everything you've missed from live theatre everywhere'
The Story
Karma (Part 1): 
King Janamejaya is holding a ritual sacrifice in which he will kill all the snakes in the world to avenge his father's death. In hopes of ending this cycle of revenge, a storyteller is summoned to tell King Janamejaya the tale of The Mahabharata. The storyteller tells of the rival Pandava and Kaurava clans, and the choices that lead to their infamous Game of Dice. Through playful narration, shadow play, classical Indian dance, and a live band, the ensemble tells the stories of humans struggling to build a just world in the face of competition, jealousy, and rage. 
Exploring the themes of storytelling, ecocide, and dharma (empathy), Part 1 begins Mahabharata's epic journey that asks, "When everyone believes they are right and their opponents wrong, how can one end a spiral of revenge?" 
Khana & Kahani (Community Meal and Storytelling Session):
Mahabharata is a story that one learns over a lifetime; it needs to be absorbed and digested. To delve deeper into the philosophical riddles of the Pandava family's thirteen years of exile, the audience gathers to share a traditional Indian meal. Hosted by a charming storyteller, the audience experiences a tale from the Mahabharata as many people have, around the dinner table.
Dharma (Part 2):
King Janamejaya is told of the war fought by his ancestors — its devastating destruction of the planet, the mass extinction that followed, and of the survivors left behind to rebuild. Using captivating projections, dynamic soundscapes, and poetic stage design, Part 2: Dharma includes a 15-minute Sanskrit opera adaptation of the Bhagavad Gita. King Janamejaya is confronted with the battle of Kurukshetra, and the battle inside his own heart. Are we destined to repeat the mistakes of our ancestors?
See more theatre and dance for less
Pay no booking fees, enjoy Members' priority booking and Member-only pre-show talks and open rehearsals (T&Cs apply)
Performance schedule
Why Not Theatre's Mahabharata is a large-scale production told in two parts. You can choose to see both parts in one captivating day of theatre or split it over multiple days. It's up to you. 
The optional Khana community meal will take place on Sunday, Friday and Saturday at 6.30pm.
Mahabharata: Karma (Part 1): 2hr 20 mins with interval
Sun 1 Oct. 3.30pm
Wed 4 Oct. 7.45pm
Fri 6 Oct. 3.30pm
Sat 7 Oct. 3.30pm
 
Mahabharata: Dharma (Part 2): 2hr 10 mins with interval
Sun 1 Oct. 8.15pm
Thu 5 Oct. 7.45pm
Fri 6 Oct. 8.15pm
Sat 7 Oct. 8.15pm
 
Khana & Kahani: Community meal and storytelling session
Sun 1 Oct 6.30pm
Fri 6 Oct 6.30pm
Sat 7 Oct 6.30pm
Award-winning dance with a classical score
Spiritual, playful and mystical dance-theatre from choreographer Pam Tanowitz and Pulitzer prize-winning composer David Lang.