Revisiting the Future: Technofeminism in the 21st Century
New Suns: A Feminist Literary Festival
Booking information
Booking opens on the following dates;
All members 10 Jul 10am
General public 11 Jul 10am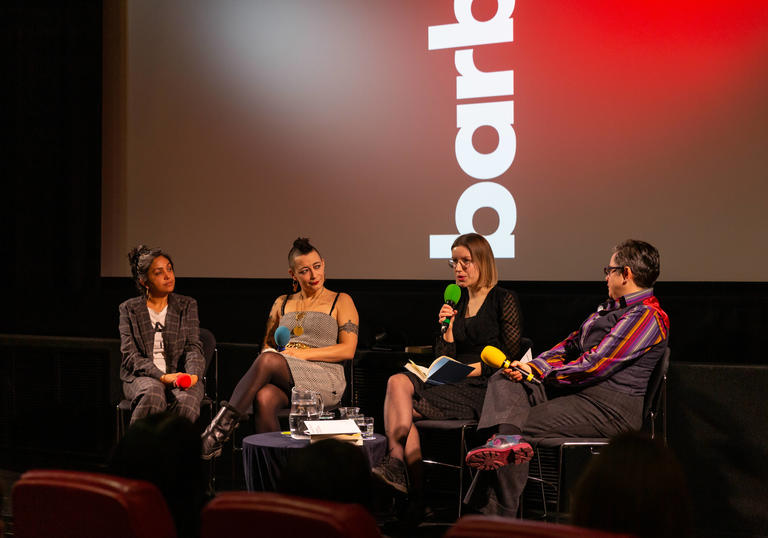 A panel discussion exploring current debates in technofeminism. 
What happened to the aspirations of 1990s cyberfeminists to explore and critique the radical potential of new technologies and to re-make digital spaces? Ten years after the original term was coined, Judy Wacjman wrote the book TechnoFeminism, building on the insights of cyberfeminism and creating a new lens with which to understand the relationship between human and machine. 
On the occasion of the publication of Beautiful Warriors in English translation, edited by Cornelia Sollfrank, Mindy Seu, Sollfrank, Judy Wacjman and chair Marie Thompson explore contemporary theories and practices of technofeminism. Incorporating ecological, decentralized, economic and intersectional perspectives, they look at how today's forms of discrimination and exploitation are being responded to by feminist hackers, techno-eco-feminists and others. 
Cornelia Sollfrank is a pioneer of Net Art and 1990s cyberfeminism and the editor of Beautiful Warriors: Technofeminist Practice in the 21st Century (minor compositions, 2019).
Judy Wacjman is Anthony Giddens Professor of Sociology at the London School of Economics and Political Science, editor of TechnoFeminism (Polity, 2004) and author of many books including The Sociology of Speed: Digital, Organisational and Social Temporalities (OUP, 2017).
Chaired by Marie Thompson, author of Beyond Unwanted Sound: Noise, Affect and Aesthetic Moralism (Bloomsbury, 2017), Lecturer in Media, Sound and Culture at Lincoln School of Film and Media, University of Lincoln, and the co-editor of Sound, Music, Affect: Theorizing Sonic Experience (Bloomsbury, 2013).
Talk is 75 mins  
Image credit: Catarina Rodrigues 
Ticket prices
Unwaged: £11
Students: £11
Over 60s: £11
Save 15% when you purchase tickets to two or more events from the New Suns programme (excluding Family Film Club screening)
Booking information
Booking opens on the following dates;
All members 10 Jul 10am
General public 11 Jul 10am 
Part of Life Rewired
A season exploring what it means to be human when technology is changing everything
Location
Level 4,
Barbican Centre
Silk Street, London
EC2Y 8DS
Public transport
The Barbican is widely accessible by bus, tube, train and by foot or bicycle. Plan your journey and find more route information in 'Your Visit' or book your car parking space in advance.
We've plenty of places for you to relax and replenish, from coffee and cake to wood-fired pizzas and full pre-theatre menus