Squish Space
Life Rewired Hub Residency
Free and drop-in workshops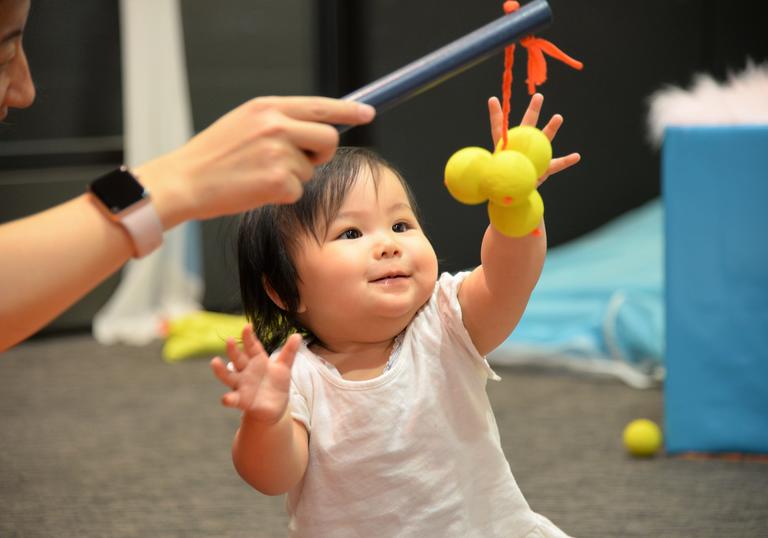 Join artist and playworker duo India Harvey & Lisa Marie Bengtsson for a special event as part of their three-day residency inside the Life Rewired Hub
Squish Space is a multi-sensory play adventure at the Barbican for children under 5 and their families. Developed by Lisa and India in collaboration with Barbican Guildhall Creative Learning, Squish Space has been home to two seasons of play and welcomed over 10,000 visitors.   
In this special event inside the Life Rewired Hub we will be exploring ways in which to support children with SEN/ complex needs through play. 
This event is part of a three-day Squish Space residency inside the Life Rewired Hub. 
Part of Life Rewired
A season exploring what it means to be human when technology is changing everything
Life Rewired Hub Residency
Possibilities of Bodies
Squish Space (Level G Studio) and Life Rewired Hub
Thursday 25 April, 11am - 4pm 
Free, Drop-in and book in advance
 
Join artist and playworker duo India Harvey & Lisa Marie Bengtsson for a day of activity exploring how spaces like Squish Space can be directly informed by, and support children with complex needs. Through a series of activities in Squish Space and the Life Rewired Hub, India and Lisa will explore how we can use the body as a starting point for inclusive play.
 
We welcome visitors with children with Special Education Needs and/or physical disabilities to play during these workshops.
Schedule
 
In the Life Rewired Hub join Lisa and India for creative making sessions:
11:00 - Possibilities of Bodies workshop (Free and ticketed)
13:00 - In conversation with Squish Space duo Lisa and India (Free, drop-in)
14:00 - Possibilities of Bodies workshop (Free and ticketed)
15:00 - Join Lisa and India for a conversation reflecting on their day of research and play (Free, drop-in)
Squish Space (Level G studio) is open as normal, 10am-4pm. 
Going Round in Circles
Squish Space (Level G Studio) and Life Rewired Hub
Friday 26 April, 11am -4pm
Free, Drop-in
Join us for a day of activity, discussion and information sharing that explores intergenerational play as a radical and very practical closed-loop solution to both childcare and elderly isolation. We invite our usual Under 5s visitors to bring their parents, carers, grandparents and extended family of all ages. Lisa and India will also be joined by guest speakers Rosa Schling from On The Record, a community interest company based in Walthamstow. 
Schedule
 
In the Life Rewired Hub: 
 
11:00 - Bring along the whole family for an intergenerational making session, sharing stories using sensory tools. Open to everyone.
13:00 - Guest Speaker: Rosa Schling from On the Record will discuss the story of the Walthamstow nursery co-op, share a short-film and discuss international perspectives on play. 
15:00 - Join Lisa and India in a session reflecting on the day, exploring themes that have emerged through building, drawing, writing and creating a vision for intergenerational play for the future.
Squish Space (Level G studio) is open as normal, 10am-4pm.  
About Rosa Schling 
Rosa Schling is a co-director of On the Record Community Interest Company. On the Record records oral history to inspire social change. Right now, Rosa is recording memories of parenting and childcare and collecting histories of radical bookshops, in between spending time with her two young children. 
Doing It Ourselves 
Doing It Ourselves is recording the history of the First Neighbourhood Co-operative Nursery, a parent-run childcare project in Walthamstow, East London that ran from the late 1970s to the early 1990s. Run by dedicated volunteers and oral history organisation On the Record, the project is sharing this history with parents and carers today. Catch their exhibition at The Mill in Walthamstow throughout the Summer holidays. 
Future Landscapes of Child Culture
Life Rewired Hub
Saturday 27 April, 11am - 4.30pm 
Free, Drop-in  
Join India & Lisa for a series of drop-in sessions exploring the future of play. They will be joined by guest artists Amina Abbas-Nazari and Ellie Bates. Sessions will be immersive and experimental, but suitable for parents, carers and families with a focus on play for Under 5s.
Schedule
 
11am & 1pm - The Barbican Bus: Digital storytelling session with Ellie Bates
The Barbican Bus is a storytelling workshop co-created by learning designer Ellie Bates for children aged 3 to 7. It re-imagines the Barbican as a new land full of creatures and monsters, mud filled terrains and magical happenings. Blending together digital storytelling and making activities, it invites adults and children to utilise digital technologies to enrich play. Armed with your newly imagined Barbican map and your very own Barbican Bus, travel together around the space, creating new stories informed by our ebook.
2.30pm - Amina Abbas-Nazari: Speculative Sensory Futures
How do we want to be heard by technology?  How can technology allow us to be heard in different ways? How does what we can hear help us to understand the world and each other?
 
From the stethoscope to satellites, technology allows us to experience sounds and sonics of the world not normally audible to us. Using artificial intelligence, technology can now listen and interact with us using our voices. In this creative, hands-on workshop we will speculatively imagine how combining our bodies with technology could allow us new or modified ways to be heard, communicate with each other and / or listen to the world.
3.30pm - Future Landscapes of Child Culture? 
Join Lisa and India for a facilitated discussion examining themes from their three day residency. 
 
About Ellie Bates
 
Ellie Bates, is a graduate of Education and Technology MA at UCL, with a particular interest in developing digital tools to support the development of empathy. With over 5 years teaching experience in Design and Technology, she is passionate about learning through making and the potential of blended learning to transform the classroom. Within her current role as an Instructional Designer, she re-imagines the future of education, developing flexible and collaborative learning platforms.
About Amina Abbas-Nazari 
 
Amina Abbas-Nazari is an artist, designer and researcher.  She works as Research Fellow at the Royal College of Art investigating how open-source technology can enable people new engagements and interactions with wildlife and nature. She is also currently undertaking a Techne funded PhD in the School of Communication at RCA, in partnership with IBM, around the themes of Artificial Intelligence and Voice.
www.aminanazari.com