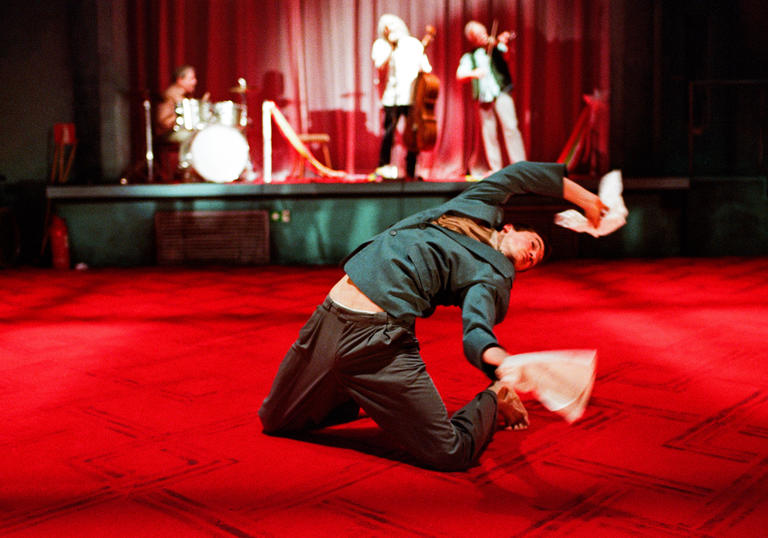 Performers & Creative team
Direction Franck Chartier 
Directorial assistance and dramaturgy Gabriela Carrizo 
Creation and performance Leo De Beul, Marie Gyselbrecht, Hun-Mok Jung, Simon Versnel, Maria Carolina Vieira, Yi-Chun Liu, Brandon Lagaert, with the aid of Eurudike De Beul 
Artistic assistance Seoljin Kim, Camille De Bonhome 
Sound composition and arrangements Raphaëlle Latini, Ismaël Colombani, Eurudike De Beul, Renaud Crols 
Sound mixing Yannick Willox  
Lighting design Giacomo Gorini, Peeping Tom 
Costume design Peeping Tom, Camille De Bonhome 
Set design Peeping Tom, Amber Vandenhoeck 
Set construction KVS-atelier, Filip Timmerman, Amber Vandenhoeck 
Technical direction Filip Timmerman 
Technicians Hjorvar Rognvaldsson, Amber Vandenhoeck 
Tour manager Lulu Tikovsky 
Production manager An Van der Donckt 
Communication and PR manager Sébastien Parizel 
Company manager Veerle Mans 
Distribution Frans Brood Productions 
Supernumeraries Lieve Carchon, Charlotte Clamens, Kathy Trevelyan, Amina Patel, Christine Keates, Jo Ashe, Toni Brooks, John Chapman, David Taylor, Thomas Tillery
UK premiere
Presented by the Barbican in association with London International Mime Festival
Co-produced by Theater im Pfalzbau (Ludwigshafen), KVS – Royal Flemish Theatre (Brussels), Festival GREC (Barcelona), HELLERAU - European Center for the Arts Dresden, Les Théâtres de la Ville de Luxembourg, Théâtre de la Ville (Paris), Maison de la Culture (Bourges), La Rose des Vents (Villeneuve d'Ascq), Printemps des Comédiens (Montpellier), with the support of Sommerszene, Szene Salzburg (Salzburg) and the Flemish authorities 
Theater im Pfalzbau is acting as key partner in the realisation of the trilogy Vader – Moeder – Kind
 
Peeping Tom wishes to thank Héloïse da Costa, Blandine Chartier, Emiliano Battista, Diane Fourdrignier, Seniorencentrum Brussel vzw

About the show
Father is set in the visiting area of an old folks' home whose towering walls accentuate the fact that the action takes place deep underground. At the centre of this netherworld, somewhere between the world of the living and the dead, stands the figure of the father, who seems to be distancing himself gradually from the human community. His fading is drawn not from the story of one individual, but from the mythology of the father, and in scenes that explode into action – and just as suddenly stop – this figure appears at once as godlike and ridiculous, as possessed of a rich mental life, and as disconnected, decaying, empty. His past may harbour a deep secret, or maybe he is simply mad or delusional. The other residents and the staff wonder at him, regarding him with amusement and hatred, affection and indifference.
 
The piece plays on the widening gap between perception and reality, on the way time for the old appears to slow down so as to correspond to the lagging rhythm of their gestures, or articulate speech is received as static and music as noise, or the world itself seems to make sense only insofar as it is the embodiment of a memory. With poignancy and wit, Father explores the moment when the memories (or are they fancies, hallucinations?) of an old man constantly threaten to tip the realities of daily life into fantasy.
Discover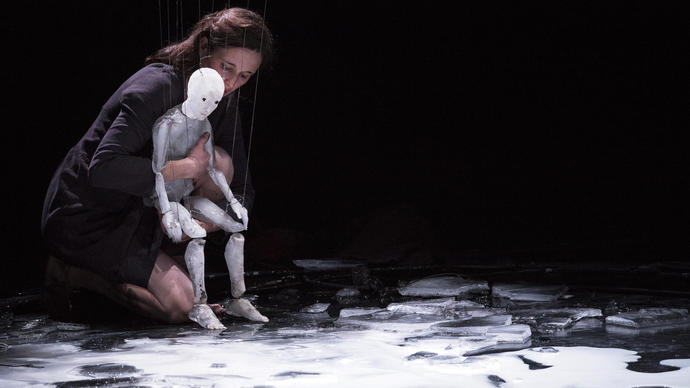 Watch: London International Mime Festival 2019
Now in its 42nd year, Mime Festival returns to the Barbican with four captivating theatre shows and two film events in the cinema, spanning the spectrum of contemporary visual performance.
About Peeping Tom
Peeping Tom was founded by Gabriela Carrizo and Franck Chartier in 2000. Together they created a location project that took place in a trailer home, Caravana (1999), with would-be long-time collaborator Eurudike De Beul, followed by the film Une vie inutile (2000). Peeping Tom's hallmark is a hyperrealistic aesthetic anchored to a concrete set. The directors create an unstable universe that defies the logic of time and space. Isolation leads to an unconscious world of nightmares, fears and desires, which the creators deftly use to shed light on the dark side of a character or a community. The huis clos of family situations remains a major source of creativity for Peeping Tom. 
Gabriela Carrizo (b. 1970, Córdoba) was ten years old when she started dancing at a multidisciplinary school that had what was at the time the only contemporary dance group for children and teenagers. Under Norma Raimondi's direction, the school went on to become Córdoba's University Ballet, where Gabriela danced for a couple of years, and where she created her first choreography. She moved to Europe when she was nineteen, and over the years she worked with Caroline Marcadé, Les Ballets C de la B (La Tristeza Complice, 1997, and Iets op Bach, 1998), Koen Augustijnen (Portrait intérieur, 1994) and Needcompany (Images of Affection, 2001). She never stopped working on her own choreography, and these years saw the production of a solo piece, E tutto sará d'ombra e di caline, and Bartime, a collaboration with Einat Tuchman and Lisi Estaras. She also created the choreography for the opera Wolf (2002), by Les Ballets C de la B. She plays a leading role in Fien Troch's movie Kid (2012), and in 2013 she created the short piece The Missing Door (2013) for the Nederlands Dans Theater – NDT 1 in The Hague. In 2015, Carrizo created The Land, a collaboration with the Munich Residenztheater. 
Franck Chartier (b. 1967, Roanne) started dancing when he was eleven, and at the age of fifteen his mother sent him to study classical ballet at Rosella Hightower in Cannes. Between 1986 and 1989, he was a part of Maurice Béjart's Ballet du 20ème Siècle. For the following three years, he worked with Angelin Preljocaj, dancing in Le spectre de la rose at the Opéra de Paris. He moved to Brussels in 1994, to perform in Rosas' production Kinok (1994), and he stayed on, working on duos with Ine Wichterich and Anne Mouselet, as well as in productions by Needcompany (Tres, 1995) and Les Ballets C de la B (La Tristeza Complice, 1997, Iets op Bach, 1997 and Wolf, 2002. In 2013, he created 33 rue Vandenbranden for the Göteborg Opera, based on Peeping Tom's 32 rue Vandenbranden, and he developed the choreography for the opera Marouf, Savetier du Caire by Jerôme Deschamps at the Opéra Comique de Paris. For Nederlands Dans Theater, he directed The Lost Room in 2015, a second collaboration with the Dutch dance company after Gabriela Carrizo's The Missing Door (2013). He was awarded the prestigious Dutch prize 'Swan Most Impressive Dance Production 2016' for the piece. 2017 marked the world premiere of The Hidden Door, his second collaboration with NDT and the final short piece of the trilogy Adrift, which also includes The Missing Door and The Lost Room.
London International Mime Festival
London International Mime Festival (LIMF) promotes contemporary visual theatre. Its productions have won nominations for Olivier Awards and in 2017 the festival was honoured with the Empty Space - Peter Brook Special Achievement Award for its work over four decades. Founded in 1977, LIMF is an Arts Council England National Portfolio Organisation.
Festival Directors Helen Lannaghan, Joseph Seelig
Production Manager Bill Deverson
Artists Managers Stephanie Brotchie, Shanti Freed
Press Representatives Anna Arthur PR
Graphics & Website Iain Lanyon  
Marketing Consultants Mobius Industries
London International Mime Festival 2019 gratefully acknowledges co-operation / financial support from: Arts Council England; Institut français, Royal Norwegian Embassy, London; Finnish Institute in London/TelePART and Wallonie-Bruxelles International (WBI)