Heavy handed, we crush the moment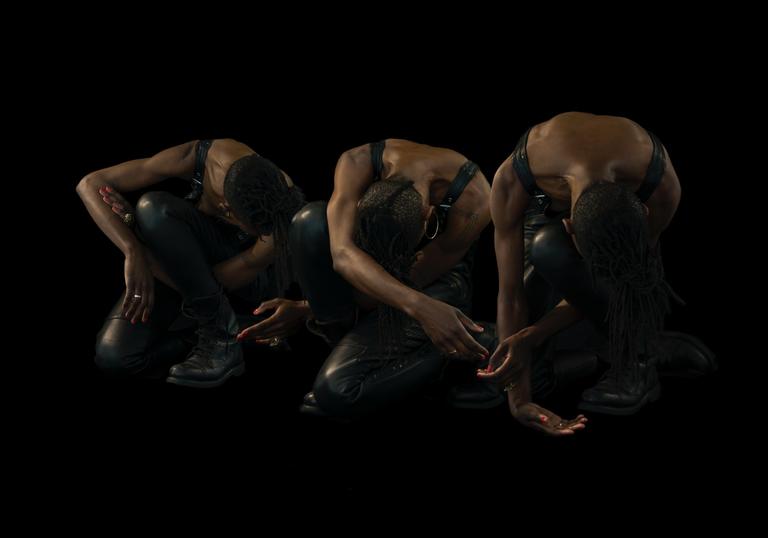 Heavy handed, we crush the moment is a new commission by Last Yearz Interesting Negro, the performance project of London-based artist and dancer Jamila Johnson-Small.
Heavy handed, we crush the moment is performance as event. A new work by Last Yearz Interesting Negro, performed with Fernanda Muñoz-Newsome, acts as the host each night for a changing combination of performances from invited guest artists (keyon gaskin or Antonija Livingstone & Mich Cota) and DJs (Elijah* or Planningtorock). Each night's line-up is different and the work is always moving within the unknown.
Heavy handed, we crush the moment is an evening meditating on infection and the ways in which we are porous, always influenced and transformed by our environment. An attempt to think about ways of coexisting without assimilation and dominance, Last Yearz Interesting Negro's work swells and subsides around the guest interventions as the audience shift orientation throughout the evening. 
Ideas and instances of decomposition – as necessary, as violent, as healing – run through the work. The soundtrack is created from commissioned music by seven different artists, all working from a poem by Last Yearz Interesting Negro. This poem features in all performances in their ongoing sequence of works known as FURY (including Fury1 and FuryZ). These performances are concerned with boundaries, seeking to question or re-locate the spectacle of the dancing body and intimacy in performance. The experience of being overwhelmed is used as a material and strategy for opening space and inviting movement – of thought, of body, of feeling, of space/time as frequency/vibration.
Here, the poem is ripped apart and rearranged, rearticulated and reimagined by the voices and minds of +TETRA+, ABENÇOADA, Rebecca Bellantoni, Andrew Kerton & Hannah Holland, David Panos, Verity Susman and Young Nettle. These tracks form a landscape and atmosphere, through the sound design by Josh Anio Grigg. The performance environment is created in collaboration with design collective Studio Augmenta and lighting designer Jackie Shemesh, with additional set and costume design by Agf HYDRA.
Last Yearz Interesting Negro and Muñoz-Newsome receive acupuncture at the beginning of each performance; the needles used during this practice stimulate the meridian pathways of the performers, offering a vision of interior space and facilitating movement with and from these internal lines of power.
Conceived as a work for now – navigating entanglement, complexity, emotionality and movements of power within bodies – Heavy handed, we crush the moment focuses on the sensory impact of the live encounter for performers and audience alike. This performance commission is a loose response to our current exhibition Into the Night: Cabarets and Clubs in Modern Art.
You are welcome to sit or stand in the space, using the set as seating. Chairs are available on request.
Thu 28 Nov, 10pm–1am
Last Yearz Interesting Negro with Fernanda Muñoz-Newsome
Antonija Livingstone & Mich Cota
Planningtorock
Fri 29 Nov, 10pm–1am
Last Yearz Interesting Negro with Fernanda Muñoz-Newsome
keyon gaskin
Planningtorock
Sat 30 Nov, 10pm–1am
Last Yearz Interesting Negro with Fernanda Muñoz-Newsome
Antonija Livingstone & Mich Cota
Elijah*
Sun 1 Dec, 4–7pm
Last Yearz Interesting Negro with Fernanda Muñoz-Newsome
keyon gaskin
Elijah*
Artists and Collaborators
Last Yearz Interesting Negro is the performance project of London-based artist Jamila Johnson-Small, whose practice is always relational, moving across spaces, contexts, roles and collaborations. Last Yearz Interesting Negro works with the dramaturgies of sculpture, electronic music, feelings of being overwhelmed, syncopation, internal narratives, texture, trance states and a public, to build atmospheric landscapes through the live unfolding of the tensions between things that produce meaning. Resultant choreographies are stage-space/dreamscape/battleground, working through questions of entanglement, alienation and sensation. 
Thinking cumulatively, the work gathers and transmits information by inviting others in, crafting compositions in various constellations that build spaces for dancing, performance, conversation and reflection. These spaces might hold the multiple and contradictory, and consider movement and transformation as inevitable. All of their work is informed by their dance practice, which acts as a tool for divination, decoding messages from an oracular body that are read on personal/structural/symptomatic/somatic levels. Always thinking about the metabolic – impact and exchange through/in/as movement. 
The work is a kind of world-building that deals in intensities and harnesses these forces to open up or to close spaces, to understand, expose, complicate or sidestep covert structures that seek to organise bodies and our living. A big part of their research is towards making space to be together without having to assimilate. Choreographic space is considered as social situation in order to facilitate immersive, emergent spaces for performer/s and spectator/s. 
Fernanda Muñoz-Newsome's practice involves dancing and voicing as political gesture, presenting in established institutions, alternative spaces and club scenes. She is interested in creating work which enables reorientation around otherness; crafting queer spaces where care and consent are promoted alongside artists' and audiences' agency.
keyon gaskin prefers not to contextualize their art with their credentials.
A. Livingstone makes things / actions / relations 
"for a queer divine dissatisfaction: a blessed unrest"
Formerly working with choreographer Meg Stuart/Damaged Goods Berlin, and her family of geologists mining gold in the Yukon Canada: her body of work is devotion. 20 years of complex co-authored feminist collaborations: 
Kinship with the wild beyond. 
Mich Cota is a Two-Spirit Algonquin-mixed woman working across community lines and disciplines with a focus on celebrating queerness, trans visibility and the spectrum of Indigeneity. Her practice blooms from early life experiences with powwows and classical music. An electronic music composer, a singer of love songs in Algonquin and English language, a dancer of her own dances.
Planningtorock – aka Jam Rostron – is a Bolton-born Berlin-based singer-songwriter, composer, producer and director with three critically acclaimed studio albums of left-field dance to their name – not to mention various collaborations, operas, film scores and remixes. A self-taught, non-binary, working-class musician, they've spent a decade plus queering sound and vision as Planningtorock.
Elijah is a DJ, Curator and Writer from London who co-founded the record label and club night Butterz in 2010.
Josh Anio Grigg is a sound designer and digital artist from London. He has designed and collaborated on shows at the National Theatre, the Yard and the ICA among others, as well as venues across Europe.
Studio Augmenta is the London-based Set Design and Creative Direction Studio of Hatty Ellis-Coward and Stephanie Kevers. Working collaboratively since January 2018, the duo delight in producing inspired and original work in a range of media. With their joint interest in the aesthetics of the unreal, their work presents us with brooding yet seductive psychotomimetic environments. Their output spans creative direction for musicians, right through to production design for fashion and film. This is their first project for theatre. 
Agf HYDRA is a London-based artist, creative director, designer and researcher working in mixed-media with a focus on consciousness in relation to the body, following an agenda of regenerative culture. Agf creates her own immersive performances and works with collaborators. A unique biodegradable, adaptable, waterproof, plant-based chemically treated latex uniform has been developed and its offsprings are used as an intervention between bodies and their multidimensional surroundings. An organic interface. Sustainability, craft, and longevity in a transpersonal future are the values of the HYDRA project.
Credits
Commissioned Artist
Last Yearz Interesting Negro
Performance
Last Yearz Interesting Negro with Fernanda Muñoz-Newsome
The performance by Last Yearz Interesting Negro with Fernanda Muñoz-Newsome incorporates the following artwork:
Candice Lin and Patrick Staff
Hormonal Fog (Study), 2016-2019
Hacked fog machine, dried herbs, herbal tincture, wood, plastic, miscellaneous hardware. Dimensions variable.
Courtesy of the Artists, François Ghebaly, Los Angeles and Commonwealth and Council.
Barbican Staff
Lotte Johnson, Associate Curator
Jon Astbury, Assistant Curator
Bernie Whittle, Assistant Producer
Caroline Hall, Production Administrator
Many thanks to Rhoda Boateng, Eloi Guri, Joe Hornsby, Jake Manley at Void, Cuan Roche and Steve Snooks at SubPac, Phoebe Collings-James and Zinzi Buchanan.
Guests Artists 
keyon gaskin, Antonija Livingstone & Mich Cota
DJs
Elijah*, Planningtorock
Sound Design
Josh Anio Grigg
Sound Commissions 
+TETRA+, ABENÇOADA, Rebecca Bellantoni, Andrew Kerton & Hannah Holland, David Panos, Verity Susman, Young Nettle
Lighting Design
Jackie Shemesh
Set Design
Studio Augmenta
Costume Design and Hanging Structure
Agf HYDRA (HYDRA Sartorial Latex Uniform Offsprings)
Acupuncturist
Mary Feliciano
Visit cabaret fledermaus bar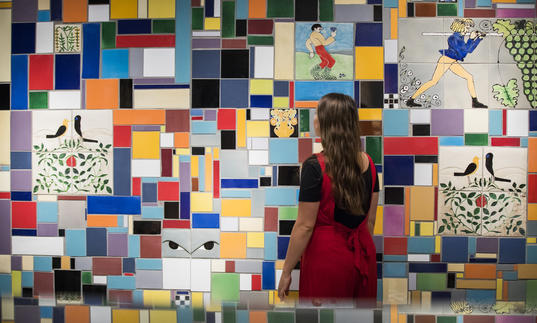 Visit Cabaret Fledermaus Bar
Into the Night
Into the night cabarets clubs in modern art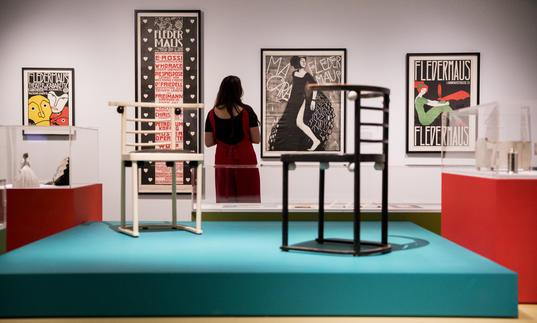 Cabarets & Clubs in Modern Art
Masculinities liberation through photography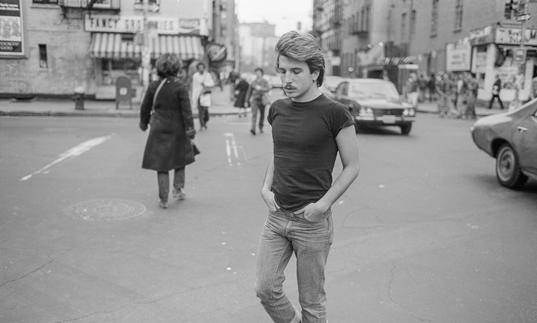 Liberation through Photography
Location
The Pit is located on Level -2 within the main Barbican building and can be accessed via the stairs or lifts on Level G, next to the doors to the Lakeside Terrace. 
Address
Barbican Centre
Silk Street, London
EC2Y 8DS
Public transport
The Barbican is widely accessible by bus, tube, train and by foot or bicycle. Plan your journey and find more route information in 'Your Visit' or book your car parking space in advance.
We've plenty of places for you to relax and replenish, from coffee and cake to wood-fired pizzas and full pre-theatre menus
Access
The Pit floor (level minus 2) can be reached via the main lifts – please note that only two of the four lifts go to this floor. Access Step-free access from the Pit floor foyer to any front-row seat. All other seats lead off stepped aisles.
Mobility
Spaces for two wheelchair users in the front row (at stage level), with companion seats. Front row seats are also suitable for people with limited mobility.
Assistance dogs
Because space in the auditorium is limited, we recommend that you leave your dog to be cared for by a member of the foyer staff during the performance.
Amplified sound 
Amplified sound is provided through a headset for people with impaired hearing.  Audio-described performances use a wireless network to relay through a headset a live description of the scenery, costumes, facial expressions and action. Headsets are available. You can obtain one 30 minutes before the performance from the programme desk inside the Pit Theatre entrance.
Large-print exhibition information
To request a large print copy, please call the Theatre on 020 7638 8891  before your visit.
For more access information, please visit our Accessibility section.
Meet friends, grab a drink, drop in to one of the free installations on Level G before the show - here's what else is happening at the Barbican when you visit.