1 hour 50 minutes no interval
Please note all timings are approximate and subject to change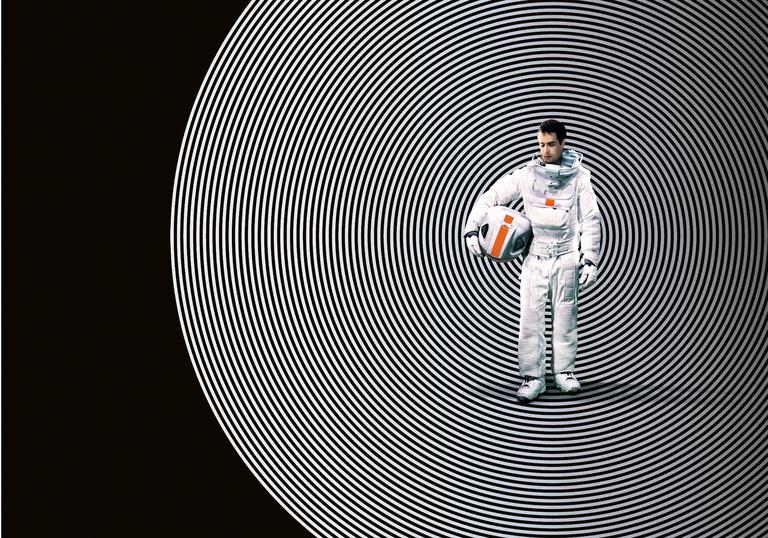 Brit Seaton discusses the history behind the iconic film and Clint Mansell's score ahead of the performance.
While it may be true that sound can't be heard in space, the soundtrack to Duncan Jones's Moon, composed by the inimitable Clint Mansell, resonates with a lucid, unearthly atmosphere.
For the first time, the London Contemporary Orchestra perform Mansell's original score side-by-side with a screening of the cult sci-fi film. This special performance celebrates the 50th anniversary of Apollo 11, the first landing on the moon, as well as ten years since the release of Jones's acclaimed directorial debut.
On the far side of the moon, lone astronaut Sam Bell (actor Sam Rockwell) nears the end of his three-year contract at a lunar base mining Helium-3, a substance aiding the Earth's diminishing energy resources. His robot assistant Gerty being his only company, Sam longs to return home to his family, until a shocking discovery reveals that getting there might be harder than he thought.
Moon is an homage to the classic sci-fi genre with a heartfelt, personal story. Mansell recalls receiving Jones's script 'out of the blue' and being immediately struck by its exploration of celestial isolation and loneliness, and the questions it raises about what it means to be human. 'I still think it's one of the best — if not the best script I've ever read,' he says.
With soundtracks previously written for such cinematic heavyweights as Darren Aronofsky's Requiem for a Dream, Black Swan and Noah, as well as Ben Wheatley's High-Rise and Rupert Sanders's Ghost in the Shell, Mansell is renowned for his ability to cultivate a deeply affective musical landscape.
For Moon, Mansell's ambient score encircles the routine and revelations of a solitary human working at an automated space facility, finding expression through twinkling yet plaintive piano lines, simmering percussion and ethereal cries of string. Beautifully melancholic, the Welcome to Lunar Industries theme is like a piano key soliloquy for protagonist Sam. 'Hopefully it captures the repetition of his life,' Mansell says. 'While it develops and changes, it's still somewhat stoic.'
When asked to define his process as a composer, Mansell makes it clear that he trusts his intuition. 'The score's there, you've gotta get it out,' he muses. 'The film will tell you where it needs you to go — whether it can handle emotion, whether it needs to be more austere, whether it needs to be faster or slower.'
'Writing a film score is a pretty solitary pastime, most of the time, but it's also very collaborative. Not just with the director, but also with the film itself. You can't just slap anything you want on there — the film will tell you whether it's responding to it or not. I suppose it's a case of whether you're in tune with it.' Ultimately, he shares, 'it's all influenced by what's coming from the screen.'
And considering Moon's striking visual elements, it's difficult to imagine that Mansell was short of inspiration. The film's awe-inspiring moonscapes reference the lunar photography of Michael Light's photo book Full Moon, which compiles archival images of the moon taken by the Apollo astronauts. Mansell also credits the stellar performance of Sam Rockwell, for whom the script was written, as the 'framework' for his score.
'From my point of view, he's built the structure, the foundations, the roof, and I've got to embellish it,' Mansell explains. 'You're inspired by what the actors do and what the words are saying, and the pacing, direction and lighting, which helps you come up with these melodic and thematic ideas. But it's working them around the performances and the atmosphere of the film where it all comes together.'
Cascading through the architecture of the film, Mansell's otherworldly score gives Moon a heartbeat, carrying with it the story's humanity and hope. The composer casts light on the ambition for his music to 'enhance the environment and the world you're spending time in,' and also adds, 'but by the same token, I like the music — if you should listen to it alone — to still bring you the feeling of what you got from the film.'
Performed live by the London Contemporary Orchestra, the soundtrack to Moon is presented as a captivating musical experience in its own right.
Conducting the LCO tonight is Matt Dunkley, leading international conductor, orchestrator and composer who has worked on over 190 films, including The Great Gatsby, Inception, Loving Vincent and Batman: The Dark Knight and The Dark Knight Rises, and has conducted top orchestras in London, New York and Los Angeles.
The LCO is also joined on stage by Carly Paradis on piano, who played on the original score for Moon ten years ago. Paradis has gone on to compose for the BBC's Line of Duty and Netflix's The Supernaturals, also writing the original score for the BBC adaptation of Lady Chatterley's Lover.
Clint Mansell would like to thank:
Liberty Films, Park Circus and Sony Pictures for their kind permission to show the film, Duncan Jones, Stuart Fenegan & Pollyanna Cheung, Bryn Ormrod, Julia Baker, Mette Skriver, Isobel Lee-Poulton, Amy Wilkes, Sabine Kindel, Mark Bloxsidge & the whole team at The Barbican, Robert Ames, Amy Hinds, Faye Merralls and Simon Hardy at The London Contemporary Orchestra and all the amazing musicians, Black Records & Decca Publishing, Oscar Harris, Tony Arthy, Mike Palmer, Robert Messinger & Jane Arthy.
''We came in peace for all mankind" Neil Armstrong, July 1969
Produced by the Barbican
1 hour 50 minutes no interval
Please note all timings are approximate and subject to change
Discover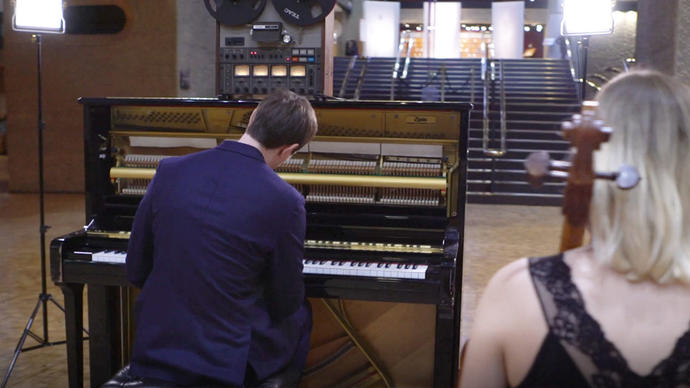 Barbican Sessions: Erland Cooper
Scottish multi-instrumentalist and producer Erland Cooper brings a tape machine, a piano and a cello together for an intimate performance in the Barbican Foyer.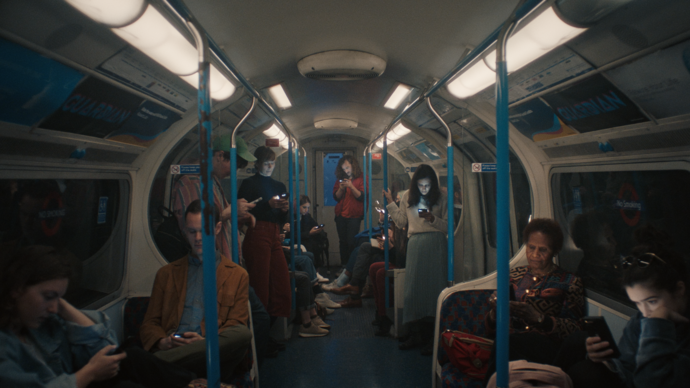 How long have you spent scrolling today? Klaas Diersmann presents an experimental and eerie depiction of our intimate yet divisive and compulsive relationships with mobile technologies.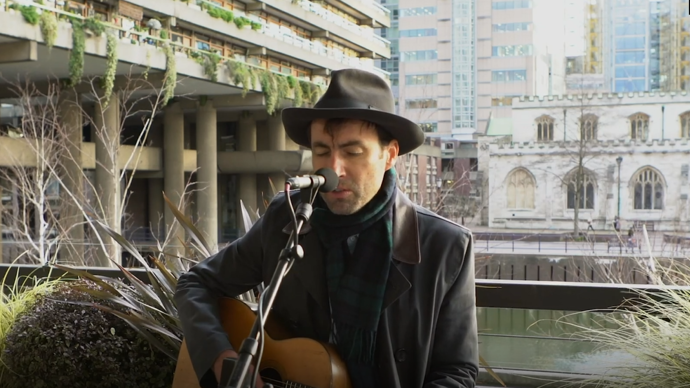 Barbican Sessions: Andrew Bird
For our most recent Barbican Session, multi-instrumentalist, songwriter, and prodigious whistler Andrew Bird performs 'Sisyphus' from his latest album My Finest Work Yet. 
 
Icebreaker apollo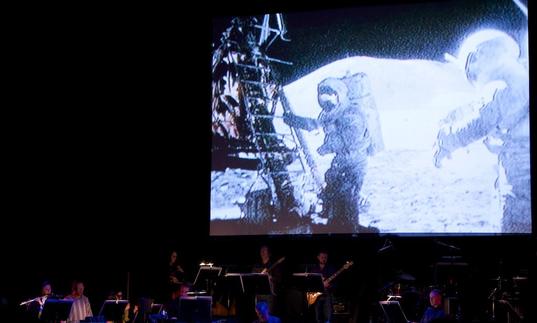 Alessandro cortini suzanne ciani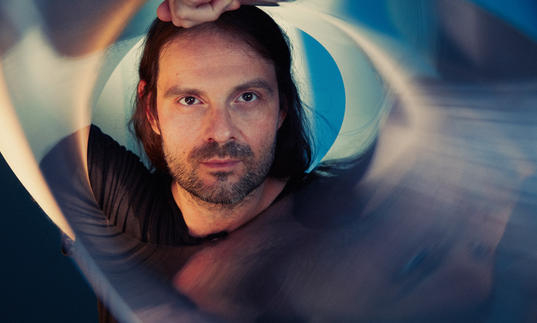 Alessandro Cortini + Suzanne Ciani
Location
The Barbican Hall is located within the main Barbican building. Head to Level G and follow the signs to find your seating level. 
Address
Barbican Centre
Silk Street, London
EC2Y 8DS
Public transport
​​​​​​​The Barbican is widely accessible by bus, tube, train and by foot or bicycle. Plan your journey and find more route information in 'Your Visit' or book your car parking space in advance.
We've plenty of places for you to relax and replenish, from coffee and cake to wood-fired pizzas and full pre-theatre menus
Mobility
Spaces for wheelchair users in row U at the rear of the stalls (up to sixteen, depth of row 180cm) and the back row of the circle (four), both with fold-down companion seats. Some seats in row S of the stalls for people with very limited mobility.
Assistance dogs
Assistance dogs may be taken into the concert hall where there are a limited number of suitable seats in row G of the stalls. If you prefer, you may leave your dog with a member of the cloakroom staff during the performance.
Hearing facility
There is an induction loop in the concert hall. You can use this by adjusting your hearing aid to the 'T' setting.
Free large-print programmes
These are available for most of our concerts. Please contact [email protected] at least a week beforehand, to prebook a large-print programmme.
For more access information, please visit our Accessibility section.
Meet friends, grab a drink, drop in to one of the free installations on Level G before the show - here's what else is happening at the Barbican when you visit.