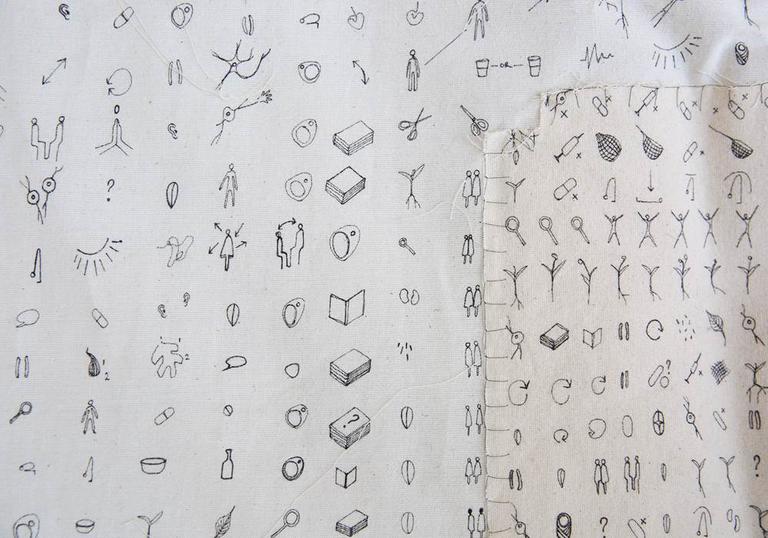 A series of events, workshops and talks that consider whether an understanding of our genes could lead to a better understanding of mental illness.
Created by artist Eleanor Minney and Dr Liz Tunbridge in collaboration with patients from the National Psychosis Unit at the Bethlem Royal Hospital, the project will allow visitors to explore perspectives on the mind, brain, subjective experience and the genetic and biological components of psychiatric illness. 
Dissecting the space is Segment of aself, Minney's textile work which features hundreds of hand drawn ciphers alluding to a person's holistic sense of self (including relationships, spirituality, illness and more) together with row upon row of genetic markers, only three of which relate to psychotic illness. Minney untangles the fragile threads of the human mind through delicate explorations into what creates a sense of self, and the relationship to psychiatric conditions.
Full schedule below. 
The Think Tank, a conceptual space developed by C.A.S. on the National Psychosis Unit will enable visitors to contribute to the ongoing conversation about these topics and add their thoughts to the Think Tank archive.
Funded by The Royal Society and a University of Oxford Public Engagement Research Seed Award, with additional support from the Bethlem Gallery.
Family Workshop
11am-1pm and 2pm - 4pm
What are your brain cells talking about? Join us for a conversation on the theme of neuron communication, neurodiversity and collaboration and draw your own version of neuron communication. 
Join Eleanor Minney and Liz Tunbridge to create collaborative drawings and ask your science related questions.
Switching Perceptions: Royal Society Café Scientifique
7.30pm - 8.30pm 
Artist Eleanor Minney and Neuroscientist Liz Tunbridge discuss the research and artistic rationale driving the Switching Perceptions project. They will explore the benefits of interdisciplinary collaboration in exploring ideas around genetics, mental health and the self and what their work together has taught them about science and art.
Building brains from genes: Royal Society Café Scientifique
6pm – 7pm
Come and join Associate Professors Liz Tunbridge and Esther Becker for a discussion of the many ways that genes influence brain function, and how understanding these links is relevant to health and disease. 
Symbols of the self
11am - 1pm
Join Eleanor Minney for a short talk about the exhibition followed by a drawing and textile workshop exploring symbols of the self. Take the opportunity to question the artist about her process and themes, and develop your own.
Brain cell cut and paste
11-1pm and 2-4pm
Join Liz Tunbridge and Eleanor Minney for a combined science experiment and art workshop. Tunbridge and members of her lab will sequence calcium channels in brain cells grown from human skin cells. Alongside this experiment, Eleanor will lead a collaging workshop designed to explore these processes and the idea of gene expression and creative expression. 
Think Tank live: An exploration in collective consciousness 
2-4pm
Join Eleanor Minney, Liz Tunbridge and artist academic researcher Michaela Ross from the Bethlem for a guided Think Tank – a method of collective consciousness developed as part of the Switching Perceptions project – to explore some of the central questions and provocations from the exhibition. Handle thought-provoking archive material to inspire our conversation.
Part of Life Rewired
A season exploring what it means to be human when technology is changing everything
In partnership with