Explore
We look at the relationship between Klimt and Flöge and see how, in a process of co-creation, they became standard-bearers of the new liberated man and woman, the alternative king and queen of fashionable Vienna Secession
Camille Claudel and Auguste Rodin worked side by side in the studio and their sculptures clearly show mutual influence and synchronicity, announcing a new kind of creative exchange within an artistic relationship.
In 1915, Sophie Taeuber met Jean Arp at his exhibition. From then on, the two immediately began collaborating and creating together, a creative relationship that would last for almost three decades.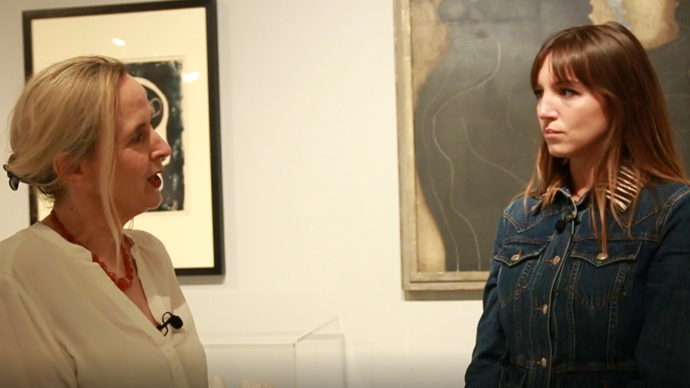 Curator Jane Alison & Katy Hessel on Modern Couples
Curator Jane Alison and Katy Hessel (from The Great Women Artists) discuss some of creative and romantic couples featured in our exhibition 'Modern Couples: Art, Intimacy and the Avant-garde'.
Reviews
'...passionate whirlwind of an exhibition'
'...you'll go back for more'
'...timely, revelatory and supremely engaging'
Visiting on a Sunday?
Join us in our tropical Conservatory for an Afternoon Tea inspired by your surroundings.
Visit Modern Couples and you could win a Membership Plus
Every month we'll pick a winning booker who'll unlock benefits like a year's free gallery entry and access to exclusive private views
School Groups
A special school group rate is available alongside free exhibition tours which are suitable for secondary school groups aged 14 and up. A discounted group booking applies to all school groups of 10 or more:
Year 10 up to sixth form (up to age 19): £3 per student
For bookings and enquiries please contact the school groups booking line:
Tel: 020 7382 7211 (Mon–Fri 10am–5pm)
Email: groups@barbican.org.uk
School tours will be available from Tue 30 Oct. Please note, you will need to book at least two weeks in advance if you would like a free exhibition tour as part of your visit.
Planning your visit?
Download the Modern Couples Teacher Resource guide here.
In the shop
Modern Couples: Art, Intimacy and the Avant-Garde Exhibition Catalogue
Modern Couples Exhibition Poster