Desire, Beauty and the Gaze (18*) + panel discussion
Artists & Activists
On sale to Members and Members Plus: Wednesday 14 March, 10am
On general sale: Thursday 15 March, 10am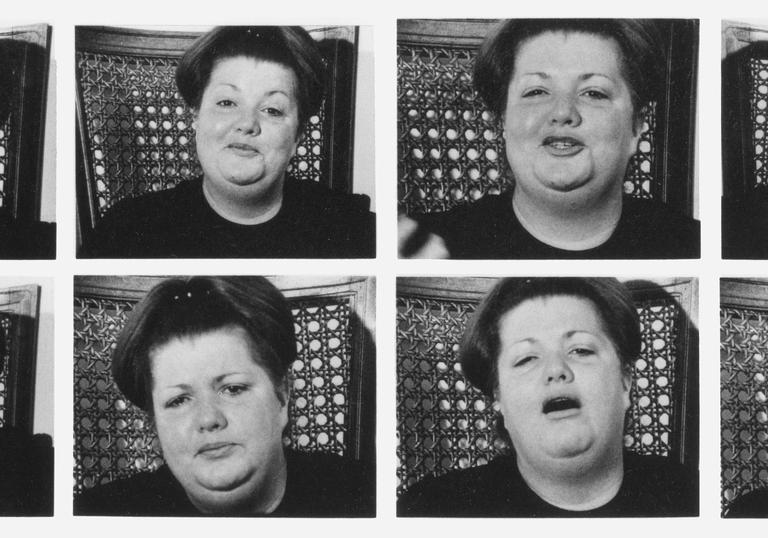 A fun collection of shorts from feminist filmmakers broaching topics such as love, body image and sexual pleasure – from a woman's perspective – for the first time.
Cinema has 'looked at' women since its dawn, but with women reclaiming their place behind the camera they began to present new ways of looking, at each other, at men and at themselves.
The subjects of these short films lent themselves to a variety of innovative approaches to filmmaking. This programme is a smorgasbord of genres: narrative, documentary, animated and experimental films, many of which utilised dreams, diaries, performance or other creative means of storytelling. 
With the advent of the birth control pill and the Sexual Revolution, women could now embrace sex as something for their own pleasure, not only for reproduction. As lesbians began to live openly, they voiced their desires. And as women began to ask why they were still judged by how they looked, love relationships between men and women also changed.
Following the film programme, we'll be joined on-stage by Ann Deborah Levy, co-chair of the Women's Film Preservation Fund, Charlotte Procter of feminist distributor Cinenova, BFI curator Ros Cranston, and former BFI FLARE curator Nazmia Jamal to discuss the importance and potential of archiving and preserving women's films. Discussion chaired by Selina Robertson of Club des Femmes.
Programme:
Betty Tells Her Story
Centred on the purchase of a dress, this classic of documentary filmmaking is a poignant tale of beauty and identity. One of the first film's to discuss women's body image, self-worth and beauty in our society, and to explore the ways in which clothing and appearance affect a woman's identity.
US 1972 Dir Liane Brandon 20 min Digital presentation
Preserved with support from NYWIFT's Women's Film Preservation Fund
Hair Piece, a Film for Nappy-Headed People
A quick-paced inventory of relaxers, gels and curlers – all-too familiar to African American women – this animated film puts a racial spin on the issue of unrealistic and impractical beauty ideals, in this case, one promoted by the white society they live in. Hair Piece affirms the importance of African American women acknowledging who they are and defining themselves on their own terms. 
US 1985 Dir Ayoka Chenzira 10 min Digital presentation
Make Out
A comical but poignant scene of a young woman and her date in a 'romantic' moment. The script was taken from the transcript of a consciousness-raising group's discussions. The very existence of the film resulted from struggles around gender issues within Newsreel, the activist film collective that produced it, and is a document, not only of a time, but of the efforts of feminists to give creative visual form to their concerns.
US 1970 Dir Newsreel: various, including Geri Ashur, Andrea Eagan, Marcia Salo Rizzi, Deborah Shaffer, co-directed by Ashur and Peter Schlaifer 5 min Digital presentation
Preserved with support from NYWIFT's Women's Film Preservation Fund
I-94
This experimental film is described by the filmmakers as 'an exploration of sex and male/female identities following two people who never appear on screen together.'  It is '…an emblem of the state of male/ female roles during the mid-seventies…' — Scott McDonald, Afterimage, 1981
US 1974 Dirs Bette Gordon and James Benning 4 min 16mm presentation
Preserved by Anthology Film Archives with support from The Andy Warhol Foundation for the Visual Arts and The Women's Film Preservation Fund
Lipstick
Lipstick shows a woman enjoying time to care for her body and to daydream, quiet moments for herself, before she presents herself to the outside world.
US 1974 Dir Jane Morrison 8 min Digital presentation
Gently Down the Stream
'Friedrich's film becomes a public exorcism, one that continually exposes and infects the viewer with the psychic consequences of religious constraints, familial binds and sexual conflicts.' — Bruce Jenkins, Millennium Film Journal
US 1981 Dir Su Friedrich 14 min 16mm presentation
SISTERS!                                                                                               
The film begins with a woman's voice declaring: 'I had a dream of women where men used to be: building, working, growing strong, building their bodies into strength for self-defense.' This film collage, a celebration of lesbians, features along with other images, footage of the Women's International Day march in San Francisco and from the second Lesbian Conference where Family of Woman played.
US 1973 Dir Barbara Hammer 8 min Digital presentation
Preserved with support from NYWIFT's Women's Film Preservation Fund
Desire Pie
Explicitly and unabashedly erotic, this humorous, fantasy-filled cell animation, celebrates the joys of sex from a woman's point of view. Desire Pie is an illustration of how women at that time were beginning to own their own sexual pleasure and appetites, in contrast to the prevailing view of films made by men that a woman's sexual place was solely to satisfy male fantasies.
US 1976 Dir Lisa Crafts 5 min 16mm presentation
Preserved with support from NYWIFT's Women's Film Preservation Fund
16mm print courtesy of The Museum of Modern Art
Total run time 74 min
* This film has been locally classified by the City of London Corporation
Nazmia Jamal is probably best described as an interested party. She is often to be found on the noisy periphery or at the quiet centre of feminist or queer happenings and has poked her fingers into a surprising number of pies since arriving in London in the late 1990s. She was a programmer at the BFI Flare, formerly the London Lesbian & Gay Film Festival, and has worked in education for many years. She is a cultural producer and activist of sorts - although neither of these descriptions is quite right.
Ros Cranston is a curator of Non-Fiction Film and Television at the BFI National Archive. Her interests include women documentary filmmakers, political and campaigning film and the documentary and fiction work of Ken Loach. She is leader of the BFI project This Working Life, which celebrates Britain's coalmining, shipbuilding and steelmaking heritage on film.  She contributed chapters to Shadows of Progress: Documentary Films of Post-War Britain (Palgrave/BFI, 2010), and has contributed to BFI Screenonline, Mediatheques, DVD releases and Sight & Sound magazine.
Selina Robertson is a freelance film programmer and writer who works part time at the Independent Cinema Office. She is a PhD candidate at Birkbeck researching the curatorial and film programming histories of London' feminist film collectives of the 1980s. In 2007, alongside Sarah Wood, she co-founded Club des Femmes - a queer feminist film curatorial collective. @clubdesfemmes
Charlotte Procter is an archivist, film programmer and Collection Manager at LUX Moving Image. Her research foregrounds feminist and radical visual cultures, engaging with debates surrounding the preservation and activation of those practices. Since 2013 she has been part of the Cinenova Working Group, a collective that preserves and promotes the feminist film and video collection Cinenova. In 2017 she curated a programme series of recent restorations of women's experimental films from the UK for the Âge d'Or festival at the Cinémathèque Royale de Belgique.
Curated by: Ann Deborah Levy and Kirsten Larvick, Co-Chairs, the Women's Film Preservation Fund, with programming assistance from Susan Lazarus and Amy Aquilino
The Women's Film Preservation Fund (WFPF) is the only programme in the world dedicated to preserving the cultural legacy of women in the industry through preserving films made by women. Founded in 1995 by New York Women in Film & Television in conjunction with the Museum of Modern Art (MoMA), WFPF has preserved more than 150 American films in which women have played key creative roles. These include works by early feminists, women of colour, social activists and artists that represent unique and irreplaceable contributions to American cinematic heritage. Films already preserved range from those of early pioneers, Lois Weber and Alice Guy Blaché, experimental filmmaker, Maya Deren, animator Mary Ellen Bute, to more contemporary feature director Julie Dash; director and cinematographer Jessie Maple; documentarians Trinh T. Minh-ha and Barbara Kopple, and more. The WFPF is rewriting the film history books, one moving picture at a time. 
More information can be found online at: www.womensfilmpreservationfund.org  
New York Women in Film & Television (NYWIFT) supports women calling the shots in film, television and digital media. NYWIFT energises the careers of women in entertainment by illuminating their achievements, providing training and professional development, and advocating for equality. The preeminent entertainment industry association for women in New York, NYWIFT brings together nearly 2,100 women and men working both above and below the line. NYWIFT is part of a network of 40 women in film chapters worldwide, representing more than 10,000 members.
More information can be found online at: www.NYWIFT.org
Booking fees
60p booking fee per online transaction, 70p by phone.
No fee when tickets are booked in person.
Booking fees are per transaction and not per ticket. If your booking contains several events the highest booking fee will apply. Booking fees do not currently apply to bookings for exhibitions in the Art Gallery. The booking fee may be reduced on certain events.
Part of The Art of Change
Our 2018 season explores how the arts respond to, reflect and potentially effect change in the social and political landscape.
Location
Barbican Cinema 2 & 3 are located on Beech Street, a short walk from the Barbican's Silk Street entrance. From Silk Street, you'll see a zebra crossing that will take you across the road to the venue. 
Address
Beech Street
London
EC2Y 8DS
Public transport
The Barbican is widely accessible by bus, tube, train and by foot or bicycle. Plan your journey and find more route information in 'Your Visit' or book your car parking space in advance.
We've plenty of places for you to relax and replenish, from coffee and cake to wood-fired pizzas and full pre-theatre menus
Access
Cinemas 2 & 3 are located at Beech Street, a short walk from the Barbican Centre's main Silk Street entrance. There are a couple of steep, dropped kerbs and an incline to negotiate between the two sites. Level access from Beech Street.
Mobility
Each auditorium has three permanent wheelchair spaces (two in the third row and one in the front row) and 153 fixed seats with capacity for a further three spaces in the front row. Access to each auditorium is up a ramp. There are also a number of seats with step-free access.
Assistance dogs
Assistance dogs may be taken into the cinema – please tell us when booking to ensure your seat has enough space. If you prefer, you may leave your dog with a member of the foyer staff during the performance.
Hearing facility
An infrared system for hard of hearing customers is provided in each auditorium; headsets or neck loops can be collected from foyer staff. The ticket desk counter is fitted with an induction loop.
For more access information, please visit our Accessibility section.