Press room
Bebop New York: Birth of American Indie Cinema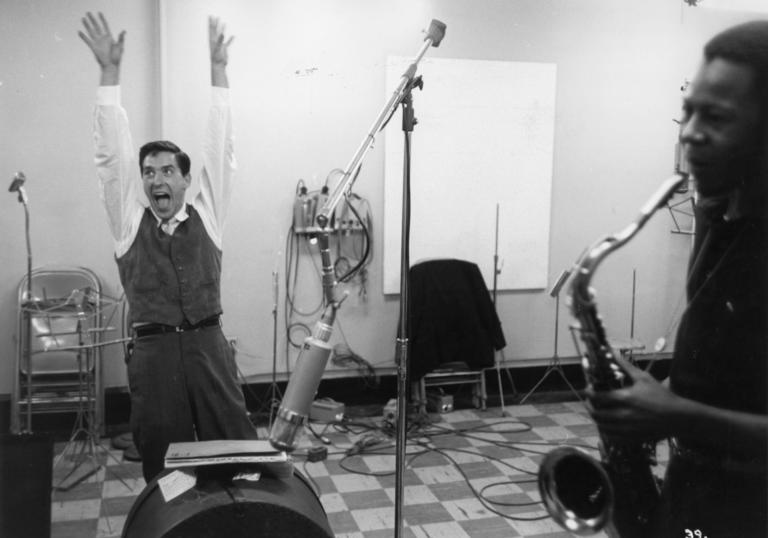 Late-50s New York. In Greenwich Village bars and Times Square burger joints painters, writers, critics and musicians were making a new world, one that would spark the counter-culture of the 1960s. Filmmakers were right there too.
Like the Abstract Expressionists, like the Beats, filmmakers were advocating for freedom from convention and the expression of real feeling. They demanded a cinema liberated from calcified professionalism, from Hollywood, from 'the system', and for films that were "less perfect, but more free" (Jonas Mekas, 1959). This is the moment when indie movies as we understand them today – as expressive of artistic decisions and personal will – really came into being.
This Barbican season – throughout May and June - presents a selection of films made in New York from the mid-50s to the mid-60s, all emerging from the city's burgeoning bohemia. At a time when Hollywood films set in New York were still shot on Californian backlots, here are films shot on location, which capture urban life in its raw, unrefined state. Allied to this, there is a sense of spontaneity and immediacy that is new, and a first-person, experiential, shooting style which allows us to inhabit the filmmaker's way of seeing.
The avant-garde shorts go further, further into the realm of diaristic, first-person filmmaking, and into the realm of personal expression via non-representational imagery…This is the birth of American indie cinema as we know it.
Tamara Anderson, Season Curator, comments:
"With Lee Krasner: Living Colour showing in Barbican Art Gallery, this felt like the perfect moment to revisit some of the new independent cinema that was being made in New York in the 1950s and early-60s and to draw out the affinities between what was happening in painting and with filmmaking in this period. These are years in which taste, politics and culture in America underwent a profound transformation, one that unleashed the tidal wave of sixties counterculture and gave us the original hipster. The filmmakers in our season were at the creative – and creating – centre of America at this exciting time."
Film Programme
Shadows
US 1959 Dir John Cassavetes 82 min, 35mm presentation
Thu 23 May 7pm, Cinema 3
Characterized by a heady, un-Hollywood blend of improvisation and neorealism, this stunningly innovative film was a harbinger of the coming New American Cinema. Shadows charts in intense close-up the existential crises of three African-American siblings in Manhattan during the late 1950s, with Charles Mingus riffs to jazz up their long nights of the soul. Cassavetes and his acting workshop colleagues developed the script as they went along, positioning the Method actor as auteur and avoiding artificial narrative closure in favour of ambiguity and immediacy of actual experience.
Stan Brakhage: An Adventure of Perception
Tue 28 May 7pm, Cinema 3
A triple bill of films by the American pioneer of 'first-person' cinema.
Avant-garde filmmaker Stan Brakhage moved to New York in 1954, a stay which culminated in the seminal film Anticipation of the Night.
Brakhage broke with the idea that film should record and tell a story acted out for the camera. Here, there is no on-screen protagonist; the protagonist is the director, the images on screen communicate his subjectivity. To do so, Brakhage developed an array of strategies and techniques, including fluid handheld camera movements, rapid editing, and use of abstract imagery.
Brakhage's films typically record events in his daily life, and in this way too achieve new cinematic levels of immediacy and intimacy. One of his most famous Window, Water, Baby Moving, documents his wife's pregnancy and the birth of their first child.
Wedlock House: An Intercourse (US 1959 Dir Stan Brakhage, 11 min silent)
Window Water Baby Moving (US 1959 Dir Stan Brakhage, 12 min silent)
Anticipation of the Night (US 1958 Dir Stan Brakhage, 43 min silent)
Echoes of Silence + Pestilent City 15*
Tue 4 Jun 7 pm, Cinema 3
Shot between 1962-1965 on black-and-white 16mm film, these two rare micro-budget indies offer haunting images of Beat-era New York.
These two films, a short and a feature, illustrate precisely the kind of cinema critic Jonas Mekas had imagined in 1959 with his call for films that were 'less perfect but more free.' Set in the streets, bars, and cheap flats of Greenwich Village and Times Square, they are shot with the resources of a guerrilla filmmaker, but with the eye of a poet.
Echoes of Silence, the longer film, describes the lives of three twenty-somethings – Miguel, Stasia and Viraj – adrift in the big city, looking for connection. Structured as a series of 15 loosely-related vignettes, each introduced by a hand-written title card, Echoes is a dialogue-free, but never silent – its shadowy images are paired with a dynamic soundtrack drawn from the filmmaker's own LP collection.
US 1964 Dir Peter Emmanuel Goldman 74 min Digital presentation
US 1965 Dir Peter Emmanuel Goldman 16 min Digital presentation
Women Independents 12A* + introduction
Wed 12 Jun 7pm, Cinema 3
An evening of short films by women pioneers of Independent American cinema.
Tonight's trio of women directors – Marie Menken, Shirley Clarke and Storm de Hirsch – were all key figures in the independent New York film scene of the 50s and 60s, one united around a shared desire to combat 'false, polished, slick' Hollywood movies with films 'rough, unpolished, but alive.'
Menken is represented here by a stop-motion animation, a lush light study and a collection of ephemerally beautifully diary films; Clarke by an abstract documentary which used fast editing and superimposition to make New York City bridges 'dance'; and de Hirsch by three abstract works of 'sensory derangement' reflecting her interest in magical ritual and incantation.
This has been programmed to coincide with Lee Krasner: Living Colour, a career retrospective of the celebrated American artist, which runs in Barbican Art Gallery from 30 May to 1 Sep. Like Krasner, these women were making art in a male-dominated world and until recently their achievements have been somewhat overlooked. We welcome curator Helen de Witt to introduce them to us.
Dwightiana (US 1959 Dir Marie Menken, 4 min sound 16mm presentation)
Eye Music in Red Major (US 1961 Dir Marie Menken, 5 min silent 16mm presentation)
Notebook (US 1962 Dir Marie Menken, 10 min silent 16mm presentation)
Bridges-Go-Round (US 1958 Dir Shirley Clarke, 8 min sound 16mm presentation)
Divinations (US 1964 Dir Storm de Hirsch, 6 min sound 16mm presentation)
Peyote Queen (US 1965 Dir Storm de Hirsch, 9 min sound Digital presentation)
Third Eye Butterfly (US 1968 Dir Storm de Hirsch, 10 min sound Digital presentation)  Total running time: 52 min
The Cool World 15*
US 1963 Dir Shirley Clarke, 125 min 35mm presentation
Wed 19 Jun 6.30pm, Cinema 1
Set to Dizzy Gillespie's celebrated jazz score, this portrait of 1960s Harlem street life was the first feature shot on location in the borough.
One hot Harlem summer, teenager Duke pesters a local mobster to sell him a gun that will win him renown as a "cool killer" and allow him to take over the gang, The Royal Pythons, to which he belongs.
Adapted from a contemporary novel, this is fiction with a flavour of real life, loose and freeform-feeling, shot on location with a cast of local non-professionals and partially improvised performances. Its heady, un-Hollywood blend of improvisation and stunning verité-style black-and-white street photography is perfectly complemented by Dizzie Gillespie's bebop score.
Director Shirley Clarke was a central figure in the burgeoning American independent filmmaking scene of 50s and 60s New York, and this film is a landmark, recently preserved by the Library of Congress on the 35mm print shown here.
The Cool World was preserved by the Library of Congress National Audio-Visual Conservation Center from original camera negatives in the Zipporah Films Collection
In the Street U*
Tue 25 Jun 7pm, Cinema 3
Feel the buzz and the hum of the sidewalk with this compilation of rare short films showing New York in the 50s.
Tonight's programme takes the viewer from Harlem to Times Square, by way of Brooklyn and the Lower East Side, and for one memorable early-morning trip on the subway.
With the exception of Daybreak Express, whose director DA Pennebaker went onto a distinguished career in documentary features, the other films tonight are by directors better known for their work in still photography: Helen Levitt and Rudy Burckhardt.
These are films shot with the eye of a street photographer, capturing people unawares – adults in conversation on stoops, kids playing hopscotch or swimming under the Brooklyn Bridge. But there is also abstraction in Klein's rhythmic portrait of the signs, lights, advertising and glorious spectacle of Times Square and, on the soundtracks, lashings of jazz from Duke Ellington and Thelonious Monk.
In the Street (US 1948/52 Dir Helen Levitt, James Agee, Janice Loeb, 16 min sound 16mm presentation)
Daybreak Express (US 1953 DA Pennebaker, 5 min sound 16mm presentation)
Williamsburg, Brooklyn (US 2003 Jonas Mekas, 15 min silent 16mm presentation) Under the Brooklyn Bridge (US 1953 Dir Rudy Burckhardt, 15 min sound 16mm presentation)
East Side Summer (US 1959 Dir Rudy Burckhardt, 11 min sound 16mm presentation) Total running time 62 min
Ticket prices:
Box Office: 0845 120 7527
Standard: £12/ Members: £9.60/ Concessions: £11
Young Barbican: £5
 * Local Classification