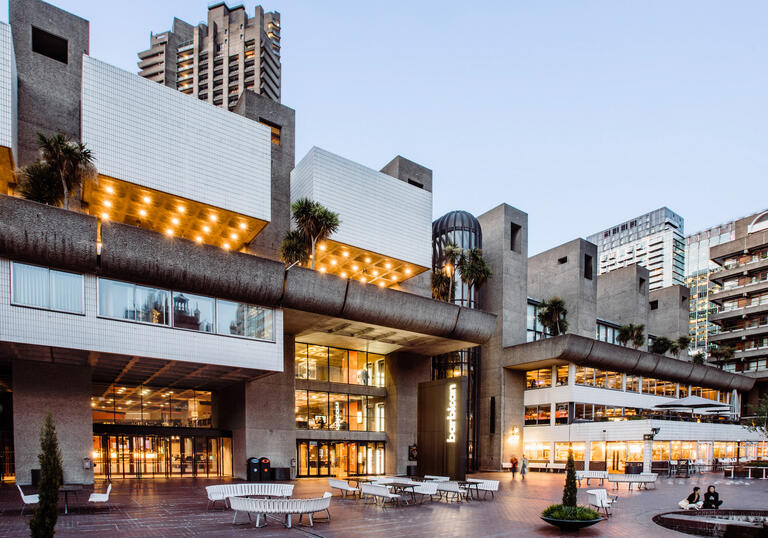 Over the past few months, we've been busy developing our new Equity, Diversity and Inclusion (EDI) Strategy, alongside embedding our Zero Tolerance Statement and establishing the Barbican's new Purpose and Values.
Our new EDI Strategy is the next chapter of our ongoing work to create positive, systemic change – within the Barbican and beyond. We're deeply grateful for the time and energy of colleagues who helped us to get here. We'll publish the strategy alongside our action plan on this page, soon.
We published our Zero Tolerance Statement last autumn, to help ensure the Barbican is a place of safety and respect for everyone who works here, uses our venue, or visits to enjoy our programme. Click here to view our Zero Tolerance Statement website page. Since then we have rolled out bespoke Zero Tolerance training to over 500 of our staff. This training provides everyone working at the Barbican with guidance on how to create and maintain a safe, respectful working environment, as well as how to deal effectively with breaches of the statement. We have also started delivering an additional training module for all of those with line management responsibilities.
Our ongoing EDI journey is underpinned by our new Purpose and Values, which we launched in December. Click here to view our new Purpose and Values PDF Document. We want our work to be impactful, and our new Purpose and Values informs how we work, what we prioritise, and how we behave and interact with each other, people we work with, and our visitors every day. Our values are: Inclusive, Sustainable, Connected, Daring, and Joyful.
Once we have published our new EDI Strategy and accompanying action plan, we're planning to share updates on our progress every six months via this page.
We created a slide deck that provides an overview of our progress. You can also view this as a video here.
Below is a summary of the progress we've made over the past three months:
Our focus this quarter was the launch of our new Zero Tolerance statement, including a set of routes to resolution and accompanying training for all our staff. This is a really important piece of work that will help us towards creating an environment where everyone feel they belong and there is zero tolerance to discriminatory, aggressive, bullying or anti-social behaviours.
 
In September, our new Director of People, Inclusion and Culture, Ali Mirza, joined the Barbican team.
 
We've developed a new Internal Communications strategy that will improve the way we engage with our people and enable more interaction and two-way feedback opportunities.
 
We've made changes to some of our offices and turned the CEO office into a collaboration meeting space encouraging cross-organisation collaborative working
 
We published the findings of our most recent staff survey. We're committed to act on the feedback and have shared detailed organisation and local action plans of what we're going to do to address the points raised in the survey.
 
We've shared the latest set of data on the diversity of our team.
 
We ran several workshops with colleagues to collect feedback to inform the development of our new EDI strategy, which will be launched in early 2023.
Following our Equity, Diversity and Inclusion (EDI) update in April from our Interim EDI Director, Nina Bhagwat, below we're sharing the latest progress against our EDI and HR Action Plan. 
Please watch our latest Progress Report here.
If you would prefer to read what we've been working on over the past three months via a slide deck, please click here to view the slide deck.
And our latest Activity Tracker can be viewed here. 
Here is an overview of what we've worked on the past three months:
Our focus during the last quarter has been on reviewing our communication activity to ensure it is inclusive, honest, and engaging. We have run focus groups, surveys and one to one meetings with a mix of colleagues from across the Centre. Many are experiencing a positive shift in culture. However, we have more to do to create a sense of community, build trust, and support our casual teams.
 
We continued working on our Zero Tolerance statement and have run two workshops to make sure that our aspiration to be an organisation where everyone is safe and welcomed, is fully embedded. In the next quarter, we will finalise and publish the statement, and embed it through training for people managers and communications to staff, artists and visitors.
 
We have shared the diversity data on the composition of our employees. Work on our new diversity targets is ongoing and we're aiming to publish these by the end of the year.
 
Emma Green, our new Head of EDI, joined us on 1 August, and we have also been interviewing for a new Director of People, Inclusion and Culture. Employee Panels have been a part of our approach to make the selection of key roles more inclusive.
Thank you to our colleagues who are part of our EDI and HR Steering Group, EDI Council, the Staff Networks and Union reps and everyone else for all their hard work and input over the past few weeks and months. We've got a lot more work to do, but we continue making good progress.
A message from Claire Spencer, our new Chief Executive Officer, on the anniversary of the publication of Barbican Stories.
"This week (Mon 6 Jun 2022) marks the anniversary of the publication of Barbican Stories. As incoming CEO, I've read Barbican Stories in full. The accounts are very upsetting to read.
In the last year, a lot of work has taken place to make the Barbican better for everybody who works here, and for the communities we serve and support. An overview of our progress is available in our latest  Equity, Diversity and Inclusion Journey and Human Resources update. It's important to acknowledge the role played by those who shared their stories.
It's clear though that we have a lot more work and learning still to do to become a truly equitable organisation. An organisation where everyone gets the opportunities, resources and support they need to succeed in their job and feel they belong. I take personal accountability for this. Above all, there is no place for discrimination, bullying or prejudice of any kind.
I would like to thank all colleagues at the Barbican for the amazing work they do every day, to make the Barbican a world class arts centre and put us at the heart of our communities. I am incredibly excited about what the future holds for us and believe we can get there together."
Following our Equity, Diversity and Inclusion (EDI) update in March from our Interim EDI Director, Nina Bhagwat, below we're sharing the latest progress against our EDI and HR Action Plan. 
Please watch our latest Progress Report here.
We've explored new ways of sharing our progress that we hope feel more engaging and clearer to understand. These assets provide an overview of the progress made against each of our seven priority areas and what the focus will be over the next quarter.
To view a snapshot of our progress-to-date, please check out this infographic. Click on this link to view the infographic.
If you would prefer to read what we've been working on over the past three months via a slide deck. Please click here to view the slide deck.
We're also sharing a simple visual Activity Tracker tool which uses a traffic light system to clearly show what we've delivered (green), what we've started (amber) and any deliverables that are delayed (red). This is a transparent representation of our activity and holds us accountable to our commitments. Click on this link here to view the Activity Tracker tool.
We're committed to making the Barbican a safe place where everyone is valued, respected and, most importantly, feel like they belong. We know we haven't always got it right, but over the past few months, we've made progress in putting processes and actions in place towards building an institution where there is a place for everyone. 
To support some of this work, we have established an EDI and HR Steering Group (see more details in March 2022 update), an organisation-wide EDI Council, and two Employee Resource Groups (ERGs) the Barbican Women and the Barbican Global Majority. These ERGs drive accountability, as well as guiding and supporting new initiatives. An Executive team member sponsors each group to ensure issues and key concerns are addressed across the Barbican, and that each group has the support they require. 
Going forward, we'll be reporting on our EDI and HR work every three months to give us time to work through our actions and we look forward to continuing the conversation.
Following our January update, two Employee Resource Groups (ERGs) have now been formed (one representing Women and one representing People of Colour/The Global Majority) and we've set up an EDI & HR Steering Group to drive our actions forward. 
Race and Ethnicity Development Programme
The ambition of the programme is to enable Directors and their direct reports to identify the race inclusion priorities for their specific areas of work and how they will lead on these. It will set the course for ongoing leadership engagement in race inclusion activities.
Our new Employee Resource Group for People of Colour/The Global Majority played a key role in commissioning our Race and Ethnicity Development Programme for our Directors' Group, which will start in March 2022. This programme is one of the key commitments we made as part of the External Review recommendations.
We've been working with specialist Equity, Diversity and Inclusion (EDI) Consultancy, Modas Personal Development, to develop this programme and the ERG group met with them to hear about the aims and ambitions and to input on the approach we'll take. Ahead of joining us in May, Claire Spencer, our incoming CEO will join our Directors' Group to take part in this development programme. 
We've also commissioned the next phase of our Race and Ethnicity programme, involving all of our Directors' Group's direct reports. This group will participate in this immersive series, starting later this year. As the primary owners of the EDI agenda, we're prioritising leaders and their direct reports in this first phase of driving our collective awareness and understanding of Race and Ethnicity, and we're in the process of establishing the approach we'll take with our whole staff body. 
Our External Review commitment to elevate underrepresented voices from our employees remains a priority, championed by our incoming CEO. Claire Spencer has made it a priority to meet with both of our ERG core teams in March. 
EDI & HR Steering Group and New Project Plan 
While work continues on delivering our commitments, we recognise that bringing structure and transparency, as well as defining key milestones is critical to our EDI journey. The introduction of our EDI & HR Steering Group marks a step change in our approach to EDI and will ensure rigour in everything we do. 
In January 2022, we set up this dedicated EDI & HR Steering Group to work through the recommendations of the External Review published in November 2021. The group consists of representatives from the Barbican and City of London Corporation's leadership, HR, EDI and ERG members and is championed by our Interim Joint Managing Director, Sandeep Dwesar. As a group, we've taken each recommendation and looked at how it can be best adapted into an action we can take, a policy we can change, or an improved process to positively impact the day-to-day experience, diversity and culture of our workforce.
This has been an extensive and important process and the group has now created a formal Project Plan. This plan will:
Consolidate the results of four reviews (see graphic here) which were held in 2021, providing us with 126 recommendations 

Track progress on ongoing activities since the publication of Barbican Stories in June 2021

Plan and prioritise our work ahead in the short, medium and long term

Establish a format for sharing progress and learnings in a transparent way - so that we can be more accountable
Alongside this new Project Plan, there is now one Tracker detailing our actions, timelines and status updates.
We plan to launch our new way of reporting our EDI work in Spring 2022. And we'll be sharing the Tracker detailing our actions, progress and learnings against each activity both with our people internally and on our website.
Nina Bhagwat 
Interim Director of Equity, Diversity & Inclusion
Following the publication of the External Review and HR Audit in November we continue to focus on priority areas identified in both. Here's our latest update on progress. 
Employee engagement and wellbeing
One of our key priorities in driving a more inclusive culture where everyone feels they can belong is creating an environment of psychological safety, so all of our colleagues are able to bring their whole selves to work.  With this in mind, we've created regular "safe spaces" where leaders can meet with employees, to have honest and open conversations. We've used these "all staff" forums to discuss the External Review and HR Audit, and more broadly our Barbican culture. The regular and ongoing cadence of these meetings has enabled us to better understand our employees and to act on their insights about our "as is" culture. We're grateful that people have shared their thinking and their time with us so generously, and are helping us learn, so we can re-build a stronger One Barbican community together. 
As part of our continuing EDI commitments around care, we provided safe and confidential spaces in November and December 2021, created specifically for People of Colour, with two options for those colleagues of colour who found value in drawing on available resources for care, support and wellbeing. The sessions included one-on-one "spaces of care" with a psychologist, and group Racial Wellness workshops. We'll continue to run these sessions in early 2022, with a view to evaluate and review how we might roll these out through the year.
 
Employee Resource Groups
In November, we commissioned and began an intensive programme of workshops to facilitate and support our first Employee Resource Groups. Following best practice, we're investing in supporting, facilitating and resourcing these inclusive networks. Strong ERGs, when championed by leaders, serve under-represented people within organisations. They drive a shared EDI goal towards creating a culture of workplace inclusion and sense of community by building awareness, educating, and encouraging advocacy of their cause for greater diversity and inclusion. Attended by a diverse group of almost 30 employees, this series of in-person and virtual workshops concluded in December, and provided participants with the skills, insights and tools to set up their ERGs, and an opportunity to grow as potential leaders. The core group of participants received a detailed personality profile, development plan and one-to-one coaching sessions.  The proposal is for our two fledging ERGs – for Women and People of Colour, to be up-and-running in early 2022. These groups will be championed by Executive Sponsors, who are part of the Directors Group. Our Directors Group all attended a leadership workshop as part of the ERG programme, to ensure they understood the active role they would play in championing and elevating our ERGs.
Driving our Learning, Awareness and Insights around Inclusion 
Race and Ethnicity has been identified as a strand of our Inclusion work that we need to prioritise urgently. As part of our commitment to this Barbican wide Anti-Racism work, driving our leadership team's awareness and understanding of Race and Ethnicity is a priority. We're in the process of commissioning an immersive, and ongoing programme of learning focusing on Race and Ethnicity, specifically tailored for our Directors' Group. This is to ensure Executives are able to lead our Anti-Racism work from the top. We're hoping to involve our fledging People of Colour ERG in the final stages of commissioning this work, with a view to the Executive team starting the programme in early 2022. We're curating a programme of learning for 2022 for all employees, to embed our Anti-Racism work, so it is in the DNA of our 'One Barbican' culture. 
Action Plan
As an organisation, our EDI learning continues. And following on from the publication of the External Review in November, we're now working through the comprehensive suite of recommendations from the Lewis Silkin report and HR Audit, both of which are helping us evolve our 10-point Action Plan into what will become a 360°, holistic programme of change for the Barbican.
Nina Bhagwat 
Interim Director of Equity, Diversity & Inclusion
Barbican
On Tue 9 Nov, we received the findings of the External Review that was commissioned by the City of London on the recommendation of the Barbican Board. The External Review was undertaken by independent lawyers Lewis Silkin LLP, a leading employment and equalities law specialists, after current and former colleagues of staff documented experiences of racism in their publication Barbican Stories in June 2021.
We welcome both the External Review and a separate HR Audit, also commissioned by the City of London. Both reports, a combined action plan and next steps can be found here: External Review, HR Audit and Tackling Racism Action Plan.
We're committed to acting on the findings and recommendations of both reports which will help us to evolve our Equity, Diversity and Inclusion Action Plan, and to change the culture of the organisation to provide a safe environment for staff, audiences, artists and partners of all backgrounds.
In the immediate term, it is our priority to support all our employees through this process and we're offering a range of support services including confidential and safe counselling sessions.
It's our ambition to create a truly inclusive and diverse organisation and we're sorry for the pain and distress experienced by those who shared their lived experiences through Barbican Stories and the External Review.
Since June 2021, under new leadership, we've already taken critical, foundational steps to progress our work around equity, diversity and diversity. This is just the start, and we recognise there's so much more to do if we are to become an organisation where all can truly belong. Our progress to date can be read below
Summary update of recent Equity, Diversity and Inclusion actions 
Our EDI Action Plan, outlining key interventions, was launched in June 2021, following the publication of Barbican Stories. Driven by a new leadership team, the plan provides us with a solid foundation to build, grow and mature all of our EDI work. It will be updated as we progress and learn and will take account of the recommendations of the External Review and HR Audit that will be published shortly.
Key points in the plan include:
The development of a new creative vision which puts Equity, Diversity and Inclusion at its core and the establishment of Barbican Futures, a new department to take forward the main workstreams related to the Creative Vision.
The hiring of Nina Bhagwat as Interim Director of EDI in August 2021 so that we now have a dedicated resource in place to work with leaders to drive this change. Our EDI work will encompass positive action initiatives, strategies and programmes designed to cultivate a diverse and inclusive company culture. We'll invest more resource to support Nina and HR to implement change.
An External Review: The Barbican Board in collaboration with the City of London Corporation, commissioned Lewis Silkin LLP to undertake an independent, External Review into staff experiences of racism at the Barbican. The review is due to be published in November, after which, recommendations and actions will be implemented and incorporated into our EDI Action Plan.
An HR Audit: An HR audit of the Barbican was undertaken, and this will be published concurrently with the External Review and key recommendations implemented.
Update from the Barbican Directors 
Since our last update and following the publication of staff experiences of racism at the Barbican, we've launched an EDI action plan in consultation with our colleagues. Back in May, we said we'd refresh our Equality and Inclusion (E&I) strategy and present this to our Board in July. However, in light of the very serious issues raised and published by colleagues, this piece of work has now evolved into the immediate action plan, approved by the Barbican Centre Board. 
It's clear we've been too slow to put in place the structures and systems required to ensure the Barbican is actively anti-racist. Our actions have not followed our intentions at the speed appropriate for the seriousness of this issue. Our new anti-racism approach, which is measurable and defined, intends to help change this. The ten-point plan, currently being worked on by teams across the organisation, includes: 
- Appointing our first Director of Equity, Diversity and Inclusion - Nina Bhagwat will join the Barbican's senior leadership team from August as Interim Director of EDI to drive the Barbican's anti-racism work, and to ensure the Barbican's inclusion agenda progresses quickly. Nina has a wealth of experience in diversity and inclusion roles throughout the creative sector. 
 
- Setting and measuring inclusivity targets for ethnicity, gender and other protected characteristics at the Barbican for the first time. We also commit to annually publishing Barbican staff grading and pay by ethnicity, gender and other protected characteristics. 
 
- A commitment to review our staff support structures, fully funding any and all improvements required to achieve industry best practice. Current support includes individual and group sessions specifically for Black and POC members of staff; free, confidential counselling sessions for all colleagues; and access to Dignity at Work Advisers, who operate outside of our formal complaint procedures. How to challenge non-inclusive behaviour training courses have been rolled out and we want to establish more robust policies and practices for reporting microaggressions and racism. We're also working to better integrate our colleagues on casual contracts into the Barbican community.  
 
- Launching a new Arts, Learning and Communities strategy that will change our existing structures and ways of working so that we can build a fairer, more agile, community-based Barbican.
In addition to our own EDI action plan, we fully welcome the City of London Corporation's External Review into staff experiences of racism at the Barbican. The review has begun, is being led by leading equalities law specialist Lewis Silkin LLP, and will report to the City Corporation's Barbican Centre Board in September. If you are a current or former Barbican colleague who would like to contribute to the review, please email: [email protected]
We're committed to becoming actively anti-racist across everything we do and will share progress updates here at least every six months to ensure transparency and accountability.
Update from Nick Kenyon 
As we approach the anniversary of the murder of George Floyd on 25 May 2020, we're ever more determined to advance our equality, diversity and inclusion work and to move forward with our anti-racism commitments.
Over this past year, activity, discussion and learning has taken place across the organisation. We're now working to update our Equality and Inclusion Strategy; we'll entirely rewrite it in consultation with members of our staff and partners, with a draft submitted to our Board in July and a further E&I Action Plan for implementation in the autumn. This page will be updated in July to share our progress.  
 
As part of this strategy, we will create and recruit for our first EDI specialist role to work across the organisation in partnership with senior management and colleagues across the Barbican. We look forward to appointing this role.
 
We're so grateful to our staff and all those who have participated in discussions, which we know have been extremely challenging at times, and who continue to help find a common way forward for the Barbican.
Key actions taken to date
The Barbican Board has set up a formal sub-committee - the Nominations, Effectiveness and Inclusion Committee, part of whose role is to help push forward our anti-racism action and hold us to account for this work. 
 
The Barbican's Equality and Inclusion Strategy is being updated and will fully integrate our anti-racism commitments as well as key performance indicators and timelines by which our progress will be monitored. The process will engage staff across the organisation and will be discussed at the Barbican Centre Board meeting in July 2021. 
 
Staff took part in 'listen and learn sessions' led by an external consultancy. The recommendations and organisational learnings from these will feed into the new Equality and Inclusion Strategy and Action Plan.  
 
Seven colleagues from across the Barbican have been appointed to explore and consider next steps to remove processes and barriers in the organisation that sustain systemic racism.  Their findings and recommendations will also feed into Barbican's new Equality and Inclusion Strategy and Action Plan. 
 
All employees have completed Equality and Inclusion training and our Senior Management Team have also undertaken Inclusive Management training.
 
Teams across the organisation continue their own discussions and development of actions relevant to their areas, and there are regular updates about the Barbican's anti-racism work at our monthly all staff meetings.
 
The Barbican is part of the City of London Corporation, and we're implementing the recommendations from their Tackling Racism Taskforce. These include anonymised recruitment across all grades; new mentoring & reverse mentoring schemes; a newly created Dignity at Work scheme with trained advisers to provide a first point of contact for any employee who has concerns and a new Bullying & Harassment procedure. 
 
The Barbican has signed up to be part of Inc Art's Unlock with a focus on the Barbican Theatre. 
 
We've aimed to make the arts and learning programme that we've been able to run in recent months more representative. We're developing a new approach to collecting data from the artists we work with, to help monitor and improve diversity within our artistic programme.  
Since publishing our commitment to anti-racism in June 2020, we've been working as an organisation to move forward with this work. We've worked with an external agency and are taking forward the recommendations and learnings from that process, and formed a special taskforce made up of eight members of staff from across the Barbican who are empowered to consult and collaborate with all staff to lead us in making change within the organisation. 
Our Equality and Inclusion Strategy will be updated in 2021, in response to what we've learned in 2020 and to what emerges from the process that the group is undertaking. 
We recognise that this is long term work; it's an extensive project, and there will be short, medium, and long-term objectives and outcomes. We've much further to go, but there is a new urgency to this work in the organisation and we remain dedicated to achieving the goals we've set ourselves to deliver meaningful and sustainable change. We'll update with more detail on our progress throughout next year.
A statement from Sir Nicholas Kenyon, Managing Director of the Barbican
The Black Lives Matter movement has demonstrated the urgent need for us to take action in showing an active commitment to eradicating racism in all its forms.
As part of this, we need to acknowledge that we have not made as much progress as we should have on issues relating to race and to privilege. We're part of a systemic problem and we haven't done enough over time to address these issues in our organisation and in our sector. We're determined to change this now.
These are our initial commitments in taking the first steps to achieving this:
We commit to being transparent as to how we're delivering change. We'll communicate openly how we're doing this
 
We commit to removing institutional barriers and increasing ethnic minority, and particularly black, representation across our workforce and further across our programme 
 
We'll equip ourselves with more knowledge; learning and growing together so that we can remove processes and barriers that sustain systemic racism
 
We stand for social justice, recognising the fight against inequality and racial injustice is an ongoing and everyday commitment
 
We'll publish details of how we're making changes and holding ourselves accountable
 
We'll create the space for us to have open conversations with our staff
These initial commitments are just the start, and we know we need to go further and to publish specific actions and deadlines for change. But real change needs to come from across our organisation and, importantly, needs to be informed by the experiences and views of all our staff, artists and those with whom we work.
We're therefore setting up a special taskforce to agree the steps we need to take to remove processes and barriers in the organisation that sustain systemic racism. This taskforce will involve people across the organisation and will be independently chaired by an external expert in this field who will help develop the brief and methodology.
This will lead to an action plan, which will form part of our next Equality and Inclusion strategy and will be shared with all our staff and published on this website.
We'll add to this page with updates on this work, meeting our commitment both internally and externally to be transparent as to how we're removing institutional barriers and holding ourselves accountable.
 
We are changing.
Sir Nicholas Kenyon 
Managing Director, Barbican