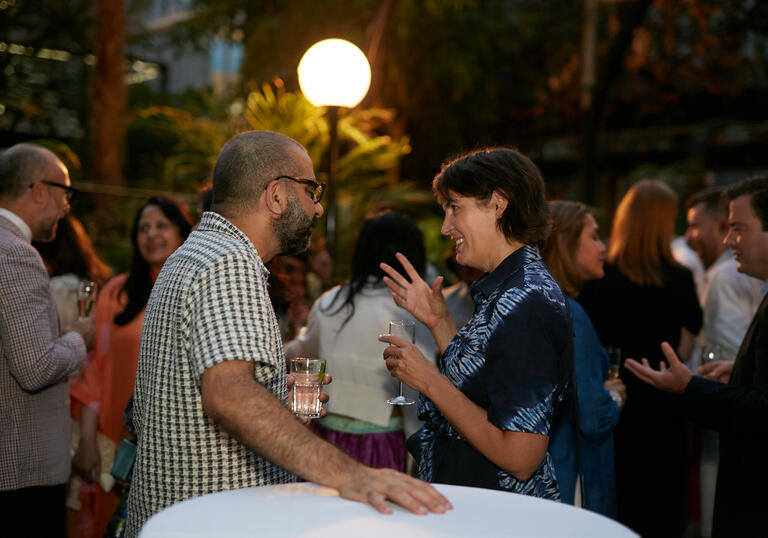 Support us as a Patron
Support us today, be a catalyst for creativity, and spark creative possibilities for more people. Explore our range of Patron offerings and discover the best fit for your support.
Barbican Patrons
£1,500 per year (£1,120 donation / £380 benefits*)
Patron Events: Exclusive receptions, previews of our exhibitions, backstage moments, artist meet-and-greets, behind-the-scenes and curator-led tours, and more. Receive invitations to Patron events throughout the year. 
Patron Priority Booking: Stay one step ahead and secure your tickets to some of the most sought-after shows ahead of Members and the wider public.**
Membership Plus: Free entry to exhibitions for you and a guest, a 20% discount on selected tickets, invitations to Members' events, and access to our Members' Lounge with up to three guests.**
Recognition: Your commitment and support will be recognised in displays at the Centre, our publications, and our website.
Principal Patrons
£6,000 per year (£5,260 donation / £740 benefits*)
Principal Patrons enjoy all the benefits of Premier Patrons, plus:
Complimentary Pair of Press Night Tickets: Receive complimentary press night tickets to a major theatre show.
Seat Reservations: Reserve your preferred seats across our entire season and ensure a perfect view at every show.
Premier Patrons
£3,000 per year (£2,540 donation / £460 benefits*)
Premier Patrons enjoy all the benefits of Barbican Patrons, plus:
Personalised Booking Support: Our dedicated team offers support to manage all your bookings, making your Barbican experience seamless.
Enhanced Priority Booking: Gain the highest level of booking priority, securing your tickets ahead of all Patrons, Members, and the wider public.**
Access to Sold-out Events: Gain the ability to secure tickets for sold-out shows, ensuring you never miss out.
Director's Circle
£10,000 per year (£9,000 donation / £1,000 benefits*)
Our Director's Circle enjoys all the benefits of Principal Patrons, plus:
Director's Events: Get to know our CEO and Artistic Director with invitations to their choice events and an annual Director's Circle Dinner. 
Bespoke Access: Enjoy a private experience of an exhibition or show of your choice with a small group of guests.** 
Donations support the Barbican Centre Trust Ltd, a registered charity in England and Wales (no 294282).
*All Patron offerings are split between a benefit purchase and a donation. The donation is a suggested amount to which Gift Aid provisions apply. You may separately donate without purchasing benefits or purchase the benefits package without a donation.
**Discount, waived booking fees and priority booking exclusions apply. Discounted tickets and bespoke access experiences are subject to availability. Check our full Membership T&Cs.
'Being a Barbican Patron brings the satisfaction of being even a small stone in a brilliant structure that lights up the lives of many, many people'
Keith Salway, Barbican Patron