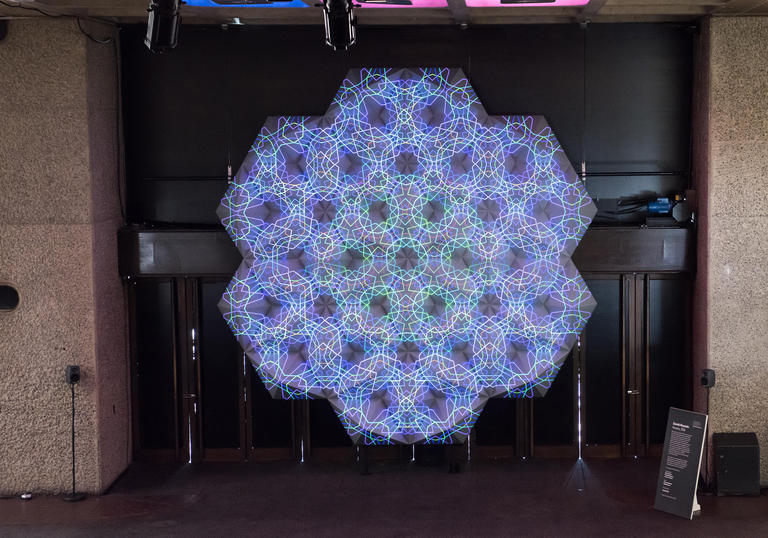 Transforming public spaces through art and technology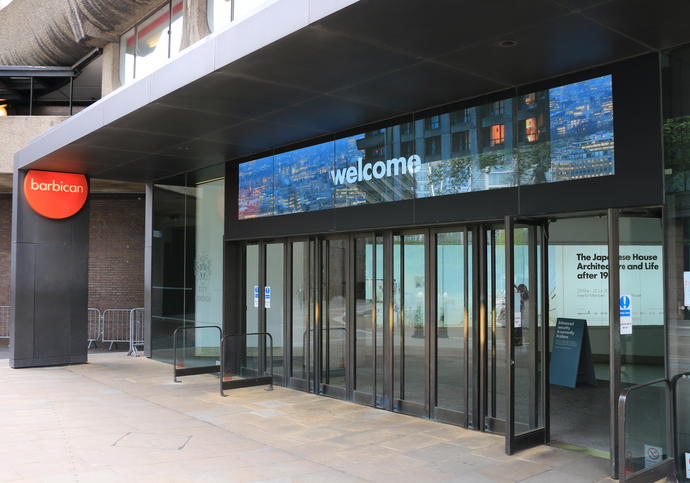 A bright welcome for visitors
Silk Street Entrance
Through the partnership with Christie, one of our first aims was to highlight the Silk Street entrance and create a greater sense of welcome to all of our visitors. The main entrance is now more visible, with 'Welcome' lit up and visible from both ends of the street. We created content which celebrates the Barbican's unique brutalist architecture. For the project Christie used 28 3mm LED screens from the Christie Merit Series with an LED control unit and Christie Pandoras Box.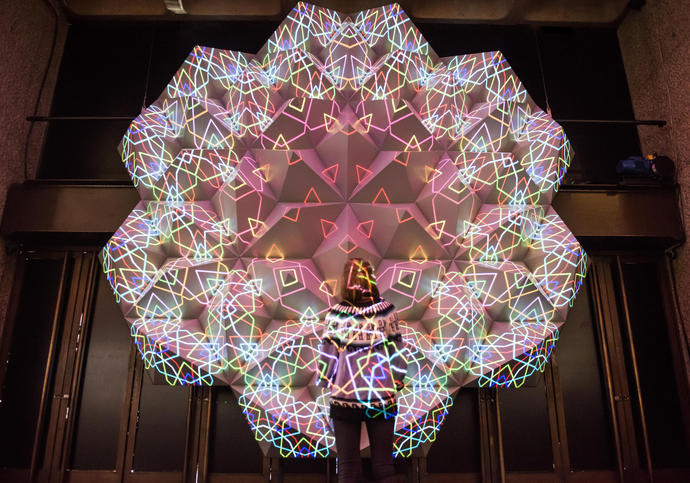 Zarah Hussain - Numina
Level G
Numina (1 Oct 2016-25 Jan 2017) was an ambitious and large 3D installation in the central foyer on Level G; an intricately beautiful work based on geometric forms from Islamic art. Christie technology enabled artist Zarah Hussain to express her ideas on a previously unprecedented scale. The project was incredibly popular with members of the public and went on to win The Lumen Prize People's Choice Award in 2017. Hussain's extraordinary work was projected onto a 3D sculpture with two Christie laser phosphor projectors, 13,000 lumens, HD resolution and lenses with 2.0 - 4.0 zoom, and controlled by Christie Pandoras Box.
Watch video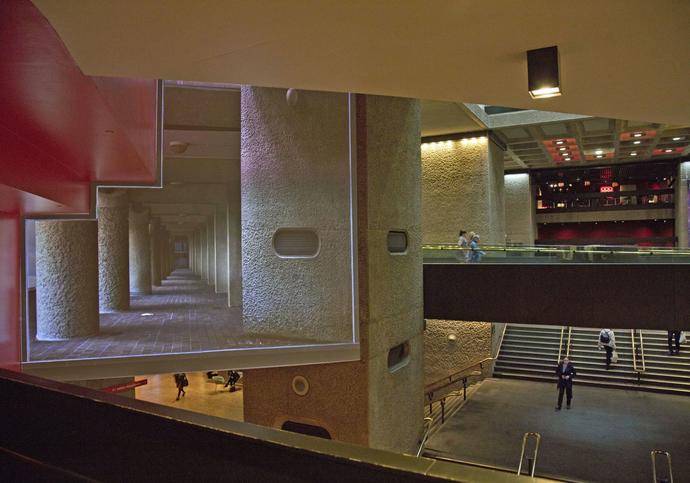 American Beauty (a Trump L'oeil)
Level G
This site offers an interesting location, a slanted wall that can be seen from three different levels, presenting both an artistic and technical challenge. For this site, we commission artists to produce work in response to the Centre's architecture and arts programme. 
Works presented here have included a live feed from around the Barbican and a celebration of Sir Simon Rattle. A further validation of the partnership's commitment to digital art came with The Lumen Prize commission for this location in 2018 - American Beauty (a Trump L'oeil) by artist Rachel Ara. The piece takes a 3D visualisation of a corridor in the Barbican, seamlessly blended and cut around the pillars in the real architecture to make it look like a real walkway.
Christie provided two Christie laser phosphor projectors, 13,000 lumens, lenses with 1.2 - 1.5K zoom with images blended and controlled by Christie Pandoras Box.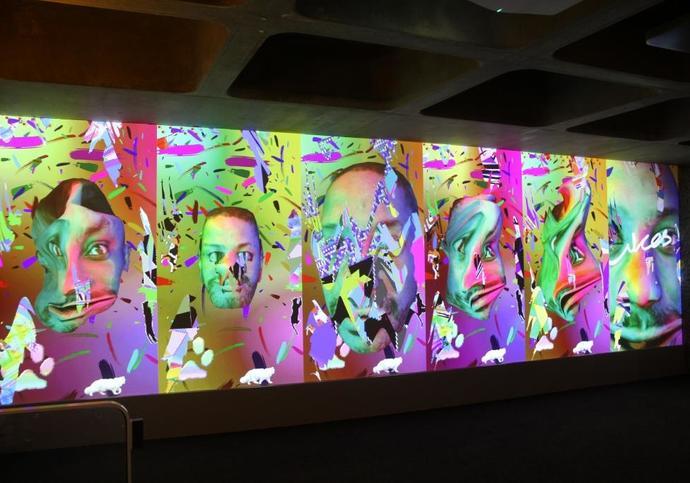 Basquiat's Brain
Level G
This large wall at the back of Level G has been brought to life by a series of art installations using projections. Interactive works have drawn members of the public to walk over and engage with both audio and video. Basquiat's Brain, by artist Antonio Roberts, saw the wall lit up with vibrant colour and animation using 'glitch art', the creative use of accidental and technical glitches. 
The technology used was two Christie laser phosphor projectors, 8,000 lumens, with Christie BoldColor technology. Lenses were .95 - 1.22 zoom and controlled with Christie Pandoras Box.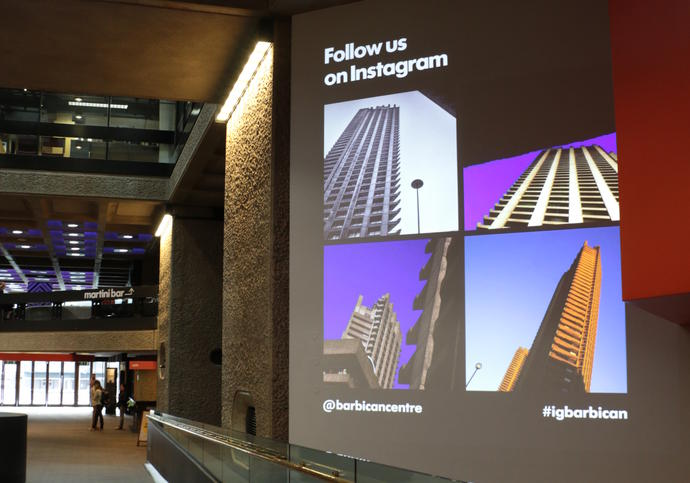 Social Screen
Level G
Welcoming visitors to Level G, this projector showcases the work of our Instagrammer in Residence programme and other social content. Content on this screen represents how our audiences see and experience the Barbican alongside backstage insights from our Instagrammers.  
Christie provided a Christie laser phosphor projector, 13,000 lumens, with HD resolution and 1.2 - 1.5 lens which was controlled using Christie Pandoras Box.
Supporting the artists' vision in The Curve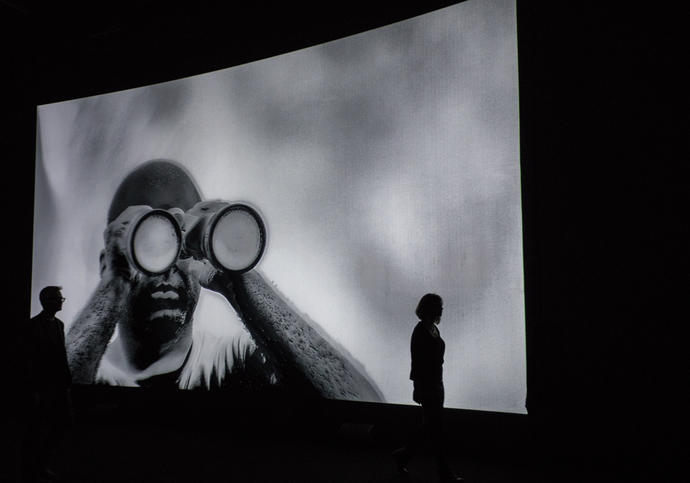 Richard Mosse - Incoming
6 Oct 2017–7 Jan 2018
Incoming was projected on to three separate screens each around 8metre-wide in the curved walls of the gallery. Due to the curved surface and scale, Christie worked with Mosse to select a projector that could warp the image around the arc plus be exceptionally bright to maintain a really strong image. Mosse's footage was shot on military grade cameras and so the projectors also required very high contrast and image quality.
Christie provided three projectors. These were high grade 3DLP projectors from the Christie M Series (HD10KM) with HD resolution, and built-in warping and blending from Christie Twist technology. The projectors used 0.67:1 short throw lenses with HD-SDI input cards. Even a detail as small as a human hair could be seen.
Watch video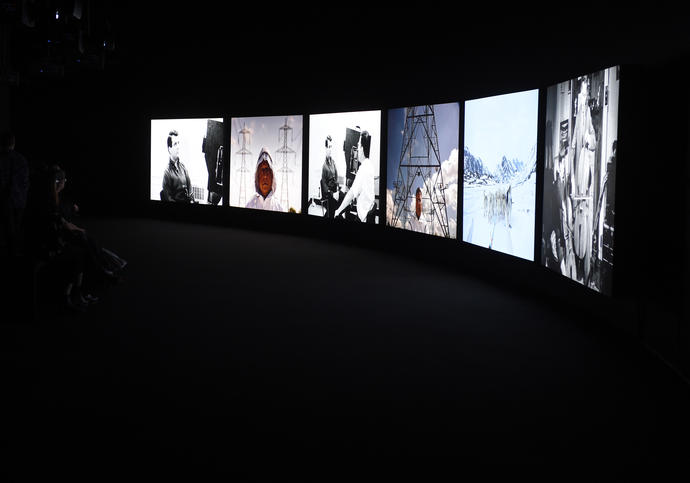 John Akomfrah, 'Purple'
15 Feb–23 Apr 2017
Purple was projected on to six separate screens each around 3 metre-wide. James Belso, UK Sales Manager for Christie, worked closely with the curator to select a projector that would provide the appropriate levels of brightness, colour and uniformity for visitors to examine and compare the ecological landscapes presented in Purple. It was also necessary the projectors' performance be identical across all six screens; throughout the duration of the exhibition.
Christie provided six powerful 3DLP projectors from the Christie M Series.
Purple drew over 40,000 visitors, watch John talk about how digital projection transformed decades of rare archive footage in Christie's interview. 
Watch video
Bringing AV to Into the Unknown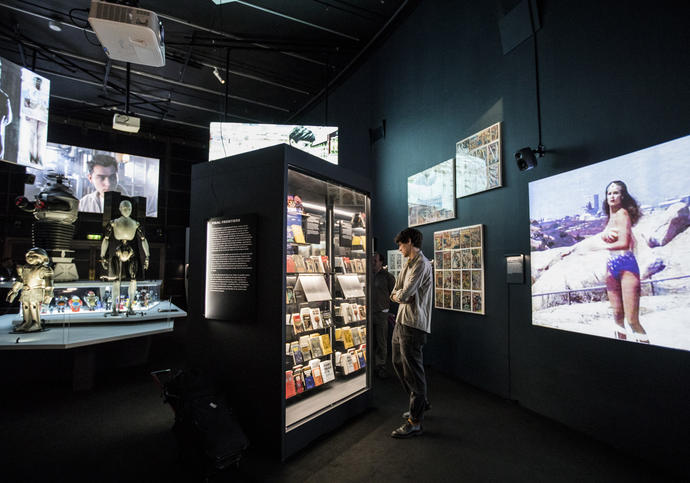 Into the Unknown: A Journey Through Science Fiction
3 Jun—1 Sep 2017
This unprecedented exhibition staged across the Barbican, encompassing the history of science fiction from early literature, comic books to contemporary art, film, music, and video games where AV  is the means for showing films as well as interactivity. Christie technology featured across the exhibition, including LED screens and projections, such as the Silk Street entrance which saw 6 Christie Captiva projectors in-situ screening a scene from Black Mirror. Territory Studios in London recreated The Martian's 'mission control' scene using four Christie flat screens where visitors could experience what it would have been like making the film. The exhibition has since started a world tour and the audio visual equipment also went on tour to support the show globally. 
Watch video
Watch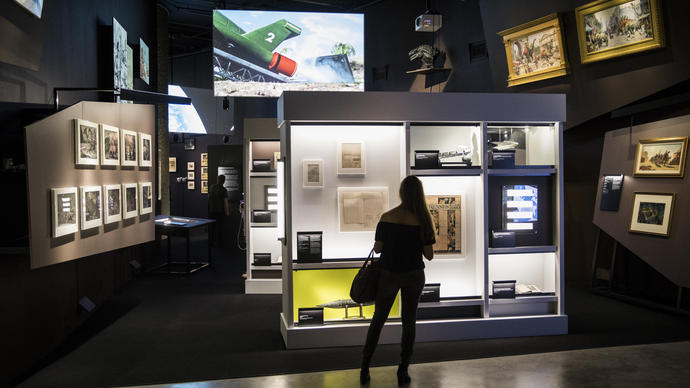 Into the Unknown
From the 19th century cabinet of curiosities, to the vastness of space; future cities into the inner landscapes of human perception - Barbican International Enterprises invited visitors on a journey through science fiction in Into the Unknown.