Exhibition hire (Barbican Immersive)
Mangasia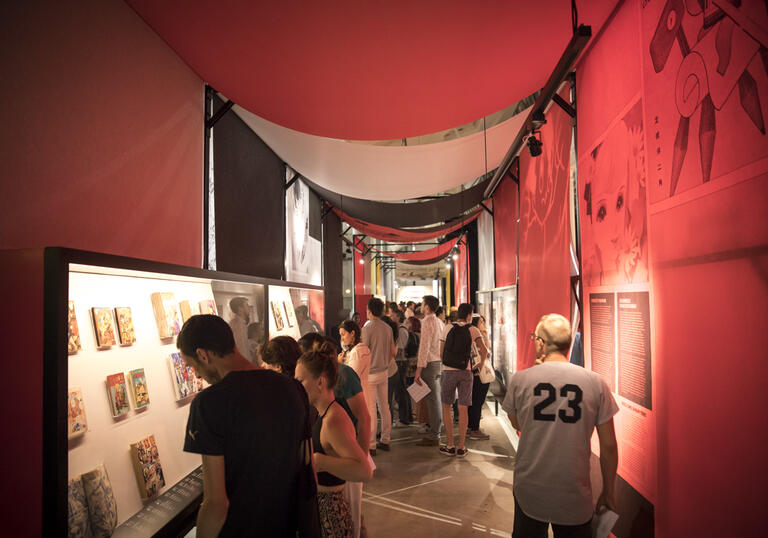 Mangasia: Wonderlands of Asian Comics presents the largest ever selection of original artworks from Asian comics, displayed alongside their printed, mass-produced forms.
Mangasia: Wonderlands of Asian Comics presents a vivid journey through the art of comics and visual storytelling across Asia. From its historical roots to the most recent digital innovations, the exhibition looks to popular Japanese 'Manga' and beyond, highlighting key creators, characters and publications. Explore thriving contemporary comics cultures and traditional graphic narrative artforms from countries including India, Philippines, Indonesia, China, Korea and Japan.   
 
Delve into a kaleidoscope of diverse stories, from fantastical folklore, pivotal historical moments, revealing memoirs, and challenging expressions of freedom. Discover acclaimed and influential creators from Osamu Tezuka, Miyako Maki, Hur Young Man and Lat, to genre innovators and under-represented artists including Abhishek Singh and Miki Yamamoto. See how their work has influenced cinema, animation, fashion, visual art, music and videogames. 
 
Curated by Paul Gravett with a team of more than twenty international advisors, Mangasia features over 500 works - the largest selection of artworks from the continent - including Japanese woodblock prints, Hindu scroll paintings, digital media, printed comics and contemporary illustrations. This unique exhibition is a gateway to an unexplored world of graphic storytelling and its artistic value. 
Available for hire from: October 2024
Patrick Moran and Luke Kemp
Acting Co-Heads of Barbican Immersive
California, USA (9 Mar 2024 – 8 Sep 2024)
Nantes, France (29 Jun 2018 – 16 Sep 2018)
Monza, Italy (21 Feb 2018 – 3 Jun 2018)
Rome, Italy (7 Oct 2017 – 21 Jan 2018)
Curatorial team
Guest Curator: Paul Gravett
Associate Curator: Patrick Moran
 
Advisory team
China: Coco Wang, Wangning
Hong Kong: Gordon Lo & Rachel Lo from Hong Kong Arts Centre
India: Pinaki De
Indonesia: Hikmat Darmawan, Andy Wijaya
Japan: Asakawa Mitsuhiro, Imaizumi Mao, Mizoguchi Akiko, Sanasaki Harumo, Uchida Maholo, Eddy Wertheim from The Japanese Gallery, London
Philippines: Randy Valiente
Singapore: Lim CT
South Korea: Kim Nak-ho
Taiwan: Lin Li-Chin
Thailand: Nicolas Verstappen
Hire Fees
Upon application
Duration
Minimum three months
Availability
January 2023 onwards
Dimensions
c. 700 - 1,000 m2
Hire fee includes
Loan fee; exhibition structure and vitrines; crates; audio visual equipment; objects; rights clearance and licenses; texts in British English in a printable digital format; advice on layout and design; and advice on installation and removal.
Hire fee excludes
Barbican staff travel, accommodation and per diems; Exhibition inbound transport (3 x 40ft sea containers + 14m3 of airfreight); exhibition spatial and graphic adaptation; text translation; gallery preparation and lighting; all operational costs including press and marketing.
Please note that Barbican touring exhibitions can only be reserved through formal contracts, letters of intent and payment of a deposit.
Explore the Barbican Immersive programme
Explore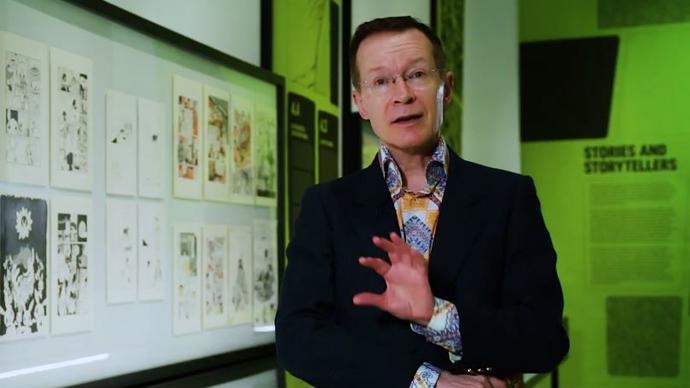 Watch: interview with the curator
Paul Gravett, curator of Mangasia, gives an introduction to the exhibition at Palazzo delle Esposizioni, in Rome.