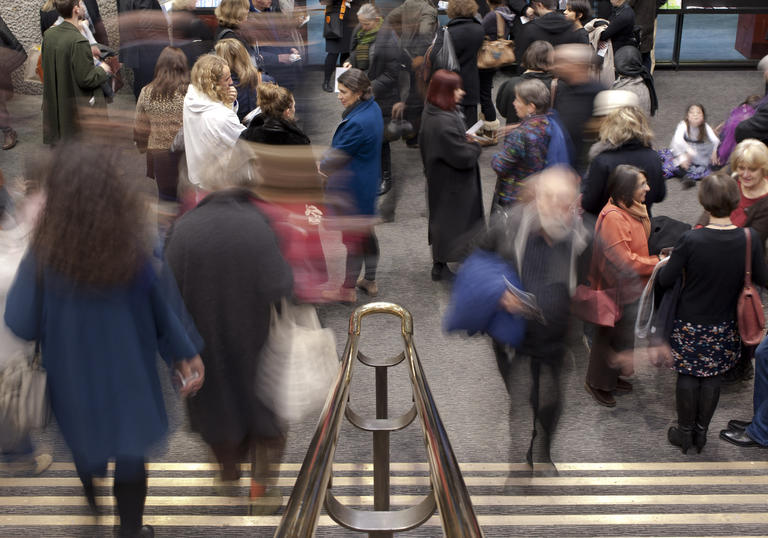 Request tickets for your group visit by completing the below form. Please provide as much information as possible including estimates of group size and preferred prices - the team will let you know what options are available. The Groups team will aim to respond by the next working day.
Travel
If you are travelling to the Centre on a coach or minibus, please ensure that the following information is relayed to the relevant members of your party and your coach driver: 
The Barbican Centre is situated in a residential area
Vehicle engines must be turned off at all times when your vehicle is stationary
Sound systems must be silenced before coach doors are opened
Take care when opening and closing vehicle doors to minimise noise disturbance
Please do not raise voices until well within the Centre
Under the Road Traffic (Vehicle Emissions) (Fixed Penalty) (England) Regulations 2002 the City of London has powers to request drivers to turn off their engines when stationary, or receive a Fixed Penalty Notice, which will result in a fine
It is an offence in the City of London for coaches parked in designated bays to leave their engines running under the City of London Coach Parking Places Order 1990
Arriving at the Barbican
The usual drop-off point for coaches under 11ft 6" (3.5m) high and 20ft (6.3m) length is the Barbican private underground roadway accessed from Silk Street (signed Car Park & Taxis); the underground roadway allows parties to be dropped near the Stalls Foyer (Level -1) and near the main lifts to all levels. 
Please ensure that your driver is aware of the need to turn off the vehicle engine whilst dropping off on the internal roadway. 
Larger coaches can drop off on Silk Street public highway. Due to the residential nature of the area surrounding the Barbican Centre, time waiting on Silk Street should be kept to a minimum and vehicle engines must be turned off whilst dropping off/collecting.
Due to parking restrictions in the area coaches will need to make arrangements to leave after drop-off and park/wait elsewhere, returning to pick-up only. 
The pick-up point is always Silk Street public highway. Coaches should arrive as close to the anticipated finish time of any event as possible. Vehicle engines must be switched off upon arrival until immediately prior to departure. Parking, congestion and noise have led to previous local resident complaints and police action.
 
For an update on the finish time of your event please ask your coach driver to speak with any of our team when you arrive or telephone the 24-hour attended Silk Street Reception on 020 7382 7308 for an update as the event progresses. 
Coach Bays
The nearest coach bays to the Barbican are
Fore Street
2 bays
Free
Max stay: 4 hours
Queen Victoria Street
8 bays
£6/hour
Operational 24 hours*
St Martin's Le Grand
4 bays
£6/hour
Operational 24 hours*
Angel Street
4 bays
£6/hour
May stay 90 mins
Operational 24 hours*
*Chargeable Mon–Fri 8.00am–7.00pm, Sat 8.00am–11.00am