Oasis
A Barbican Library FREE Foyer Exhibition
Library Opening Times:
Mondays, Wednesdays and Fridays 9.30am to 5.30pm;
Tuesdays & Thursdays 9.30am to 7.30pm;
Saturdays 9.30am to 4pm;
Closed on Sundays and bank holidays.  NB Please check with the library for opening times over the Christmas and New Year season.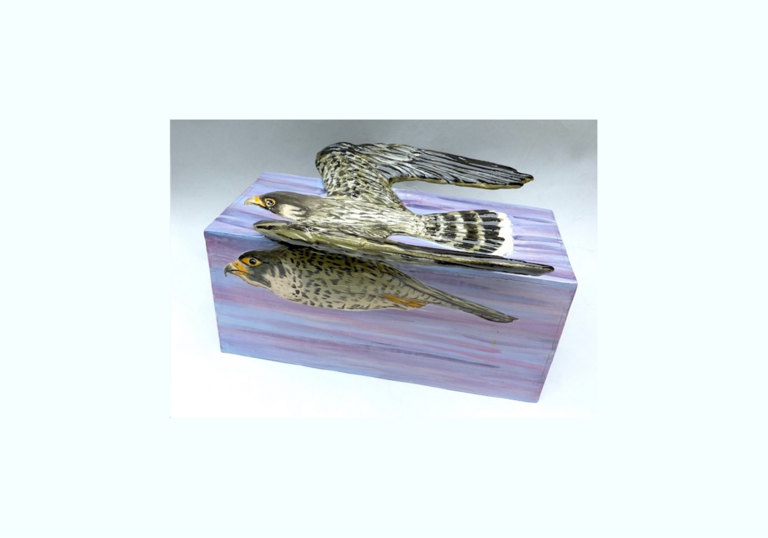 Delving into unexpected realms, Henrietta MacPhee re-imagines London's Barbican as being an 'oasis' in the city.
MacPhee's enigmatic clay sculptures create narratives that are based on real observation and anecdotes from the Barbican's history, that reflect the magical and diverse life within its infamous walls.
MacPhee is an artist whose practice is centred in clay.  Blending the visual and tangible she creates entertaining illusions and a sense of complexity that traverses the border between 2D and 3D. Nature has made a shelter of the Barbican and MacPhee explores this intriguing theatre of life in her exhibition at the Barbican Library.  The image is: Peregrine speed, 2023, a painted and glazed ceramic, 29 x 39 x 23 cm.
Instagram: @etta_mac
Please note that the library is closed on Sundays.
Location
The Barbican Libraries are located on Level 2 within the Barbican. They can be accessed from the main building via stairs or lifts from Level G or via Frobisher Crescent from the highwalks.
Address
Level 2, Barbican Centre
Silk Street, London
EC2Y 8DS
Public transport
The Barbican is widely accessible by bus, tube, train and by foot or bicycle. Plan your journey and find more route information in 'Your Visit' or book your car parking space in advance.