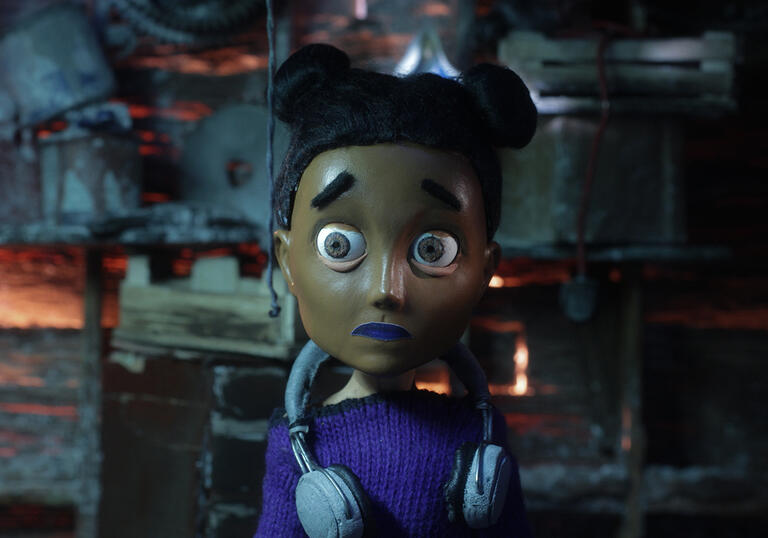 This cathartic selection of artists' animations includes films that delve into our darkest fears and our greatest hopes.
Whilst we're living through a time that feels eerily as though we are enduring characters in an unfolding disaster movie, and with the climate crisis ever present in our media and minds, these films proffer reflection, release, escapism, and hope.  
Figures in Focus, (previously called Female Figures) was devised in 2017 by Abigail Addison, in recognition of the under-representation of female and non-binary animators and their stories within the independent animation sector. The programme showcases incredible work crafted by contemporary animators, both in the UK and internationally. 
Artists Qianhui Yu, Carla MacKinnon, Lauren Orme and Suraya Raja will join programmer Abigail Addison for a post-screening discussion. 
Running time: 76 mins + 30 mins screentalk 
CW: violence, blood, death, animal death, coronavirus, sexual harassment, sex, language, flashing imagery 
Booking fees
£1.50 booking fee per online/phone transaction.
No fee when tickets are booked in person.
Booking fees are per transaction and not per ticket. If your booking contains several events the highest booking fee will apply. The booking fee may be reduced on certain events. Members do not pay booking fees.
Abigail Addison 
Abigail is a Producer and Programmer. She is a Director of Animate Projects, an agency working at the intersection of film, art and animation, that produces award winning, innovative and experimental films. At Animate, Abigail co-produced BAFTA nominated I'm OK by Elizabeth Hobbs with the National Film Board of Canada, as well as the British Animation Awards nominated Bloomers by Samantha Moore. Additionally, she is the Training and Development Producer at production company Lupus Films. Abigail has been the Animation Programmer at Edinburgh International Film Festival for the last four years and has curated the Figures in Focus programme at London International Animation Festival since 2017. 
Qianhui Yu
Qianhui is a freelance Animation Director and Illustration artist based in Stoke-on-Trent. Her films include 'Strange story in the bathroom', '1 Day in Bodyland', and 'Wastopia', her Royal College of Art MA Animation graduation project. 'Wastopia' premiered at Nowness Asia, and was selected for BFI Future Film Festival, Brighton International Animation Festival and British Shorts Film Festival. Qian was commissioned by Can Can Press to create an animation for their book launch at The Museum of American Illustration, and recently was commissioned by GIPHY. Qian has made editorial animations and illustrations for Bloomberg Businessweek, New York Times Book Review and Faber Children. She is represented by Talent Agency POCKO.
Carla MacKinnon 
Carla is an artist and researcher with a fascination for the process and potential of animation. Her professional background includes curating and producing film and public engagement events and producing short live action films and creative technology projects, as well as making films, visuals and installation work as an independent artist. Carla has a PhD in animated documentary production from Arts University Bournemouth, and currently teaches at Royal College of Art. 
Lauren Orme 
Lauren is an award-winning animator and director based in Cardiff, South Wales. She runs independent animation studio Picl Animation. Her work has been screened at over 100 festivals around the world, and her short film Creepy Pasta Salad was shortlisted for the 2020 Best Short Animation BAFTA and nominated for Best Short Film at the 2020 BAFTA Cymru awards. Lauren is also Festival Director of Cardiff Animation Festival. She has been running animation events since 2014, when she founded Cardiff Animation Nights, popular bi-monthly screenings of award-winning independent animated films from around the world in Cardiff City Centre. 
Suraya Raja 
Suraya Raja is an award winning Animation Director, and graduate of the National Film and Television School. Her films tell stories of the absurdity of human behaviour, the internal and the tragicomic, influenced by her previous work in psychology and social issues, and also by her day-to-day observations of human behaviour. She mixes animation techniques with live action, her curiosity often leading to new and playful ideas. Suraya is a BAFTA Connect member and has worked at Aardman Animations. She is currently writing and developing her own TV series. 
L'Heure de l'Ours (And Then The Bear) 
That very night, houses will burn. Men and women will tremble. Hordes of children will come together and howl as they dance alone on the ashes like wild bears. It only takes one cry to awaken them all from their slumber! 
France 2019 Dir: Agnès Patron 14 min 
Wastopia 
An exploration of the issues surrounding global attitudes to waste disposal and the environmental pollution that inevitably follows. Strange creatures inhabit an otherworldly place with the products that humans discard.   
UK 2020 Dir: Qianhui Yu 5 min 
Godzalina 
A young Parisian woman who's being harassed in the streets and a creature who can shrink her opponents by roaring join forces to deal with overly pervasive men. 
France 2022 Dir: Lucile Paras 5 min 
Don't Think of a Pink Elephant 
Layla fights daily against urges and compulsions, until challenged to face her darkest fears. 
UK 2017 Dir: Suraya Raja 8 min 
Polka-dot Boy 
A boy suffers from a polka-dot disease on his arms for as long as he can remember. Encountering some peculiar events, he discovers a hidden connection between the disease and a religious group. 
France 2020 Dir: Sarina Nihei 8 min 
The Flounder 
One day a humble fisherman catches an enchanted fish. Can the fish help him and his wife improve their lot? 
UK 2019 Dir: Elizabeth Hobbs 6 min 
Are You Still Watching? 
Forced into near-isolation during Melbourne's COVID lockdown, Jamie keeps themselves entertained bingeing on queer film and TV. What begins as mere escapism turns sensual when they start having sexual delusions involving their favourite queer characters. 
Australia 2021 Dir: Alex Cardy, Kitty Chrystal, Tali Polichtuk 6 min 
Devil in the Room 
Have you ever woken in the night unable to move, certain that you are not alone? An experimental documentary exploring what happens when dreams leak into waking life. It is about what is real, what is not, and if it even matters. 
UK 2014 Dir: Carla MacKinnon 8 min 
Creepy Pasta Salad 
A werewolf with an anxiety disorder, a ghost with low self-confidence and a lonely witch muddle through their everyday lives.  
UK 2019 Dir: Lauren Orme 11 min 
Something to Remember 
A lullaby before the great disaster. Two pigeons visit a zoo without animals, a snail measures his blood pressure at the doctor, in the CERN laboratory something has gone terribly wrong. 
Sweden 2019 Dir: Niki Lindroth von Bahr 5 min 
See more film for less
Get 20% off tickets and pay no booking fees. Plus, enjoy priority booking and £6 Members' Screenings of the latest films every Sunday (T&Cs apply)
Location
Barbican Cinema 2 & 3 are located on Beech Street, a short walk from the Barbican's Silk Street entrance. From Silk Street, you'll see a zebra crossing that will take you across the road to the venue. 
Address
Beech Street
London
EC2Y 8DS
Public transport
The Barbican is widely accessible by bus, tube, train and by foot or bicycle. Plan your journey and find more route information in 'Your Visit' or book your car parking space in advance.
We've plenty of places for you to relax and replenish, from coffee and cake to wood-fired pizzas and full pre-theatre menus
Access
Cinemas 2 & 3 are located at Beech Street, a short walk from the Barbican Centre's main Silk Street entrance. There are a couple of steep, dropped kerbs and an incline to negotiate between the two sites. Level access from Beech Street.
Mobility
Each auditorium has three permanent wheelchair spaces (two in the third row and one in the front row) and 153 fixed seats with capacity for a further three spaces in the front row. Access to each auditorium is up a ramp. There are also a number of seats with step-free access.
Assistance dogs
Assistance dogs may be taken into the cinema – please tell us when booking to ensure your seat has enough space. If you prefer, you may leave your dog with a member of the foyer staff during the performance.
Hearing facility
An infrared system for hard of hearing customers is provided in each auditorium; headsets or neck loops can be collected from foyer staff. The ticket desk counter is fitted with an induction loop.
For more access information, please visit our Accessibility section.