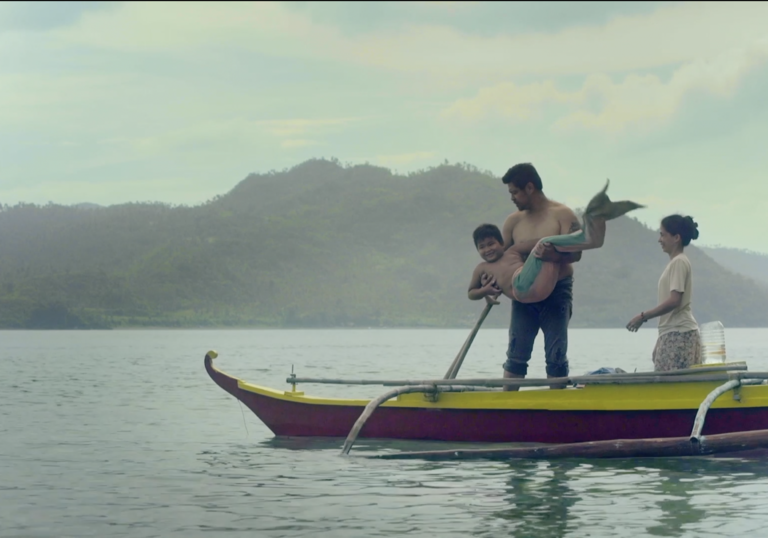 Booking fees
£1.50 booking fee per online/phone transaction.
No fee when tickets are booked in person.
Booking fees are per transaction and not per ticket. If your booking contains several events the highest booking fee will apply. The booking fee may be reduced on certain events. Members do not pay booking fees.
Drexciya 
A portrait of an abandoned public swimming facility in Accra, Ghana set on the Riviera, once a colonial luxury tourist development.
Ghana/US, 2011, Akosua Adoma Owusu, 12min
In His Island
A small fishing community struggles amidst an oil spill. Meanwhile, a joyful young boy battling with his identity finds comfort in his dream of becoming a mermaid. 
2017, Philippines, Chan Candelaria, 15min
Sirenomelia 
Artist Agnes Questionmark performs becoming a mermaid in this experimental micro-short, exploring hybrid identities and her own transition. 
2022, Italy, Agnes Questionmark, 2min
The Siren of the Deep 
A term used by diving communities to describe an overwhelming pull to stay at the bottom of the ocean and never come back up. Cosmonauts and divers recall states of bliss and the pain of their return to Earth in this art exhibition short.
2021, UK, Leah Clements, 14min
An Island of Sirens 
Poet Suhaiymah Manzoor-Khan and visual artist Alaa Alsaraji imagine the British state as a sea-monster, whose myths consolidated over centuries disguise the reality of deathly immigration policies towards people seeking asylum. 
2020, UK, Suhaiymah Manzoor-Khan and Alaa Alsaraji, 4min.
Why Drexciya Took Detroit Electro Underwater 
90s Detroit. Duo James Stinson and Gerald Donald found a new electronic music movement based on the Afro-Futurist myth of Drexciya. Imagining a new world of Black liberation they create one of the most defining movements in dance music.
2019, UK, Resident Advisor, 12min
Plus special feature-length documentary available online at the Barbican Digital Platform:
The Mermaid's Kingdom
In a Nicaraguan fishing community, divers are getting sick. They descend underwater to look for lobster and return to the surface paralyzed. As the elders of the village attribute the divers' fate to the "Mermaid" plaguing the village, one man reveals the precarious labour imposed by the fishing companies.
2017, Mexico, Luis Rincón, 75min
Watch now on the Barbican Cinema on Demand Platform
Supported by

About the curators
Charlie Clark and Anna Keeley are two friends who curate mer-themed events together. Charlie is a curator of live art, and is also currently Assistant Producer for art agency, Glimpses. Anna is a producer working in the film industry. She currently works as Assistant to Producer Oliver Kassman at Escape Plan Productions (Saint Maud, The Origin, Love Lies Bleeding) and has produced short film Back Pedal (directed by Avigail Tlalim).
See more film for less
Get 20% off tickets and pay no booking fees. Plus, enjoy priority booking and £6 Members' Screenings of the latest films every Sunday (T&Cs apply)