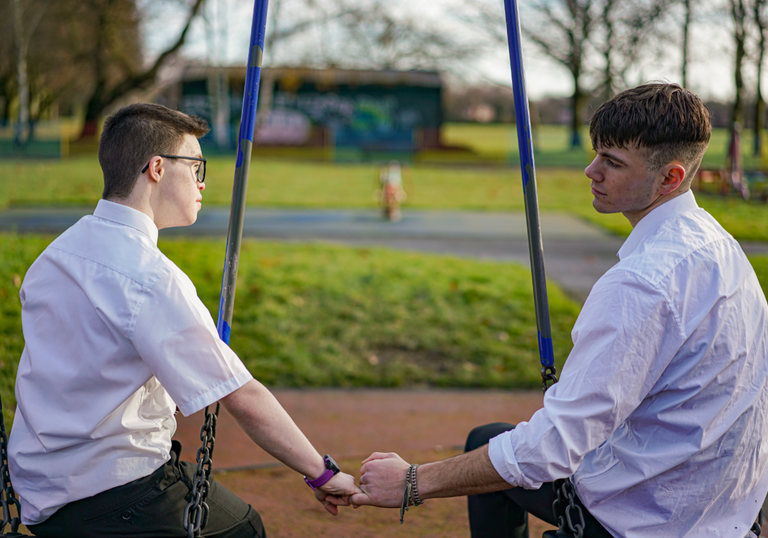 Booking fees
60p booking fee per online transaction, 70p by phone.
No fee when tickets are booked in person.
Booking fees are per transaction and not per ticket. If your booking contains several events the highest booking fee will apply. Booking fees do not currently apply to bookings for exhibitions in the Art Gallery. The booking fee may be reduced on certain events.
Programme
Sparkles
A woman with Down's syndrome woman leaves her past behind. Along her journey, she makes an unlikely friendship with an Outback drag queen.
Australia 2022 Dir Jacqueline Pelczar 12 min
 
Raltagravir
This experimental film journeys through a sexual health clinic, opening up a discussion of whether medication should be recycled.
UK 2022 3 min
 
Pas de Deux
Follow Brogues and Sparkly Toes on their adventures of love, loss, dancing, and lots of mud! A tale told entirely through feet.
UK 2022 Dir Rebekah Fortune 6 min
 
S.A.M
Two teenage boys, both named Sam, meet at the swings each week to escape their dysfunctional home lives and slowly fall in love.
UK 2022 Dir Eyre & Ely 16min
 
Born to Dance with an Extra Chromosome
Drag Syndrome are superstars who have entirely changed the conversation about Down's syndrome and drag, encouraging us all to embrace our inner diva.
UK 2019 Nikolay Nikolov 10min
Lipstick Fights
Jon Mitchell was mentored to create a poem, visuals and soundscape exploring gender and his deeply personal struggle with his own identity.
UK 2019 Jon Mitchell 3min
 
Enid & Valerie
A short venture into the dreams of lone spinster, Valerie, where she meets Enid (a witch). Could this be the start of an unlikely friendship?
UK 2019 Matthew Kennedy & Vitoria Bastos 2min
 
Loving Our Language: Pride in Disability Culture
This film explores queerness and disability, looking at the ways that culture and language are also part and parcel of many other communities.
Canada 2019 Dir Jen Sungshine & David Ng 6min
 
VAF 2018
Two girls in two countries are not as different as they seem to be. Can the VAF green dog help them to realise that?
Denmark Dir Jessica Laurent 2min
 
Join Access Membership
Join our Access Membership scheme to inform us of any access requirements, book accessible tickets and choose what information you'd like to receive.
How is this screening Relaxed?
A relaxed event takes place in an environment that is specially tailored for a neurodiverse audience, as well as those who find a more informal setting beneficial. 
The cinema environment is tailored to the needs of the audience.
For this screening:
- The lights are dimmed, though not off.
- The volume levels a little lower than usual.
- You are free to move around the screen and to enter and exit the cinema at any time, with easy access for any wheelchair users.
- You're free to make noise in these screenings. 
- Staff are trained and ready to assist with any help you or other audience members may need while you're at the cinema at Barbican.
A visual guide to our cinemas is available on request – just click on the Visual Stories tab on our Accessible Events page. For more information please contact the Box Office.