Guildhall Opera Double Bill
Le docteur Miracle & Cendrillon
Booking opens at 10am on Monday 16 August. Priority booking for Guildhall Circle members from 10am on Monday 9 August.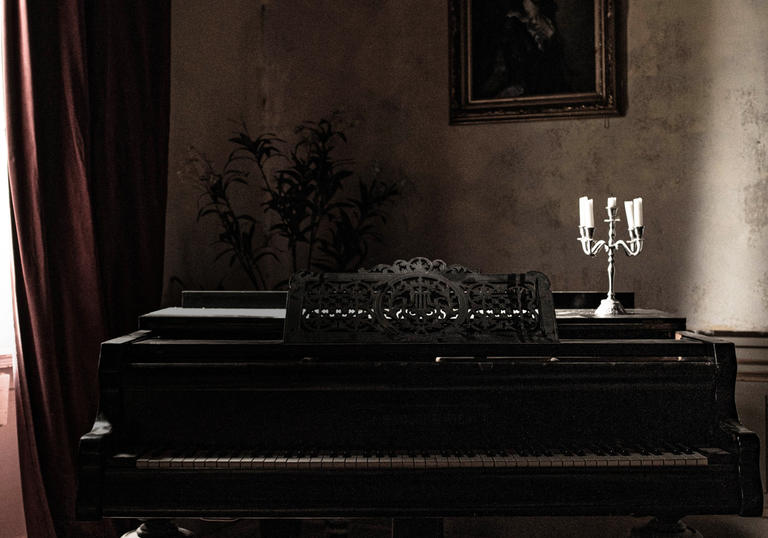 Guildhall Opera department celebrates the 200th anniversary of the birth of the extraordinary mezzo-soprano, pianist and composer Pauline Viardot with a staging of her delightful opera Cendrillon.
Originally written to be performed with piano in intimate space, Viardot always dreamed of orchestrating Cendrillon, but in the absence at the time of any hope that an orchestra would perform a work by a female composer – even one as well-regarded and well-connected as Viardot – she never did. This production fulfils her desire with a new chamber orchestration by Amy Crankshaw - Guildhall doctoral composer and a graduate of the School's MA Opera Making & Writing programme presented in an association with the Royal Opera House.
This opéra-comique double bill opens with Georges Bizet's one-act Le docteur Miracle – a witty tale of romance, disguise and an omelette, filled with the youthful vitality of the 18-year-old composer.
Both operettas are sung in French with English surtitles and feature two opera casts on alternate nights.
Promoted by Guildhall School of Music & Drama
Two recordings of this Opera Double Bill, featuring each cast, will be available to watch online for free after the performances (broadcast dates to be announced).
Programme
Georges Bizet Le docteur Miracle
Pauline Viardot Cendrillon (orch Amy Crankshaw)
Creative Team
Dominic Wheeler
conductor
Cordelia Chisholm
designer
Kevin Treacy
lighting designer
Digory Price
assistant conductor
Rachel Wise
assistant director
(in order of singing)
Le docteur Miracle
 
Laurette - Ellie Neate
Véronique - Amy Holyland (1 & 5 Nov), Laura Fleur (3 & 8 Nov)
Capitaine Silvio/Pasquin/Docteur Miracle - Innocent Masuku (1 & 5 Nov), Florian Panzieri (3 & 8 Nov)
Le Podestat - Jack Holton
Cendrillon
Cendrillon - Cleo Lee-McGowan (1 & 5 Nov), Segomotso Shupinyaneng (3 & 8 Nov)
La Fée - Ellie Neate
Maguelonne - Erin Gwyn Rossington
Armelinde - Laura Fleur (1 & 5 Nov), Amy Holyland (3 & 8 Nov)
Le Prince Charmant - Florian Panzieri
Le Comte Barigoule - Innocent Masuku
Le Baron de Pictordu - Jack Holton
Chorus
Mariana Fernandes
Anna Gregg
Rebecca Milford
Chloe Todd
Lyla Levy-Jordan
Lydia Haynes
Katie Richardson McCrea
Elle Oldfield
Hamish James
Connor Smith
George Robarts
Michael Ferguson
Opera Department Students and Fellows
Assistant Conductor
Digory Price
Assistant Director
Rachel Wise
Repetiteurs
Joseph Beesley
Marlowe Fitzpatrick
Edwin Spark
Production Arts students
Production and Technical Management
Production Manager
Matthew Servant
Technical Manager
Jess Wilson
Production Assistants
Daniel Robinson
Rylee McDaniel
D3 Programmer
Jason Hyde
Stage Management
Stage Manager
Miriam Houghton
Deputy Stage Manager
Emily Robertson
ASM\Book Cover
Qian Yan Tan
Assistant Stage Managers
Louis Fraser-Wilson
Benedict Rattray
Stage Management Props Supervisor
Olivia Hilton-Foster
Stage Crew
Artie Cook
Eleanor Harper
Alec Schneider
Callum Wallace
Construction
Construction Manager
Dani Diego
Scenic Carpenter
Georgie Bottone
Assistant Carpenters
Ema Cunha
Ben Mills
Oliver Brown
Props
Props Co-ordinator
Robbie Lynch
Prop Maker
Allegra Totaro-Wainright
Assistant Prop Makers
Holly Hooper
Issy Jordan
Scenic Art
Scenic Art Co-ordinator
Em Dethick-Jones
Scenic Artists
Mary Deakes
Emily Nellis
Assistant Scenic Artists
Iza Fordham
Fran Johnson
Sound
Production Sound Engineers
Anja Urban
Sam Ferstenberg
Sound Operator
Emily Robertson
Lighting
Production Electrician
Ben Tinniswood
Lighting Programmers
Bradley Halliwell
Ethan Howlett
Costume
Costume Supervisor
Imogen Leather
Costume Assistant
Sophie Presswell
Wardrobe Manager
Kate Stockwell
See the CVs for Guildhall School Final Year Production Arts students.
Le docteur Miracle
Violin I
Krystof Kohout*
Abbie James
Laia Francés Pont
Maja Uzarska
Joanna Strembicka
Ludwika Borowska
Pak Ho Hong
Violin II
Zoe Hodi*
Anastasia Egorova
Evie Rogers
Leon Human
Gosia Podlinska
Damian Dimitrov
Viola
Kelvin Chan*
Georgia Russell
Ruby Bowler
Benedict Baily
Lara Bowles
Cello
Kathryn Monteiro*
Anna White
Aline Christ
Nathanael Horton
Double Bass
David Dominguez Vargas*
Melisande Lochak
Elena Calvo Bravo
Flute & Piccolo
Justyna Szynkarcyzk*
Emilija Jonusaite
Oboe
Daisy Lihoreau
Clarinet
Beñat Erro Díez*
Isabelle Hopkins (offstage)
Bassoon
Patrick Kearney
Horn
Jack Reilly*
Niamh Rodgers
Trumpet
Maciej Kropidlowski*
Imogen Timmins
Trombone
Jamie Reid (offstage)
Timpani & Triangle
Will Miles
Percussion (offstage)
Francis Domingos Negreiros*
Lauren Bye
Cendrillon
Violin I
Krystof Kohout*
Abbie James
Laia Francés Pont
Maja Uzarska
Violin II
Zoe Hodi*
Anastasia Egorova
Evie Rogers
Leon Human
Viola
Kelvin Chan*
Georgia Russell
Ruby Bowler
Cello
Kathryn Monteiro*
Anna White
Double Bass
David Dominguez Vargas
Flute, Piccolo & Alto
Justyna Szynkarcyzk
Clarinet, E-flat & Bass
Beñat Erro Díez
Horn
Jack Reilly
Percussion
Will Miles
Harp
Alicja Cetnar
Piano
Joseph Beesley
Edwin Spark
Marlowe Fizpatrick (onstage)
Ensembles, Programming & Instrument Manager
Phil Sizer
Orchestra Librarian
Anthony Wilson
Orchestra Stage Manager
Bill Bannerman
*Section principal
Opera Department Manager
Steven Gietzen
Movement Director
Victoria Newlyn
Language Coaches
Florence Daguerre de Hureaux
Edwige Herchenroder
Surtitles
Ashley Dean (Le docteur Miracle)
Wexford Opera (Cendrillon)
Hair & Make-up
Hair & Make-up Supervisor
Anette Ollerearnshaw
Hair & Make-up Senior Artist
Sabika Asif
Hair & Make-up Artists
Caitlin Ross
Helen Wake
Hair & Make-up Assistants
Artie Harper
Elle Cook
Photographer
Helen Murray
Freelance Staff Costume Supervisor & Chorus Supervisor
Claire Nicolas
Staff Production Manager
Julia Bermingham
Stage Management Supervisor
Caroline Moores Staff
Construction Supervisor
Matt Farley
Head of Recording & Audio Visual
Julian Hepple
Broadcast Manager
Dylan Bate
Vision Mixer
Mark Rainbow
Camera Operator
Daniel Davis
Join the Guildhall Circle
Get priority booking for outstanding performances & access to exclusive events