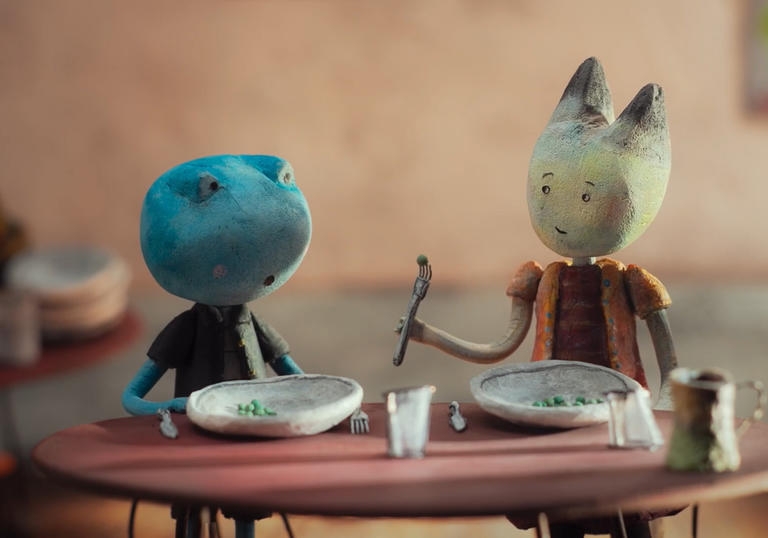 Booking fees
60p booking fee per online transaction, 70p by phone.
No fee when tickets are booked in person.
Booking fees are per transaction and not per ticket. If your booking contains several events the highest booking fee will apply. Booking fees do not currently apply to bookings for exhibitions in the Art Gallery. The booking fee may be reduced on certain events.
Programme
Bench
A heartwarming story about friendship, love and sandwiches.
UK 2020 Dir Rich Webber 2 min
A Stone in the Shoe
A student arrives in his new class. He is not a student like the others – he is a frog in a class of rabbits.
France 2020 Dir Eric Montchaud 12 min
A Film About a Pudding
Ronin's dropped groceries start to mix and bubble, transforming into a small pudding. Over the next few days, the pudding grows bigger and bigger.
UK 2021 Dir Roel Van Beek 9 min
Just for the Record
In an abandoned attic, a dictaphone robot  is desperately trying to find the way to connect to a little bird that stops on its window.
Canada 2020 Dir Vojin Vasovic 7 min
Helmut
Being weightless can be a heavy burden, as Helmut knows. Every day, he makes sure there are enough pebbles in his boots to save him from drifting off into space.
Switzerland 2020 Dir Igor Kuzmic 4 min
Mitch Match Series 06
A blue-headed matchstick embarks on a playful journey.
Hungary 2020 Dir Géza M Tóth 2 min
All of our Shadows
A day in the life of a teenage boy as he faces his fears and concerns. Can he confide in his school mates? Will they ignore him? Will they mock him? Will they help him?
UK 2020 Dir Ruth Beni Daniel Greaves 8 min
Kiko and the Animals
Kiko is a nightmare for all the animals. He bullies them all the time, even the smallest mouse can't escape from him!
France 2020 Dir Yawen Zheng 8 min
Orchestra Rehearsal
A musician is late for his rehearsal and his cheeky daughter is causing all sorts of problems.
Russia 2021 Dir Tatiana Okruzhnova 7 min
Boy in the Woods
A father must rescue his autistic son lost in a strange forest. A musical tale about empathy, tolerance and acceptance
Brazil 2020 Dir Fabiano Leandro Pandolfi 11 min
Mishou
A helicopter full of noisy tourists lands in a place of snow and ice. A quick round of selfies and then they're off again, leaving behind a tiny dog who is adopted by four Arctic hares.
Germany, Bulgaria 2020 Dir Milen Vitanov 8 min
Family Activities
Fun workshops, activities and watchlists for all the family, inspired by our programme.