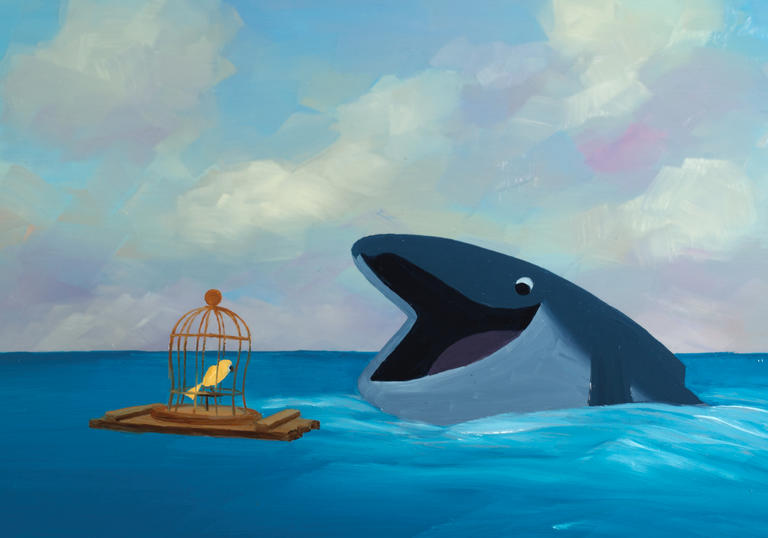 Booking fees
60p booking fee per online transaction, 70p by phone.
No fee when tickets are booked in person.
Booking fees are per transaction and not per ticket. If your booking contains several events the highest booking fee will apply. Booking fees do not currently apply to bookings for exhibitions in the Art Gallery. The booking fee may be reduced on certain events.
Programme
Apple Tree Man 
Based on a Somerset folktale, this lovely pastoral animation follows the Apple Tree Man who lives in the oldest tree in the orchard and a farmer never asks anything for himself.  
Russia 2020 Dir Alla Vartanyan 10 min
+
Little Grey Wolfy: Summer Party 
Wolfy's friends work together to get a very special cake ready for a very special birthday. 
Norway 2020 Natalia Malykhina 6 min
+
Robot and the Whale
Lobo the Robot and his dog Banjo live alone until one day they discover a beached whale on the sand. But to help the stranded animal Lobo must be brave and overcome his fear of water. 
Sweden 2018 Dir Jonas Forsman 6 min
+
Umbrellas 
Six-year-old Kyna lives in fear of the rain and lives beneath her father's 'umbrella beard' with her dog Nana. But one night, Nana disappears and Kyna must turn her life upside down to save her best friend.  
Spain/France 2020 Dir José Prats, Álvaro Robles 12 min
 
Juan Viento 
Juan spends his time cleaning the leaves from the local park, but one day the wind brings a surprise with it.
Argentina 2019 Dir Carlos Farina 5 min
+
The Bird and the Whale 
Created using paint-on-glass animation, this stunning story follows a young whale and a caged bird struggling to survive the power of the waves. 
Ireland 2019 Dir Carol Freeman 7 min
+
And That is How the Rivers Came to Be 
Based on the Peruvian legend, this stunning animation takes viewers inside the magic and beauty of the Amazon region and reminds us of our sacred connection to water.
Peru 2020 Dir Miguel Araoz Cartegena 3 min
In Kukama-Kukamiria with English subtitles
+
The Lighthouse Man 
The huge rocky Lighthouse Man protects his small fishing village with pride, but when the village becomes a town and then a city, space is limited and the Lighthouse Man feels like he may not be useful anymore. 
Canada 2020 Dir Matt Walton 4 min
 
Family Activities
Fun workshops, activities and watchlists for all the family, inspired by our programme.