Living Design
A Barbican Library Foyer Exhibition
Opening times
Mondays, Wednesdays and Fridays 9.30am to 5.30pm;
Tuesdays & Thursdays 9.30am to 7.30pm;
Saturdays 9.30am to 4pm;
Closed on Sundays and bank holidays.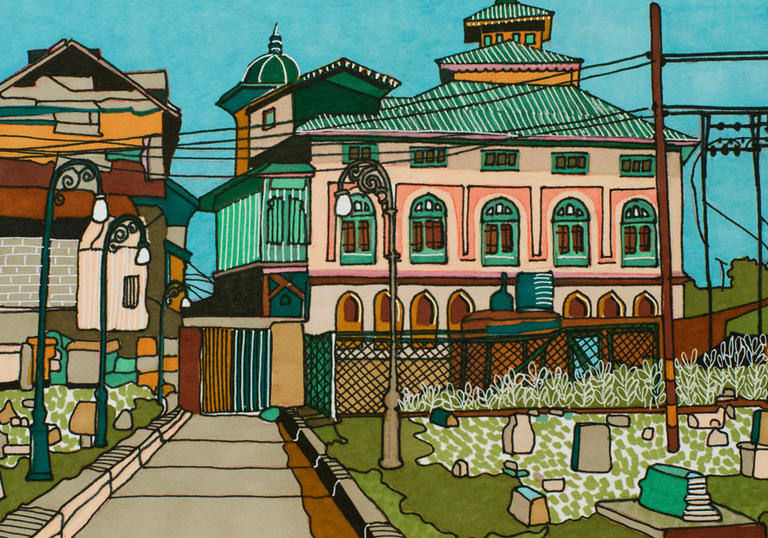 An exhibition of desirable ceramics, art and furnishings by two skilled makers from Teddington Carmela Kantorowicz and Stephanie Wilkinson.
These artists bring strong influences of their respective Italian and Brazilian homelands to their work, resulting in design objects that have a very appealing and distinctive style. Carmela Kantorowicz is always exploring new forms to see how they complement different decorative techniques. This results in new collections of stoneware and porcelain vessels bringing fine design to your kitchen table.  Her raku pieces similarly make wonderful statement pieces for display in any interior setting. Stephanie Wilkinson has a penchant for creating large acrylic landscape and still life paintings with vibrant colours and patterns, as well as compact pen drawings. These translate beautifully into limited edition prints, vegan suede cushions, cards, and coasters. Silver plated pendant jewellery and fabric designs are new for 2019.
Opening times
Mondays, Wednesdays and Fridays 9.30am to 5.30pm;
Tuesdays & Thursdays 9.30am to 7.30pm;
Saturdays 9.30am to 4pm;
Closed on Sundays and bank holidays.
Location
Level 2, Barbican Centre
Silk Street, London
EC2Y 8DS
Where to find us
You can find the Barbican Library on Level 2 which can be accessed from Frobisher Crescent, if coming from the highwalks. 
Nearby public transport
We are within walking distance from a number of London Underground stations, the closest being Barbican, St Paul's and Moorgate. The nearest train stations are Liverpool Street and Farringdon. Bus Route 153 runs directly past the Barbican along Chiswell Street Car and bicycle parking
We have free bicycle spaces and paid car parking spaces available