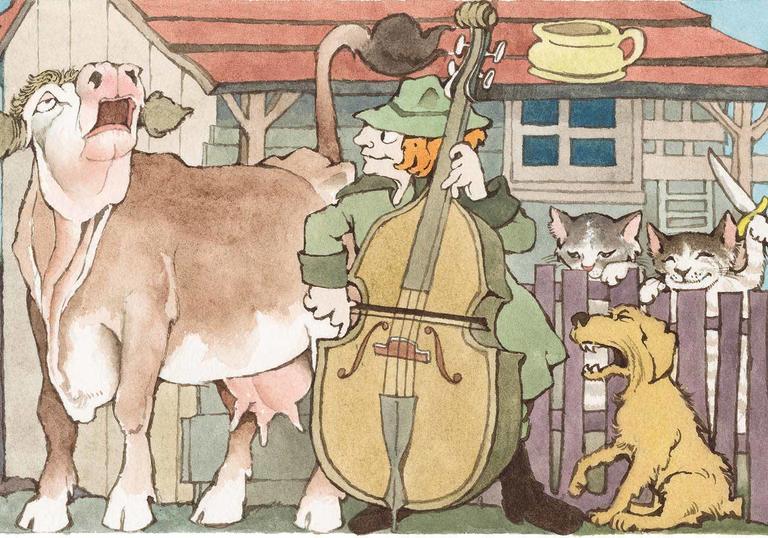 Booking fees
£3 booking fee per online transaction, £4 by phone.
No fee when tickets are booked in person.
Booking fees are per transaction and not per ticket. If your booking contains several events the highest booking fee will apply. Booking fees do not currently apply to bookings for exhibitions in the Art Gallery. The booking fee may be reduced on certain events.
Free Pre-concert Workshops and Activities
12–2.15pm, Barbican Foyers
Get into the spirit of the concert with our fun, free interactive activities
Workshops
Some workshops have a limited capacity, so go to your favourite activity first or arrive a few minutes before the workshop start time so you have the best chance of getting in!
Workshop start times: 12pm / 12.35pm / 1.10pm / 1.45pm
Music workshop
Stalls Lounge, Level -1
Join James Moriarty and a team of professional musicians in these creative music workshops. Bring your own instrument or try one of ours!
Singing workshop
Fountain Room foyer, Level G
Warm your voices up ahead of the concert in these energetic singing workshops to learn the participation song, The Wedding Song, with Lucy Drever.
Participation piece rehearsal
Fountain Room, Level G
Join professional musicians to learn and rehearse The Wedding Song which will be performed during the concert. Bring your own instrument!
Drop-in activities
Activities run from midday to 2.15pm
Arts and Crafts
Clubstage, Level -1
Join artist Shelly Wain for this creative workshop where you will design storytelling coins in order to conjure up your own stories.
Trail
Foyers
Learn more about the repertoire that you will hear in the concert by following our trail around the Barbican foyers.
Audience Participation
Your pictures of Limboland
Maurice Sendak was a highly acclaimed illustrator and his pictures will feature on our big screen during the concert.
Show us your own drawing skills and send in your interpretations of the mixed-up, upside down world that is Limboland – full of cake, talking animals and dancing vegetables! We will then feature as many pictures as possible on our big screen at various points during the concert.
Here are a few tips:
- Why not take some inspiration from the audience participation song? Details below.
- Make the pictures A4 and oriented landscape (i.e. long side bottom and top).
- Use whatever art materials you like but try to fill the page and make them as colourful as possible.
- Put the artist's name on the drawing somewhere so that they will see it on screen (just first name is fine).
If you would like your artwork included in the concert please scan it and email to [email protected] by Monday 22 October.
Audience Participation Song
We'll be asking the audience to join in with the Orchestra during the concert in a Wedding Song for Mr and Mrs Sugar Beet!
If you'd like to get in a bit of practice, either on your instrument or singing along, then you can download the music and listen to the audio files below:
Instrumental/Voice parts
> Vocal part and words
> Violin | Flute | Oboe | Guitar
> Viola
> Clarinet | Trumpet
> Alto Sax
> French Horn
> Cello | Bassoon | Tuba | Double Bass
Audio files
> Piano with voice
> Piano only

More to do with your family
On Saturday 27 October, Culture Mile presents loads of amazing activities to keep little ones entertained. From film screenings and workshops at the Barbican, through to the LSO family concert and the Museum of London celebrating 250 years of the circus with a spectacular science show.
Framed Film Club Workshop + The Nightmare Before Christmas (PG)
Workshop 10am / Film screening 11am, Barbican Cinema 2, Tickets from £2.50
Barbican Framed Film Club hosts a free workshop for young film fans who want to show off their art 'skulls', inspired by Tim Burton and Henry Sellick's spooktacular musical adventure The Nightmare Before Christmas (PG), followed by a screening of the movie. Perfect for 3–8 year olds.
Parent & Baby Screening
11.15am, Barbican Cinema 3, Tickets from £6
Enjoy the best new releases on the big screen with your little ones of twelve months and under in a relaxed environment, without worrying about making too much noise. Lights are turned up higher and sound is turned down lower, so you get the easiest environment for you and your baby.
Celebrating the Circus
11.30-11.50am, 12.30–12.50pm & 2–2.20pm, 3 – 3.20pm Museum of London, FREE
Join Museum of London as it celebrates 250 years of the circus with an interactive family show. Take a tumble through circus history and science exploring exciting acts from London's history and the forces that make them work. Be prepared for tricks, pops and daring acts of courage.