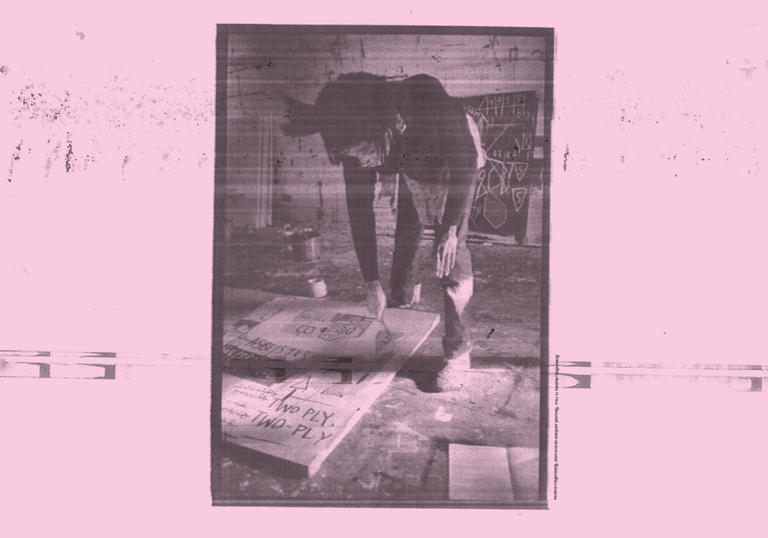 Join us for an innovative programme of free events, installations and special performances and celebrate the creativity of Jean-Michel Basquiat
Too Young for What? provides opportunities to develop young people's creativity and showcases a range of new work with and by young people from across east London and beyond. The day explores what Basquiat and his practice means to young and emerging artists through a range of art forms including music, performance, street art and poetry.
Highlights include a talks programme SAMO©, but different and 'Make a Scene' discussions co-curated by Poet in the City, opportunities to explore zinemaking, glitch art and photography and Basquiat inspired work by Barbican Guildhall Creative Learning's community of young creatives, including the Barbican Young Poets, Young Programmers and Young Visual Arts Group.
Young Barbican members can pre-book entry to our major art exhibition 
Basquiat: Boom for Real for just £5 (usually £16).
This is a free event with drop in performances and activities.
2–6pm SAMO©, but Different
Co-curated with Poet in the City, listen to talks and performances delving into the interdisciplinary creative scene Basquiat was a part of. Each session will focus on one of the following themes, Legacy, Mythology, Text and Music.
6pm Basquiat Hack
See what young creatives from our Barbican Guildhall Creative Learning programmes produce after a two day marathon cross arts hack. 
6.30pm Poetic Chronicles
Hear Keisha Thompson and Belinda Zhawi's Poetic Chronicles inspired by the day's debates and discussions. 
Basquiat opened new spaces for creativity by challenging social and artistic norms: drawing on the world of poetry, explore the social and cultural context of Basquiat from the downtown scene to his relevance to artists today who are carving out new spaces for creativity and development.
Hosted by Amina Jama, Barbican Young Poet       
Speaker One: Gemma Weekes
Gemma Weekes is critically-acclaimed author of Love Me (Chatto & Windus), performance poet, electronic musicmaker, singer/songwriter and performance artist. 
Speaker Two: Rachel Long
Rachel Long was awarded a Jerwood/Arvon mentorship for poetry in 2015. She is Assistant Tutor to Jacob Sam-La Rose on the Barbican Young Poets programme, and is the leader of Octavia - Poetry Collective for Women of Colour, housed at Southbank Centre. 
 
Basquiat found political truths in Greek myths with tales such as Pluto and Pegasus appearing across his body of work. Looking back at ancient Greek heroes, we explore the ways in which these tales have inspired the work of contemporary poets and how Basquiat drew on the richness of the ancient world to narrate society.
Hosted by Victoria Adukwei Bulley, Barbican Young Poet
Speaker One:    Dorothea Smartt
Dorothea Smartt is a poet, live artist, facilitator, and literary activist. Born and raised in London, of Barbadian heritage. Her second collection SHIP SHAPE, features on an A Level English syllabus. 
Can graffiti be poetic? Does the meaning of art change from the street to the gallery? From his street art to his notebooks, Basquiat's poetic, enigmatic statements have resonated with and inspired a new generation of designers and artists to cross the boundary between the street and the gallery.
Hosted by Kareem Parkins Brown, Barbican Young Poet
Speaker One:    Chiizii
Chiizii is a visual artist and textile designer. 
Born and currently based in London, raised in New York with an eastern Nigerian Igbo background, her work reflects her surroundings and experiences. Throughout her work there is a special emphasis on culture, hers and the many she has a connection with. She uses her art as a means of social commentary, expression of thoughts and to learn about herself and others. Making sure to create work only through authenticity.
Speaker Two:     Karim Samuels
Born in Zimbabwe, Karim moved to London in 1999 and has always had an avid interest in art, expression and urban space. 16 years' of experience in the urban art scene and a degree in Architecture have given Karim a unique perspective on the topics of urban space and expression. His expertise on the graffiti and street art scene is in high demand, conducting highly regarded workshops, interviews and tours for clients that include the BBC and Google.
How has Basquiat's work impacted the lyrical scene? With artists such as Jay Z and Yasiin Bey, Madonna and Fall Out Boy making reference to the artist, explore how the fusion of visual art, text and music in Basquiat's work has opened up possibilities for contemporary musicians.
Hosted by Kieron Rennie, Barbican Young Poet
Speaker One:      Gemma Weekes
Critically-acclaimed author Gemma Weekes will share her work Who Murked Basquiat inspired by the work, life and times of Basquiat and her own struggles with misogynoir
Speaker Two:     Joshua Idehen
Joshua Idehen is a poet, teacher and musician. A British born Nigerian, he is a member of electro/R&B band: Hugh, who's debut album Love, Hugh released this June. He recently collaborated with The Comet Is Coming on their debut album Channel The Spirits which was nominated for a Mercury Award.
Speaker Three: Bellatrix
Weaving in and around the action, poet and chronicler extraordinaire Keisha Thompson rounds up the day, reflecting on the debates and discussions with a brand-new performance piece for an imaginative and inspiring finale.
Keisha Thompson
Keisha Thompson is a Manchester based writer, performance artist and producer. She is currently working at Contact as the Young People's Producer managing Contact Young Company. Most recently, she has received a co-commission from STUN and Contact to develop her new solo show, Man on the Moon.
Jacob Sam-La Rose will be presenting a specially commissioned new poem.
Jacob Sam-La Rose's collections include Communion and Breaking Silence— shortlisted for the Fenton Aldeburgh award and a Forward Poetry prize, and currently a set text for an English Language/Literature A' Level. His writing has explored Black-British/African-Caribbean culture, ritual and tradition, faith, mythology, hybridity and technology. His poems and essays have featured in Ploughshares, Wasafiri, In Their Own Words (Salt Publishing), Identity Parade (Bloodaxe), Poetry by Heart (Penguin) and more. His work has been translated into Portuguese, Latvian, French, and Dutch. 
Paula Varjack will be presenting I was there: a performance exploring scenes, & the performance of persona
Paula Varjack is a writer, filmmaker and performance maker. Her work explores identity, the unsaid, and making the invisible visible. Trained in stage management, filmmaking and performance, she enjoys working across and combining disciplines; performance, theatre, documentary and spoken word. She has performed at numerous arts festivals and cultural spaces including: Glastonbury Festival, Berlin International Literature Festival, Vault Festival, Chelsea Theatre, The Victoria & Albert Museum, Richmix, Wilton's Music Hall, Battersea Arts Centre, The Southbank Centre, Círculo de Bellas Artes, Musicbox Lisbon, Es Balluard Museum of Contemporary Art, and The Photographer's Gallery.
Antonio Roberts will be collaborating on a glitch-art piece throughout the day.
Antonio Roberts is a New Media artist and Curator based in Birmingham, UK. His artwork uses glitch art, hacking and technology-driven processes to explore issues surrounding open source software, free culture and collaborative practices. He is a Curator at Vivid Projects, Near Now Fellow, and is part of the Advisory Group for New Art West Midlands.
12noon–6pm
Zine making with Holly Casio and Megan Pickering
Use newspapers, magazines, comics and other printed materials to cut, copy, paste and create their own DIY publication exploring identity, self-expression and performance.  
Behind the Scene with Slashstroke Magazine
Slashstroke studio will create a fully immersive 3D space that allows participants to produce their own dynamic/abstracted photographic portraits. Take the picture, direct the scene, be in the image, create the message. 
1.00–3pm
Binary Graffiti Club Workshop 
Binary Graffiti Club invite you to think about your future and the future of politics, in a workshop where participants will come up with their own manifesto by actively exploring your roles in the world. Inspired by the work of artist Stanza, participants will be invited to join the project on the foyers and spray and stencil their work within an installation.
Participants must be over 16. To book your place, please email [email protected] with the subject: Binary Graffiti. 
3–6pm
Roundtable discussion hosted by Jacob Sam-La Rose, curated by Poet in the City
Cultural appropriation or cultural appreciation? Where is the line? Basquiat trod the line of appropriation, layering his ideas over others to redefine meaning and rewrite stories. Join us as we investigate the meaning of cultural appropriation and if it can ever be a good thing… 
You can book a spot at the table to contribute to the discussion here.
Belinda Zhawi will be taking poetic-chronicles throughout these sessions, transforming the discussions into a performance piece shared on the SAMO©, but Different stage.
 
Belinda Zhawi is a Zimbabwean born writer, educator & resident of London. She's co-founder & host of the bi-monthly poetry social, BORN::FREE. Belinda was the 2016/17 Institute of Contemporary Arts Associate Poet. She's currently working on her debut pamphlet collection. .
Holly Casio is a zine maker, writer and workshop facilitator – she uses collage, text and illustrations to create zines and comix relating to mental health, queer identity, and pop culture. 
Megan Pickering is an artist who explores intersectional feminism, queerness and class. Megan uses zine making as a way of exploring personal politics in awkwardly honest ways. 
 
12noon–6pm
Breaking the Frame - A Polaroid Manipulation Workshop with Rhiannon Adam and Polaroid Originals
Taking inspiration from Basquiat's mixed media work and the collaborative nature of the 70s-80s art scene in New York, this workshop explores the tactile qualities and myriad uses of Polaroid film. Partcipants are encouraged to work together to make collage work using various Polaroid manipulation methods, creating a Polaroid tapestry of modern life.
We will be working with your own source material - this can be in the form of physical pictures, found photos, archive material, or digital imagery. Cameras will be available on the day to create new imagery in and around the Barbican.  
The workshop is led by Rhiannon Adam, an established polaroid photographer, and author of the new book Polaroid - The Missing Manual, the Complete Creative Guide (Thames and Hudson, 2017).
12noon–6pm
A glitch-art wall of digital and analogue collage created by you and curated by Antonio Roberts and Maria Middtun
3.30–6.30pm
Binary Grafitti Club
The Binary Graffiti Club invites you to experience binary language in a different way using graffiti stencils and music to express ideas about the world we live in, and the world we want to live in. Sing binary harmonies, spray some stencils and learn how to translate words into binary code.
12noon–6pm
A collection of shorts that presents downtown 1980's New York alongside present-day life in a big city. Curated by the Barbican Young Programmes, they ask whether the challenges faced by creatives twenty years apart are really that different and whether creativity and community can thrive under the unchanging daily pressures of housing, employment and education.
Shorts include:
Tower Xyz, Dir Ayo Akingbade, 2016
Resurgence, Dir The Motus Projects 2017
Grasp The Nettle, Dir Dean Puckett 2013
Train Ride To Coney Island 1987, Dir Nelson Sullivan 1987. Courtesy of Nelson Sullivan Archives and Dick Richards, David Goldman and Robert Coddington
Keith Haring & His Art, Dir Nelson Sullivan 1984
Terry & Tiara,  Dir Guy Larsen 2017
Girl, Dir Megan K Fox 2016
Cracked Screen: A Snapchat Story, Dir Trim Lamba 2017
Connect, (Bafta nominated short film) Dir Samuel Abrahams 2010
Offline Dating, (Webby nominated short film) Dir Samuel Abrahams 2015
Run, Dir Thea Gajic 2016
What's Luv?, Dir Thea Gajic And Kayode Ewumi 2017
Epic Fail, Dir Greg Barth 2017
Two Dosas, Dir Sarmad Masud 2014
Richard Nicoll Blue, Dir by Emma Dalzell 2017 Concept by Tim Walker
1.45pm–Free Screening  
Cinema 1 will be hosting a free screening of Downtown 81 followed by a Q&A with Producer Maripol and Tim Lawrence
Doors will open at 1.15pm, seats will be available on a first-come-first-served basis. No seats can be booked in advance
Location
Level G,
Barbican Centre
Silk Street, London
EC2Y 8DS
Public transport
The Barbican is widely accessible by bus, tube, train and by foot or bicycle. Plan your journey and find more route information in 'Your Visit' or book your car parking space in advance.
We've plenty of places for you to relax and replenish, from coffee and cake to wood-fired pizzas and full pre-theatre menus
Join Young Barbican
Be there when it happens with discounted access to unmissable art and entertainment as well as events and creative opportunities for 14-25 year olds
Discover
Listen: Basquiat and Downtown on Spotify
Music had a big impact on Basquiat's art. Listen to a sample in our Basquiat playlist.... 
Tim Lawrence remembers the cultural renaissance that was downtown New York's music scene in the late 1970s and early 1980s.
A look at Downtown New York in the 70s and 80s, and how it influenced Basquiat's work.