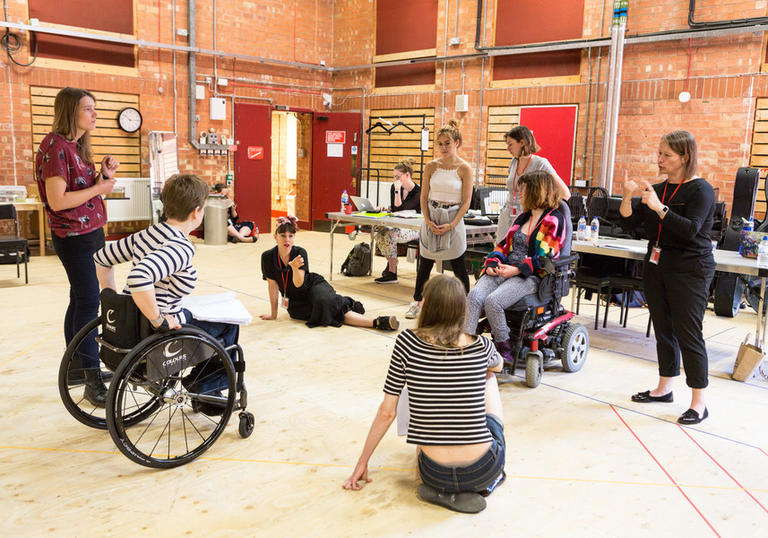 Performers & Creative team
Performers
James Le Lacheur
Athena Stevens
Lara Steward
Romeo Dominic Jones 
Friar Laurence Russell Anthony
Creative team
Creative Director Storme Toolis
Director Robin Norton-Hale
Designer Kate Lane
Lighting Designer Joe Price
Sound Designer Ed Maclean
Assistant Director Sammy Glover
Design Assistant Jamie Simmons
Producer Ellie Keel
Developed in collaboration with the Barbican and the RSC
Biographies
James Le Lacheur trained at the Oxford School of Drama. Their theatre credits include Harry Potter and the Cursed Child (Palace Theatre), James and the Giant Peach (Colchester Mercury Theatre), Black Sheep (Soho Theatre), Antony and Cleopatra (Sam Wanamaker Festival, Shakespeare's Globe) and Anna Karenina (Pegasus Theatre/Royal Court). Short films include Demon Days, Happy Holidays, Bail, Chronos, Blackout, Away, Steve and the Audition, Our World and Cottonmouth. James is also the Artistic Director of Fast Parson Theatre, whose credits include Gaigai Tauna: The Snake Man and The Curious Incident of the Frog in My Sightline.
Athena Stevens is an Associate Artist at Shakespeare's Globe. She is currently under commission there to write a feminist response to Faust. Her most recent play Schism premiered at the Finborough Theatre and later transferred to the Park Theatre. In 2019 she will be under commission to write a play Hello to the Trolls for the National Youth Theatre. Athena is also an elected spokesperson for the Women's Equality Party and Artistic Director of Aegis Productions Ltd. She was the first actor with a disability to receive an Off West End Award Nomination for Best Female Performance. 
Lara Steward is an actor who just so happens to be profoundly deaf. She has mainly acted in independent short films with the roles from a killer to a teenager trying to find her place in the world. She also appeared in a BBC Drama Silence and can be found in one of the Malteasers' adverts. 
Robin Norton-Hale is a stage director for theatre and opera, and a writer. She was one of the founders of OperaUpClose in 2009, and since 2014 has been Artistic Director and Chief Executive of the company. Theatre directing includes the world premiere of Glyn Maxwell's Masters, Are You Mad? (Grosvenor Park Open Air Theatre), The Taming of the Shrew (Southwark Playhouse), Mary Queen of Scots Got Her Head Chopped Off (King's Head Theatre), Glyn Maxwell's Best Man Speech (UK tour) and Pick 'n' Myths (devised for Lyric Theatre Hammersmith and UK tour). She has directed a double-bill of her own new version of the play Let's Make An Opera and Britten's The Little Sweep, and La Traviata for Malmö Opera, Sweden. Directing for OperaUpClose includes La Bohème (Winner of the Olivier Award for Best Opera 2011), La Voix Humaine (Kings Place), Carmen (Soho Theatre & UK tour), La Traviata (Tricycle Theatre, Soho Theatre & UK tour), Don Giovanni (Soho Theatre & UK tour) and The Barber of Seville (King's Head Theatre & UK tour). 
Kate Lane is an interdisciplinary artist and scenographer.  She is interested in design working as visual dramaturgy in performance practice.  Her work sits between performance/ theatre and live art.  She is a founding member of performance collective Brave New Worlds. Her Scenographic practice has been shown extensively in the UK including Sadlers Wells, Southbank Centre, V&A, the Roundhouse in London. Internationally it has been shown at Ravenna Festival in Italy, Musique Cordial in France, Cork Festival in Ireland and Arts Printing House in Lithuania. With Brave New Worlds she has held residencies at the Barbican as part of their Open Lab Programme, The Point, Plateau Gallery and Arts Printing House. Her work with them was selected as part of the UK Exhibit for Prague Quadrennial and the Make:Believe Exhibition at the V&A in 2015.  She exhibited as part of Costume at the Turn of the Century 1990-2015 at the A.A. Bakhrushin State Central Theatre Museum in Moscow in July 2015.  
Joe Price trained at the Royal Welsh College of Music & Drama and received the 2015 Francis Reid Award for Lighting Design. Credits include: My Name Is Rachel Corrie (Young Vic); The World's Wife (Welsh National Opera); Conditionally (Soho Theatre); Mrs Dalloway (Arcola Theatre); Breathe (Bunker Theatre); Goldfish Bowl (Paper Birds); Heather (Bush Theatre); This Perfect World (Theatre Royal Bath); Gate (Cockpit Theatre); Box Clever (Nabokov); Fossils (Brits off Broadway NYC); This Must Be The Place (VAULT Festival); Let The Right One In (Arts Ed); Magnificence (Finborough Theatre); Heads Will Roll (Told by an Idiot); How To Date A Feminist (Arcola Theatre); Some Girl(s) (Park Theatre); Around The World in 80 Days (Theatre Royal Winchester); The Love I Feel Is Red (Tobacco Factory); Some People Talk About Violence (Barrel Organ); Dry Land (Damsel Productions); Alternative Routes (National Dance Company Wales); The Duchess of Malfi (Richard Burton Theatre Company); Animal/Endless Ocean (Gate Theatre); Y Twr (Invertigo).
Sammy Glover's credits include Skin(ny) (Southwark Playhouse), Alra Showcase (Arts Theatre), Fnlp (Camden People's Theatre) and Circleville, Circlevalley (Pleasance). Between 2017 and 2018 she was Associate Director at The Big House Theatre Company based in London which works with care leavers and at risk young people between the ages of 16-25. Her work there includes directing site specific Loose Lips by Bruntwood Playwright Award Winner Katherine Soper, and Associate Director on Phoenix Rising (3 Off West End Award nominations) and Electric at The Rio Cinema in Dalston. She is currently in development for And the Heat of it, her theatre company Tell it Tuesday's debut play which looks at the experience of a city through the eyes of young communities in London.
Ellie Keel became an independent theatre producer after working for two years with Thelma Holt, the Oxford Playhouse and the Cameron Mackintosh Foundation. She now produces new plays both independently and on behalf of organisations including The North Wall, The Big House, Heretic Productions, and Forward Arena. For The North Wall she co-founded and produces the annual Alchymy Festival of new plays. With Heretic Productions she co-founded and produces Heretic Voices, a national competition and festival of new plays in monologue form. Her work in London includes Hal Coase's Callisto: a queer epic, which transferred to Arcola Theatre from the Edinburgh Fringe, Home Chat by Noël Coward at The Finborough Theatre, Virginia Woolf's Mrs Dalloway adapted by Hal Coase at Arcola Theatre, and Loose Lips by Katherine Soper at Stoke Newington Town Hall. She trained with Stage One. Ellie is a Director of LGBT+ youth charity Just Like Us and a Trustee of The King's Hall Trust for the Arts.
Part of The Art of Change
Our 2018 season explores how the arts respond to, reflect and potentially effect change in the social and political landscape.
Discover
We asked the cast and creative team behind 'Redefining Juliet' which other 'female' figures from theatre, film or history they would like reimagine.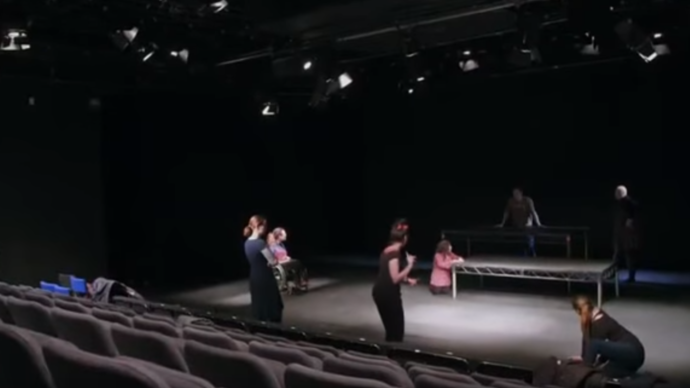 Watch: About Redefining Juliet (BBC)
Broadcast on BBC Four in 2016, watch this short documentary following creative director and wheelchair user Storme Toolis and her group of actors through the rehearsal process of their theatrical production to the Barbican.