Press room
Ranjani Shettar: Cloud songs on the horizon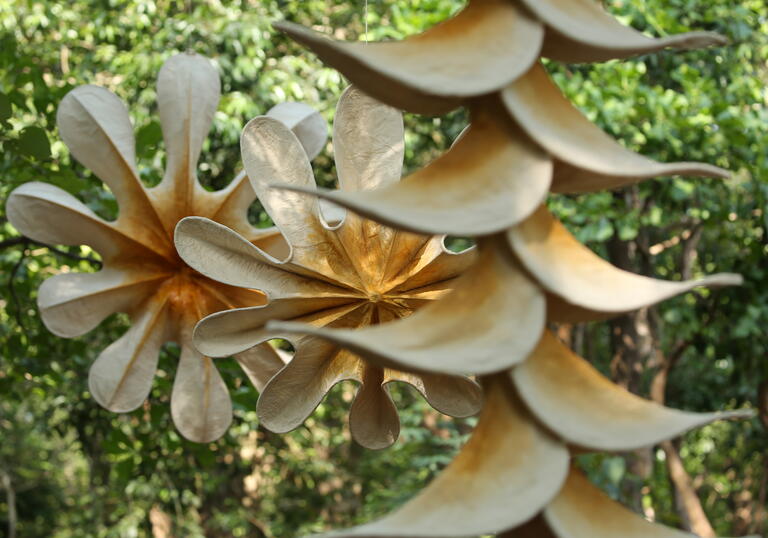 Detail of Cloud songs on the horizon, 2023 (c) Ranjani Shettar Courtesy Talwar Gallery, New York New Delhi
The commission is realised in partnership with the Kiran Nadar Museum of Art (KNMA) 
From 10 September 2023, the Barbican's iconic conservatory will host a spectacular new site-specific commission by Indian sculptor Ranjani Shettar.
Cloud songs on the horizon is Ranjani Shettar's first major institutional show in Europe and was commissioned specifically for the Barbican's Conservatory in partnership with the Kiran Nadar Museum of Art (KNMA). The installation comprises five sculptures, handcrafted by Shettar in her studio in rural Karnataka, India, which will be suspended throughout the entirety of the Conservatory's 23,000 square foot space. A tropical oasis in the heart of London, the Barbican Conservatory is home to a vibrant mix of 1,500 species of plants and trees from across the world.
Ranjani Shettar's artistic practice, developed over two decades, is informed by the close observation and study of the natural world. Continually meditating on the subjective unfolding of time in nature, her abstract forms seek to evoke what she calls 'adaptations': those imperceptible and innumerable processes of change and metamorphosis taking place amid the various species of any given environment. Traversing the space, visitors will encounter sculptures nestled among the verdant foliage or gliding above the tranquil koi pond. Carved from a reclaimed teak wood pillar or moulded from a stainless-steel base and bound with handwoven muslin cloth, Shettar employs techniques adapted from traditional Indian crafts. Working intuitively, her approach is embedded in and responsive to its own context and surroundings.
All of the sculptures are intended to be viewed from multiple perspectives, encouraging wandering and exploration as Shettar draws us in to the Conservatory, gently persuading us to look at each tree, flower, leaf, plant and to appreciate their own rhythms. To slow down and to recognise the cycles of transformation embedded within each of them; and, just like the clouds above us, to know that they are always quietly shapeshifting.
Cloud songs on the horizon (2023) will be the first project commissioned by the Barbican's recently appointed Head of Visual Arts Shanay Jhaveri, initiating an ambitious programme of public art across the Centre's iconic site which is visited by around 1.5 million people each year. Launching this exciting new programme, Shettar's commission will be free to visit, enhancing public access to the Conservatory with expanded visiting hours from September. New regular opening times include Sundays (12-8pm) and Friday evenings (5-11pm), offering visitors a chance to explore the much-loved tropical oasis after hours. Tickets will be released one month in advance online via the Barbican website. Additionally, a limited number of tickets for other days of the week will be released each Friday at 10am for the week ahead. The space will also open exclusively for community and school groups to enjoy across a series of forthcoming dates, turning the Conservatory into a living classroom.
Shettar's commission reflects Jhaveri's commitment to ensuring the Barbican's visual arts offer continues to showcase the best artists from around the world, delivering a diverse and international programme across the Barbican Art Gallery, The Curve and beyond. Cementing the Barbican's long-standing track record of supporting emerging artists, Jhaveri's vision is for the Barbican to be one of the UK's leading commissioners of new artistic work. 
Since taking up his position in October 2022, Jhaveri has focused on bringing his unique insight to the Barbican's visual arts programme, exploring the interconnections between disciplines, periods, and cultures. Central to this will be inviting contemporary artists from around the world to create new work in response to the Barbican's unparalleled setting, which is recognised as one of the most significant architectural achievements of the 20th    century. Jhaveri's ambition is to showcase artistic interventions across the Barbican's unique public spaces and introduce the most dynamic, invigorating and stimulating art practices to our diverse audiences.
Speaking about the new commission, Barbican Head of Visual Arts Shanay Jhaveri says: "Ranjani's installation inaugurates a new Barbican series of site-specific commissions which will allow artists to directly engage with the architecture and public spaces of this modernist icon. With these collaborations, the Barbican is offering itself to the most inspiring artists working today, platforming important, challenging new work for an ever-expanding audience. Their perspective and interventions will not only allow us to continue to grow our own appreciation of our building and legacy but will also crucially guide us in meeting and knowing our present moment – and there could not be a more perfect artist than Ranjani Shettar to start us on our way".
Speaking about the choice of artist, he says: "Over the past twenty years Shettar has evolved a distinctive, process-driven visual language that is entirely her own. Her suspended abstract forms transform enduring modernist preoccupations, through a profound sensitivity for materials and a deep embodiment of an ecological consciousness, all emanating from a local context. In their elegant quietude they achieve something astounding, gently raising our awareness, to query how it is that we are connected spatially, materially, emotionally to this world."
Kiran Nadar, Founder and Chairperson, Kiran Nadar Museum of Art says: "Ranjani Shettar's practice has been of particular interest to the Kiran Nadar Museum of Art (KNMA) since we first acquired and installed her work at the museum in 2011. We have been closely observing her artistic evolution that combines her rare sensitivity with patient working. The site-initiated project at the Barbican Conservatory is well aligned with our collaborative efforts at bringing visibility and critical attention to the huge talent of Indian and South Asian artists across the globe."