Press room
Outdoor promenade performance at the Barbican as part of Shubbak Festival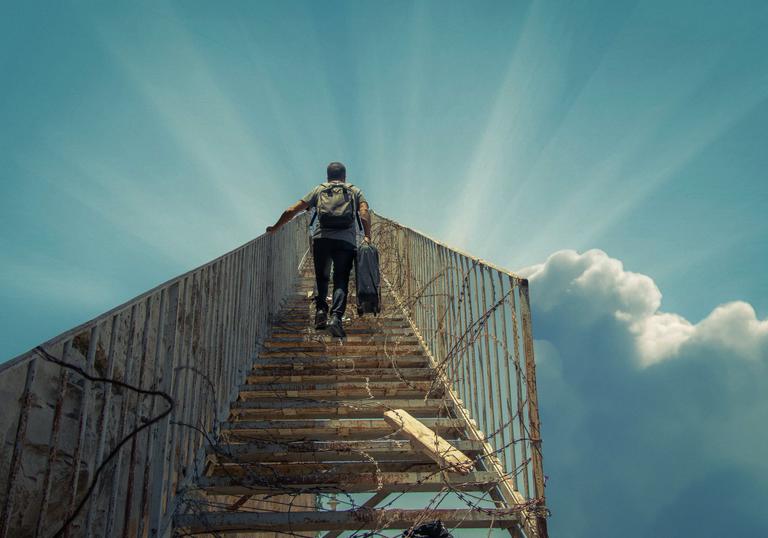 The Land's Heart is Greater Than Its Map
Ramzi Maqdisi and Olivia Furber
Part of Shubbak Festival
The UK premiere of The Land's Heart is Greater than Its Map, a Shubbak co-presentation with the Barbican, is an alternative guided tour of a distant city, which cannot be named. Its people are silenced and its landscape is disappearing. Propelled by a need to tell the city's story before it is forever forgotten, a resident records the stories behind his favourite places. The journey to this distant city takes place within the streets of London and requires only comfortable shoes and an open imagination. The Land's Heart is Greater than Its Map is now on sale to Barbican Patrons. The production goes on sale to Barbican Members Plus on Thursday 6 May, to Barbican Members on Friday 7 May, and on general sale on Monday 10 May 2021.
The Land's Heart is Greater than Its Map is co-created by Ramzi Maqdisi and Olivia Furber.
Ramzi Maqdisi is a Palestinian filmmaker, writer and actor. His work addresses the minute and everyday aspects of life under occupation. Using subtle, subversive and visual storytelling, he seeks to convey an experience of the overwhelming nature of occupation through zooming in on the tiny details that we all, as humans, share. Maqdisi began his professional career as an actor in the Palestinian National Theatre (Norway), La Invencio (Spain) and Khashabi (Palestine). As a director he has staged numerous works at the Palestinian National Theatre and his work as a writer has been produced by Northern Stage (Here is the News from over There) and Ensemble 52 (Aviatrix). His film acting credits include Ghost Hunting (Winner of the Berlinale Prize for Best Documentary) Omar and The Attack.
Maqdisi is co-Artistic Director of Quds Art Films; a collective of artists from Europe and the Middle East covering multiple disciplines including film, theatre and installation. Their theatre work has been produced by the Palestinian National Theatre and recent film projects have had global festival releases as well as airing on BBC Arabic and Al Jazeera.
Olivia Furber is a theatre director and writer working across theatre and installation indoors and outdoors. She trained in movement direction at Opera North and has directed, assistant directed and delivered dramaturgy work for York Theatre Royal, London International Festival of Theatre, Ensemble52 and Theatre Hullabaloo. Her work focuses on borders (both those which are written into the mind and drawn into the ground) and how humans find ever-more ingenious ways to cross them. From 2012-2021 she was co-Artistic Director of Ivo theatre with whom she created a heterogeneous mix of theatre, live art and VR that was fierce, rigorous and sideways in form and content. This work has been produced with partners including the National Theatre, Almeida Theatre, the British Council and IETM.
ENDS
Notes to editors
The Barbican believes in creating space for people and ideas to connect through its international arts programme, community events and learning activity. To keep its programme accessible to everyone, and to keep investing in the artists it works with, the Barbican needs to raise more than 60% of its income through ticket sales, commercial activities and fundraising every year. Donations can be made here: barbican.org.uk/join-support/support-us/for-individuals/make-a-donation
Listings information
The Land's Heart is Greater Than Its Map
Created by Ramzi Maqdisi and Olivia Furber
Palestine/UK
Fri 25 Jun–Sun 4 Jul 2021 (27 performances)
Barbican Centre, promenade performance starts at Theatre Upper Circle Left foyer next to the Barbican Shop on Level G
12pm, 3.30pm, 7.30pm
1 hour 10 mins/no interval
£15 plus booking fee; £5 Young Barbican tickets available for 12pm and 3.30pm performances on Tue 29 Jun, Wed 30 Jun, Thu 1 Jul and Fri 2 Jul 2021
Age guidance: 15+ (The performance contains sensitive material and references to violence)
No performances on Mon 28 Jun 2021
Press performances: Fri 25 Jun 2021, 3.30pm and 7.30pm
BSL interpreted performance: Sat 3 Jul 2021, 3.30pm
Presented by the Barbican and Shubbak Festival
London premiere commissioned by Shubbak Festival
The Land's Heart is Greater Than Its Map was developed with the support of The British Council, Hoch X, The Albany, Ensemble 52 and the Blast Theory Residency Programme
For further information about Shubbak Festival, please contact: Anna Arthur PR: 07973 264373 or [email protected]
For information about the Barbican's Theatre and Dance programme, please contact: Angela Dias, Senior Communications Manager for Theatre and Dance: Angela Dias, Senior Communications Manager for Theatre and Dance, 020 7382 7168 or [email protected]
Dates: Friday 25 June–Sunday 4 July 2021
Press performances: Friday 25 June 2021, 3.30pm and 7.30pm