Press room
Our Time on Earth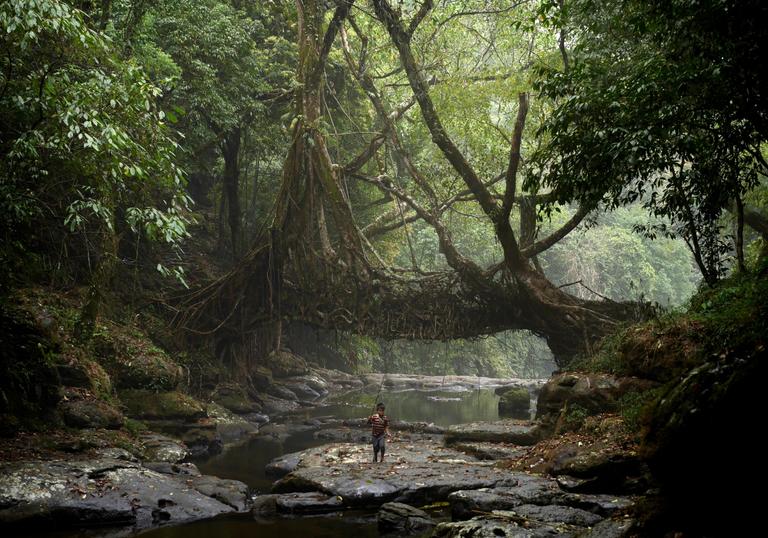 Opening in May 2022, the Barbican presents Our Time on Earth – a major exhibition celebrating the power of global creativity to transform the conversation around the climate emergency. Through art, design, science, music and philosophy, the exhibition presents a range of radical visions for the future of all species.
A journey through immersive, interactive installations and digital works, the exhibition invites visitors to experience a range of perspectives of our shared planet, exploring Earth as a community to which we all belong – humans as just one species among millions.
Through reigniting respect for our beautiful and complex biosphere, the exhibition explores different ways of existing on earth and finding ways to reconnect with them, while also looking at the role technology has to play in deepening our understanding and connection to the natural world. Our Time on Earth encourages visitors to take an active role and leave feeling empowered to make positive change.
Our Time on Earth opens up a conversation to examine this viewpoint from multiple global perspectives, look at the positive possibilities of an alternative future, and embrace the wonder of the natural world.
Our Time on Earth presents 18 works, including 12 new commissions, from 12 countries around the world to create a series of innovative new collaborations. Bringing together academics, architects, artists, activists, designers, ecologists, engineers, environmental campaigners, researchers, scientists, technologists and writers, the exhibition highlights the need to work together across disciplines to tackle climate change together.
Intersectional indigenous-led collectives Choose Earth and Selvagem have collaborated on a new film and experiential commission, featuring indigenous leaders in Brazil. Centred around creationism and re-enchantment the piece explores different ways of knowing and listening; connecting the dots between knowledge, activism, creativity and culture change.
 
Soil. Author, journalist and environmental activist George Monbiot and creative innovation studio Holition believe that the soil beneath our feet should be as revered as the Great Barrier Reef. In this immersive piece, which draws on research from Monbiot's forthcoming book Regenesis: feeding the world without devouring the planet, visitors are transported underground to experience the wealth of amazing organisms first-hand.
 
The Sanctuary: Bio-Leadership Project co-Founder Andres Roberts and digital art collective Marshmallow Laser Feast have developed a unique immersive video installation that offers a window into tree time. The piece allows visitors to feel a sense of belonging by reconnecting to the natural world and contemplating our place within the wider systems of nature.
 
Queer Ecology : In this new commission, Colombian biologist Brigitte Baptiste and IoDF (Institute of Digital Fashion) have created a shared collective experience, which reflects on Baptiste's assertion 'there is nothing more queer than nature'. As visitors watch their singular identities dissolve into matter, beyond the physical body, leaving society's binary labels, the piece looks at what humans can learn from nature's own gender fluidity.
 
Nairobi-based design-build firm, BuildX Studio has been working with construction innovators Mycotile to explore the possibilities of global technology and local materials, which will revolutionise the way buildings are made and how knowledge and skills can be shared through a global community. Curated by design director Carolina Larrazabal, and architectural designer, Etta Madete.
 
A new commission looks at how indigenous technologies are invaluable to our collective understanding of and response to the climate crisis. Representatives from the Khasis community in the North-eastern Indian state of Meghalaya, the Subak community of farmers in Bali and the Ma'dan community of southern Iraq collaborated with designer and author of Lo—TEK: Design by Radical Indigenism by Julia Watson, architect and sustainability engineer Smith Mordak and Buro Happold to look at how urban environments in 2040 could benefit from incorporating Indigenous and local knowledge and technologies
Sustainability innovators Biofabricate and environmentalists Parley for the Oceans imagine what a biofabricated (materials made by living cells) future for the fashion industry looks like, at scale, in the near future.
 
Also in the Curve:
Superflux 's Refuge for Resurgence imagines a new kind of home where humans, animals, birds, plants, moss and fungi prosper together with resilience, adaption, and hope. First presented at La Biennale Architettura, La Biennale Di Venezia 2021, this multispecies banquet showcases crockery and cutlery designed for 14 different species, creating a welcoming environment that invites visitors to rethink their position within the natural world.
 
Keralan architecture firm Wallmakers have designed a space for visitors to explore action, looking at grassroots organisations and change-makers around the world to find out what is happening on the ground right now.
 
Liam Young's Planet City – a speculative and provocative film about returning stolen lands and freeing the world for rewilding by housing the world's population in one giant sustainable city that celebrates multiple cultures.
 
The Sensible Zone by Territorial Agency analyses the zone where the biosphere interacts with ocean, atmosphere and land to maintain Earth in homeostasis and allow inhabitation.
 
In the Pit Theatre:
Noise Aquarium, by US artist Victoria Vesna and Austrian scientific visualisation collaborators presents a 3D Audio Visual Experience of Plankton in Noise Pollution.
 
Alongside the main exhibition, Our Time on Earth will extend all over the Centre, with free interactive and digital exhibits presented in the Barbican's public spaces across the summer and will be accompanied by a live events programme to be announced.
 
On Barbican's Level G, a series of pieces will be on display for free to the public, with the theme of raising awareness, including:
A new commission, The Ideal City from research and design lab SPACE10 in partnership with Modem, invites visitors to experience how our cities could tackle the climate crisis while creating a better everyday life for people, viewed through virtual reality binoculars, exhibited openly to the public on Barbican's Level G.
 
Life Forces -a digital art installation in the Barbican's Silk Street Entrance, providing a portal to an interactive living landscape by Australian art duo Tin & Ed.
 
Wither, a slice of rainforest disappearing at the Amazon deforestation rate developed in collaboration with UNESCO on Barbican's Level G - by Dutch artist Thijs Biersteker.
 
Eyes as Big as Plates – a photography series about belonging to nature by Finnish-Norwegian artist duo Riitta Ikonen and Karoline Hjorth.
 
Luke Kemp, Barbican International Enterprises, said: 'It is an essential moment for the Barbican to contribute to this urgent issue and showcase how unique collaborations across a range of disciplines can create a vision of hope and possibility, that will aim to shift perspectives and immerse visitors in the wonder of our planet.  Culture has a key role to play in accelerating the response to the climate emergency. It provides a platform to challenge the way we engage our communities to respond.'
Kate Franklin and Caroline Till, guest curators said: 'This exhibition harnesses global, cross-disciplinary collaboration to inspire and ignite courageous and compelling actions that address the climate emergency, it spurs visitors on to take an active role at this critical juncture, leaving them feeling empowered to make positive change.'
Stéphan La Roche, CEO of Musée de la civilisation said: 'This exhibition calls on the power of reflection and imagination of contemporary artists as well as visitors. The Musée de la civilisation, with our vision of 'a museum for a better world' and mission as a museum of society cannot wait to partner with the Barbican Centre to present this one-of-a-kind exhibition in a multidisciplinary approach enveloping a highly relevant subject, having the power to change perceptions and push to action'
Our Time on Earth gives us an opportunity to pilot new ways of sustainable working at the Barbican. In collaboration with Julie's Bicycle, we have developed a set of guidelines for sustainable touring exhibitions and asked all our partners and collaborators to sign up to our sustainability commitment to ensure all involved in delivery of the exhibition are working to the highest possible environmental standards.  We are developing this practice in collaboration with other departments as part of our five-year sustainability strategy that will be published in early 2022.
Our Time on Earth 
5 May - 29 August 2022, Barbican Centre
Media View: 4 May 2022, 10am-1pm