Press room
Homeland: Films by Australian First Nations directors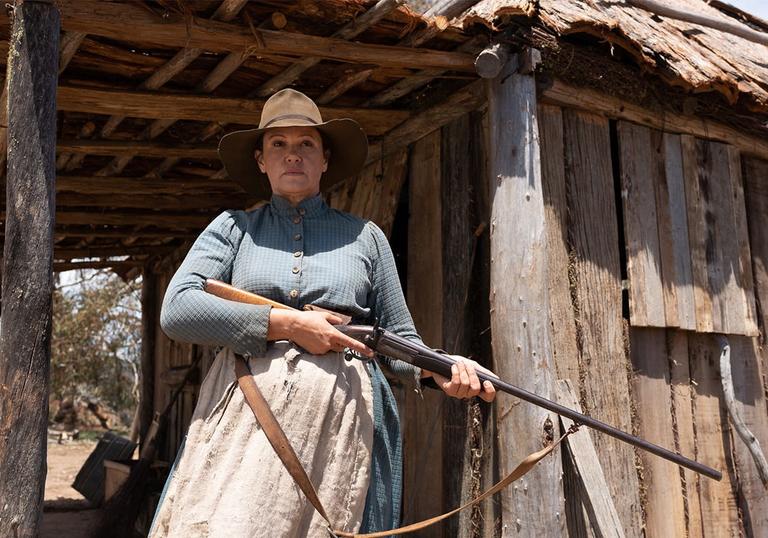 The Drovers Wife: The Legend of Molly Johnson, dir Leah Purcell
2 Feb – 23 Feb 2022
www.barbican.org.uk/whats-on/2022/series/homeland-films-by-australian-first-nations-directors
 
Barbican Cinema is proud to present Homeland: Films by Australian First Nations directors which explores a thrilling selection of seven of the very best movies by Indigenous Australian filmmakers from the last three decades, including ScreenTalks and guest speakers.
Despite an extraordinary range of exciting films by Indigenous Australian directors being made every year, very few are released in the UK.
Homeland: Films by Australian First Nations directors celebrates some of these great filmmakers – including Leah Purcell, Stephen Page, Rachel Perkins, Warwick Thornton, Larissa Behrendt, Tracey Moffatt, and Wayne Blair - whose works embrace a variety of genres, including westerns, film noirs, horror movies and dance films.
Themes of displacement and marginalisation as well as resilience and humour surface in many of the films, which showcase Indigenous Australians' rich cultural heritage through documentaries and feature films starring many of the country's greatest actors. Homeland: Films by Australian First Nations directors is presented as part of the UK/Australia Season 2021-22, a major programme of cultural exchange taking place across the two nations.
Curated by the Barbican in partnership with Screen Australia. With thanks to Penny Smallacombe and Savannah Glynn-Braun (First Nations Department, Screen Australia).
Angela Bates, Screen Australia's Head of First Nations, says:
"We are thrilled to be partnering with the Barbican to bring this collection of extraordinary films from some of Australia's most well respected First Nations filmmakers. First Nations people are the oldest storytellers in the world and this selection is just a small snapshot of the breadth of talent and stories we have to share with audiences around the world. We look forward to these films resonating and connecting with audiences when they screen at the Barbican Cinema in 2022."
Alex Davidson, Barbican Cinema Curator, says:
"It's been fantastic to work with Screen Australia to create this major film season as part of the UK/Australia Season 2021-22. There are films in this programme, all made by Indigenous Australian filmmakers, whose work is often difficult to see in the UK, that are unlike anything I've seen before. Bold, visionary and unique, I can't wait to see them on the big screen."
Homeland: Films by First Nations Australian directors opens with the European Premiere of Leah Purcell's directorial debut The Drover's Wife: The Legend of Molly Johnson + ScreenTalk with the Director – hosted by the actor Kerry Fox; this is a fierce, feminist Australian revenge western, which the director adapted from her own play of Henry Lawson's 19th century short story.
Leah Purcell, in the lead role, gives a tremendous performance as Molly Johnson, a pregnant woman left to fend for herself in her ranch in the Snowy Mountains of New South Wales. An escaped Indigenous Australian convict (Rob Collins) turns up on her door, triggering a thrilling tale that explores racism and misogyny under colonial rule.
The film has been a labour of love for Purcell, who has also adapted the short story into a play and a novel, reclaiming the white-centric narrative of the original from an Indigenous Australian female perspective. An ambitious, visionary adaptation, Purcell's fiery screenplay ensures the prejudices of the late 19th century are infused with contemporary resonance – Collins' character muses that he is guilty of 'existing while black'. The opening night screening will be followed by a Zoom ScreenTalk with Leah Purcell.
Two films in the season, Spear and Firestarter – The Story of Bangarra focus on the work of the iconic Indigenous Australian dance company, the Bangarra Dance Theatre.
First Nations stories, past and present, are evoked through movement and dance in Stephen Page's directorial debut Spear + virtual ScreenTalk with the Director; this is an extraordinary Indigenous dance film from the Bangarra Dance Theatre director.
Moments of Indigenous Australian history are reflected and interpreted through the medium of dance, with a teenage boy in Sydney (Hunter Page-Lochard, the director's son) as a witness.
Shot across a diverse range of locations, from Kiama's Bombo beach and the shipyards of Cockatoo Island to the forests of Arnhem Land, the performances from the Bangarra dancers range from the beautiful to the critical. Aaron Pedersen gives a harrowing performance as a troubled alcoholic man marginalised by society. Accompanied by David Page's immersive score, combining traditional and contemporary music, it's a complex, utterly exhilarating spectacle, stunningly shot by Bonnie Elliott.
The history of Bangarra Dance Theatre is told in Wayne Blair's and Nel Minchin's Firestarter – The Story of Bangarra through glorious archive footage, and testaments from dancers and creative talents, past and present. The screening will be hosted by Alistair Spalding, Artistic Director & Chief Executive of Sadler's Wells and also includes a virtual ScreenTalk with Frances Rings, Associate Artistic Director, Bangarra Dance Theatre and musician Jessie Lloyd in person.
The Bangarra Dance Theatre, now over 30 years old, revolutionised the Australian dance scene, and was taken to even greater heights through the success of three First Nations brothers – Stephen (the current artistic director), David and Russell Page. Through a series of remarkable dance shows, such as Fish, Rites, Blak and Bennelong, clips of which are seen throughout, the company was transformed into a First Nations hive of creative brilliance, culminating in the lavish spectacle of the Opening Ceremony of the 2000 Olympics in Sydney the film champions the importance of art as a medium for social change and healing.
In the 1990s two female Australian First Nations filmmakers, Rachel Perkins and artist Tracey Moffatt each created ground-breaking feature film directorial debuts.
Sparks fly when three sisters reunite after the death of their mother in Rachel Perkins' beautifully acted directorial debut (1998), Radiance, + ScreenTalk with the Director, presented at the Barbican in a newly restored print.
Trisha Morton-Thomas, Deborah Mailman (in their film debuts) and Rachael Maza give unforgettable performances as three sisters – one has remained at the family home, one is a fun-loving party girl and one is a successful opera singer. The women congregate at their Queensland family home after the death of their mother, a woman regarded as a witch by the locals. After the funeral, the sisters confront secrets from their shared pasts.
Despite its low budget and stage origins, director Rachel Perkins creates something truly cinematic, supported by excellent photography from Warwick Thornton, soon to launch a hugely acclaimed career of his own as a director. Although there are moments of trauma and vital discussions around displacement, heritage and belonging, there is much humour in the film, alongside liberating moments of anarchy.
Artist Tracey Moffatt created one of the great feature debuts in Australian cinema history with beDevil, a visually stunning imagining of a trio of ghost stories she was told as a child by her extruded families. In Mr Chuck an American GI haunts an Indigenous Australian boy on Bribie Island. In Choo Choo Choo Choo a woman returns to her old family home, from which she was once driven away by the spirit of a young girl. And in Lovin's the Spin I'm In a tragic couple struggle to find peace in the afterlife.
beDevil will screen alongside Moffatt's shorts Nice Coloured Girls, in which three First Nations women flip the traditional power dynamic and exploit a drunk white man, and Night Cries: A Rural Tragedy, in which we witness the last days of an elderly white woman, cared for by the Indigenous Australian woman she adopted years ago.
Homeland: The Films of Australian First Nations directors includes two powerful documentaries by Warwick Thornton and Larissa Behrendt.
In the provocative documentary We Don't Need a Map, Warwick Thornton considers the spiritual meaning of the Southern Cross constellation for Aboriginal and Torres Strait Islander peoples.
The Southern Cross constellation is one of the most familiar symbols in Australia, which has been claimed and appropriated by many groups, including racist nationalists, since colonisation. For Indigenous Australian people, it is a symbol with profound resonance. In this scorching essay film, edited from over 70 hours of footage, Warwick Thornton (Samson and Delilah, Sweet Country) explores the cultural roots of the constellation and its position in Australian culture.
Four Indigenous Australian women fight to win custody of their grand kids in Larissa Behrendt's documentary, After the Apology made after the official apology to the 'stolen generations'; this also includes a pre-recorded introduction by the filmmaker.
In 2008 Prime Minister Kevin Rudd officially apologised to the 'stolen generations' - Indigenous Australians who suffered forced state-approved removal from their families throughout the 20th century. This moving film reveals that removals of First Nations children have increased by nearly 65% in the years after the apology, and that Indigenous kids are 10 times more likely to be taken in to care than non-Indigenous children.
Four courageous grandmothers talk about their own fights to bring their grandchildren home and discuss the grassroots group they have formed. They unite to fight the policies of the NSW Department of Family and Community Services (FACS) and hope to spark a national conversation. Behrendt sensitively interviews each woman and makes a powerful case for the need for immediate change. The screening will include a live Zoom introduction by Larissa Behrendt.
Listings
Wed 2 Feb, 7pm, Cinema 1
The Drover's Wife: The Legend of Molly Johnson (15*) + ScreenTalk with director Leah Purcell – hosted by actor Kerry Fox
Australia 2021 Dir Leah Purcell 109 min
Thur 3 Feb, 6.10pm, Cinema 2
Spear (15*) + Virtual ScreenTalk with director Stephen Page
Australia 2015 Dir Stephen Page 84 min
Sat 5 Feb, 6pm, Cinema 2
Firestarter - The Story of Bangarra (15*) hosted by Alistair Spalding, Artistic Director & Chief Executive of Sadler's Wells and also includes a virtual ScreenTalk with Frances Rings, Associate Artistic Director, Bangarra Dance Theatre and musician Jessie Lloyd in person.
Australia 2020 Dir Wayne Blair, Nel Minchin 95 min
Sun 6 Feb, 5.30pm, Cinema 2
Radiance (15*) + ScreenTalk with Rachel Perkins
Australia 1998 Dir Rachel Perkins 83 min
Tue 8 Feb, 6.30pm, Cinema 2
After the Apology (12A*) + pre-recorded introduction by Larissa Behrendt.
Australia 2017 Dir Larissa Behrendt 82 min
Tue 22 Feb, 6.30pm, Cinema 2 
We Don't Need a Map (*15)
Australia 2017 Dir Warwick Thornton 87 min
Wed 23 Feb, 6.10pm, Cinema 2
Three Films by Tracey Moffatt: beDevil + Night Cries + Nice Coloured Girls (15*)
Nice Coloured Girls
Australia 1987 Dir Tracey Moffatt 17 min
Night Cries: A Rural Tragedy
Australia 1990 Dir Tracey Moffatt 17 min
beDevil
Australia 1993 Dir Tracey Moffatt 90 min
Total running time: 124 min
Ticket Price:
For The Drover's Wife, Spear, Firestarter - the Story of Bangarra and Radiance
£13.50 full price
£10.80 members
£12 concessions
Young Barbican £5 (capped at 15)
under 18s £6
For After the Apology, We Don't Need a Map and Three Films by Tracey Moffatt
Standard £12
Barbican Members £9.60
Concessions £11
Young Barbican £5 (capped at 15)
under 18s £6
Box office: 020 7638 8891 www.barbican.org.uk